Amusement parks looking for exciting rides and inflatable water park for sale can now get the same from Shang Hai Du Du Amusement Park Co Ltd.
21 January, 2020 – China – Shang Hai Du Du Amusement Equipment Co. Ltd. has been a pioneer in manufacturing and supplying amusement parks across the world. The company now offers giant inflatable water park at best prices.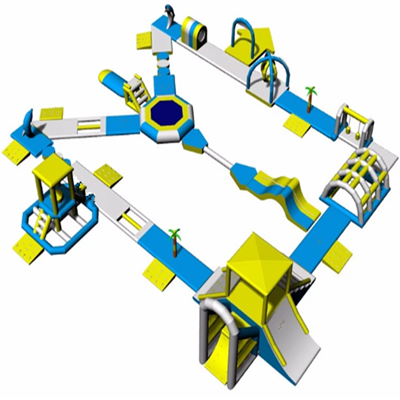 "With over 15 years of experience in the industry, our focus has always been to offer customized inflatable water park equipment. Our designing team has a thorough understanding of making the rides that are child-safe and can withstand tough handling that is common in these parks. Currently, we are offering these superior materials at reasonable prices to suit your amusement park budget. Pick the inflatable water park for sale that comes with a slide and an inflatable trampoline and pavilion, canoes and more adventure rides. These are also easy to set up in the park," states Jim Chen, CEO of Shang Hai Du Du Amusement Equipment.
The specialty of amusement is the thrill it offers, and these inflatable water park equipment are surely going to make your kids have just that. The firm has created the water park in two significant parts. On one side, you have the slides and some obstacles to make the people get more fun. The other side has the inflatable trampoline and round pool with a tent to shut out the sun. There is a connecting point between these two sides has a huge slide and an inflatable pavilion for the safety officer to monitor. Children can put on a life jacket for safety.
The giant inflatable water park is entirely made of high-quality 0.9mm PVC. Its standard measurement is 50*28m. Clients may even opt to customize the park as per their space in the park.
These water parks come in an OEM package and with a free pump and repair kit to help the clients. These products are some of the specialties the firm offers, and the others include inflatable snow globe, electric kids motorcycle, inflatable obstacles, water walking ball, bumper pall, zorb ball and more. This said, their new offer on the giant inflatable water park is undoubtedly a great deal.
About the company:
Shag Hai Du Du Amusement Equipment Co Ltd is a China-based firm with 15 successful years of experience. They offer over 600 equipment or theme park games to international amusement parks every year.
Media Contact
Company Name: SHANG HAI DUDU AMUSEMENT EQUIPMENT CO.,LTD.
Contact Person: Jim Chen
Email: Send Email
Phone: +8617702135970
Country: China
Website: http://duduamusement.com/product/inflatable-water-park-for-sale.html