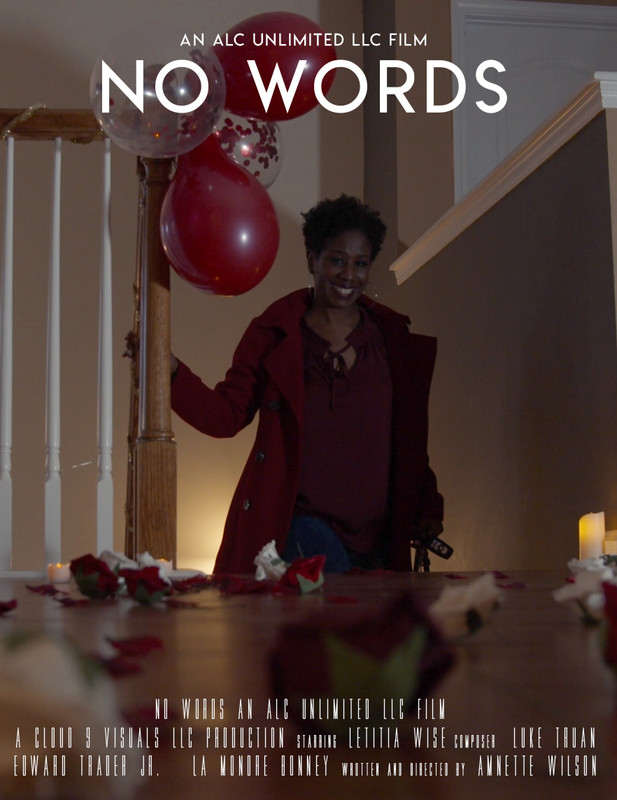 No Words was created and entered into an online competition, winning 3 awards. The 16th annual Peachtree Village International Film Festival (PVIFF) will take place virtually and will offer the filmmaker recognition, exposure, and connection for career growth
Screenwriter and Director Annette Wilson announce that her short film titled "No words" is a finalist at the Short Film Competition at the 16th annual Peachtree Village International Film Festival (PVIFF). The festival takes place virtually on Oct. 21st-23rd, 2021. No words will be showing online via On Demand to millions of viewers and fans worldwide.
No words is about a woman who had been cheating on her husband and is terrified that what she's doing in secret will eventually come out to light. When her husband finds out, he had no words to say about what his wife had been doing to their love.
Annette got the inspiration to make the movie during the pandemic by taking part in a challenge posted on a Facebook group for filmmakers. The instructions for making the movie influenced the creativity and storytelling process, leading to a 5 minutes short film containing only about 5 lines, has 3 characters, and winning three awards, including Best Actress, Best Director, and Best Film.
Screenwriter and director Annette Wilson showed creativity, class, and a superior ability to tell compelling stories that audiences love. Becoming a finalist at the 16th annual Peachtree Village International Film Festival (PVIFF) will expose her to so many viewers, fans, film production companies, executives, talent agencies, and other professionals who will help take her career to the next level.
Apart from industry exposure to thousands of producers and film executives, winners will also have the chance to win cash prizes, distribution opportunities, packaging support, and other awards.
For more information, please visit https://www.pviffatl.com/.
About Peachtree Village International Film Festival
Peachtree Village International Film Festival is a 3 days film exhibition and industry networking event that attracts 3,000 foot traffic attendees and millions of views. The event showcases the best content from creative filmmakers, writers, and producers, and it has become a lunch pad for many successful careers. Participants get their loglines sent to thousands of industry professionals looking for a unique project to invest in and produce.

Media Contact
Company Name: No Words
Contact Person: Annette Wilson
Email: Send Email
Phone: 716 435-8861
Country: United States
Website: https://www.pviffatl.com/