Schoolio empowers Parents and Teachers with incredible educational resources.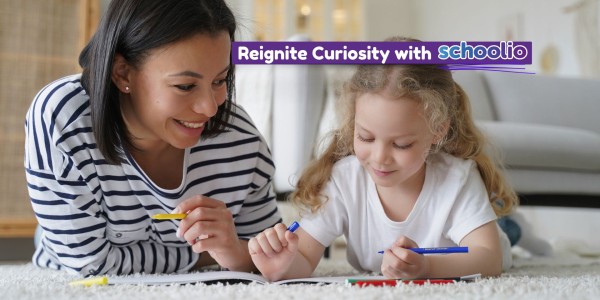 The groundbreaking educational startup, Schoolio is revolutionizing learning, making it accessible, engaging and holistic for children and parents across the USA and Canada. Aligned with Canadian & US educational standards, Schoolio is empowering parents to take charge of their children's education, ensuring they have the right resources at their fingertips.
Focused on students enrolled from Pre-Kindergarten till 8th Grade, Schoolio offers a comprehensive curriculum encompassing math, language, science, and social studies that cater to the needs of both homeschooling and traditionally schooled students. The curriculum has been designed with a holistic approach to education by the inclusion of Social-emotional learning (SEL), physical and mental health, cutting-edge technologies, and financial literacy topics.
Schoolio realized the need for Social and emotional learning (SEL), especially during the COVID-19 pandemic. A recent survey revealed that 70% of youth rate their ability to cope with challenges as medium to very low, making SEL more critical than ever.
In addition to the core curriculum, Schoolio boasts a vibrant electives library, from where parents and students can explore a wide array of interest-based courses that keep young minds excited about learning through hands-on activities and engaging videos.
Their content delivery approach, other than live or pre-recorded, for self-paced learning, audio and/or video modes extend to cutting-edge technologies like AR (Augmented Reality) and VR (Virtual Reality). Similarly, realizing the importance of diverse modes of assessments, evaluations are made using various metrics rather than relying solely on standardized testing methods, ensuring that education is accessible to all through an engaging experience.
Schoolio has been joined by more than 5,000 parents across Canada and the US, benefiting from Schoolio's offerings and the flexibility it offers. Schoolio's emphasis on community is another key factor in their homeschooling success. The team behind Schoolio firmly believes that education should adapt to the needs to the individual student, and their approach to learning caters to this principle.
Schoolio also stresses on reward-based learning, ensuring that students are rewarded and appreciated for their valiant efforts and have full opportunity to control the content they engage with.
"We are redefining education," says Sathish Bala, CEO and Founder of Schoolio. "We believe that the role of the school is to provide a diverse range of educational content and opportunities to learners using a variety of acquisition methods. It is essential that all stakeholders, including parents, teachers, tutors, coaches, and the learners themselves, actively participate in shaping the educational journey".
Furthermore, Schoolio also offers tailored programs to address the unique learning needs of neurodivergent children. Their services in this regard include grade-level customization, bite-sized learning sessions for maximum engagement and alternative learning strategies and knowledge demonstration methods.
Schoolio's dedication to reimagining education and providing holistic, flexible, and rewarding learning experiences is transforming the way Canadian and US parents approach K-8 education.
To learn more about Schoolio and its innovative solutions, visit their website at https://schoolio.com or send an email to sathish@schoolio.com
For updates, follow Schoolio on social media:
Facebook: https://www.facebook.com/schooliolearning
Instagram: https://www.instagram.com/schooliolearning
Linktree: https://linktr.ee/Schooliolearning
Media Contact
Company Name: Schoolio
Contact Person: Sathish Bala, CEO
Email: Send Email
City: Toronto
State: Ontario
Country: Canada
Website: www.schoolio.com