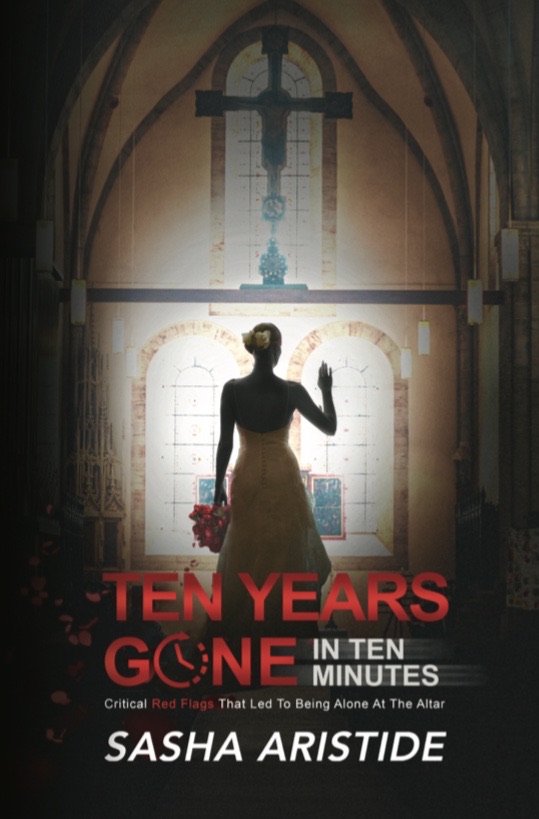 "10 Years Gone In Ten Minutes" is the latest creation of established author Sasha Aristide, an experienced family nurse practitioner. Suitable for readers of both genders, this book talks about critical red flags that led to being alone at the altar of a ten-year relationship of a Brooklyn couple.
Self-Published by the author, "10 Years Gone In Ten Minutes," is an account of a Brooklyn couple who did not consider some red flags. This is a book that leaves the reader to speculate about whether these might be revelations from someplace unknown or simply the product of an imaginative mind. Sasha's book is based on a rare real-life experience.
Author Sasha Aristide shares "Ten Years Gone in Ten Minutes, chronicles a ten-year relationship of a Brooklyn couple from the very beginning until the very end. This story begins in the church, and unfortunately, does not end at an altar. This story shows how a sweet relationship can turn sour within minutes. This story chronicles the critical red flags that were missed throughout a ten-year relationship that led to being left in a hotel room wondering why. If these red flags would have been taken into consideration, maybe things would have taken a different turn."
Every page of "10 Years Gone In Ten Minutes" is written with the authors' personal touch such that it might cause you to look at your relationship from another perspective. The message that the book contains will touch the depth of one's heart because it's based on personal experience. One must buy this book to get the taste of its excitement as the book will leave you in awe.
"10 Years Gone In Ten Minutes" is published and can be purchased all over the world. Readers who wish to experience this potent work can now purchase it on the Amazon store.
For additional information or inquiries about "10 Years Gone In Ten Minutes" or the author, please visit https://www.sashaaristide.com/
About the author
Sasha Aristide is a family nurse practitioner. Born in Brooklyn, New York, Sasha Aristide attended Catholic school for middle school and an all-girls high school. She has a bachelor's degree in nursing from the College of Staten Island and also a Master of Science in nursing from SUNY Downstate Medical Center. Sasha's love for reading came at a very young age, and she always knew she would be an author. She has plans to write many more non-fiction novels and medical publications.
Media Contact
Contact Person: Sasha Aristide
Email: Send Email
Address:1278 East 57th street
City: Brooklyn
State: NY 11234
Country: United States
Website: https://www.sashaaristide.com/