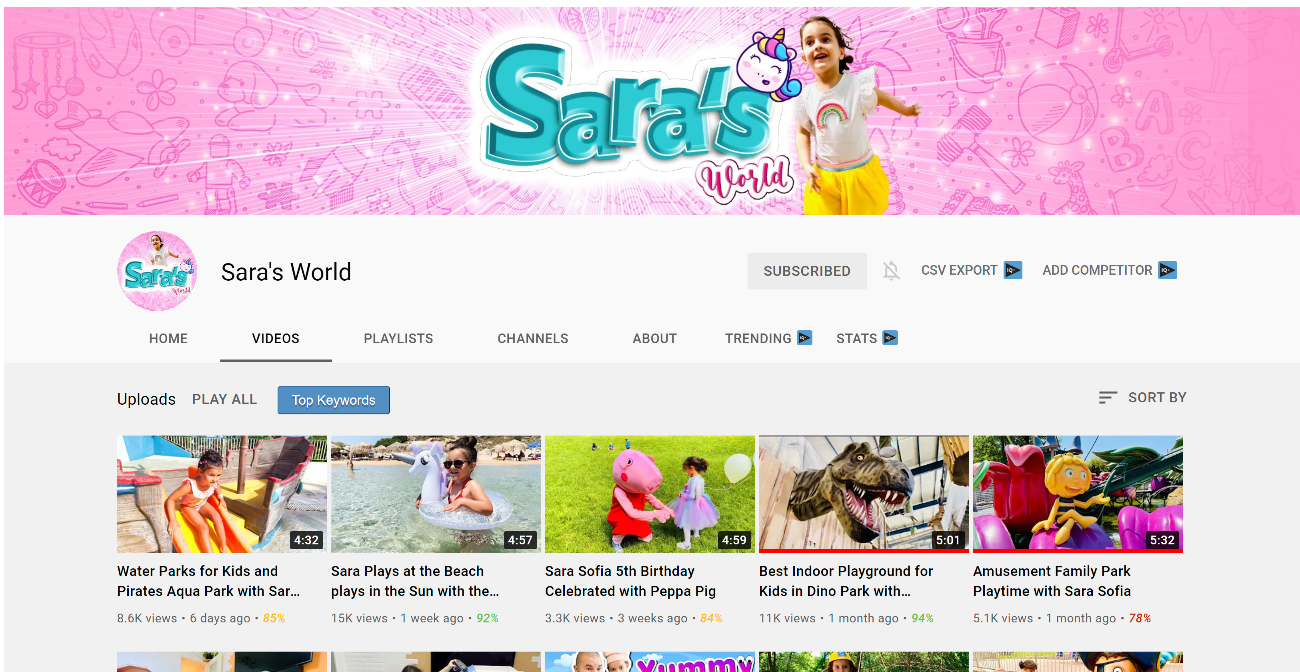 Parents are always worried about how to keep their kids entertained during busy work schedules. Thanks to the YouTube channels and creative YouTubers that solve this trouble with their entertaining content. It is not just about the expert video developers and editors; even many kids along with their parents, are doing the job really well to entertain other kids of the same age. This is the main reason why the numbers of YouTube lovers are increasing with each passing day.
The way we access and enjoy online content has changed with time. Moreover, the modern generations have become highly tech-savvy, even the kids as well. They can access a variety of content on YouTube just with few swipes on the smartphone screen. There are many valuable learning platforms and channels loaded with entertaining videos that one can access on YouTube with ease. The working parents can help their kids to follow some interesting channels on YouTube that they can watch to learn some new concepts and games.
Sara's World is one of the most popular YouTube Channel that is loved by most new parents that are looking for some interesting videos to show their growing kids. Research studies show that YouTube videos offer better learning as compared to TV shows and cartoons for young kids and toddlers. In this scenario, an engaging YouTube channel like Sara's World can serve the needs of kids with ease.
Kids are always in love with games, toys, and dolls. Sara's World YouTube Channel is focused on these essential elements of every child's life. In these videos, Sara will unbox, review and play with the best games and toys in the market. On one side, these videos work as the best toy or game reviews for parents who are looking for new toys to present their kids; on the other side, this valuable content entertains kids around the World. Parents can take the help of these videos to help their children explore the adventures of the play hours with several accessories and joyful elements around.
In these videos, you will watch Sara playing in the water, enjoy Aqua rides, and having fun in the parks. These videos will also give parents some creative ideas about how to celebrate the birthday of their child with some creative and entertaining themes. Sara will show the adventures of playtime with her amazing activities at home and outdoors as well. The great news is that Sara's family also takes part in these videos. You may often observe her mother or father participating in several activities with her to make the playtime more memorable.
The Sara's World YouTube channel also demonstrates some kid-friendly play areas and the essential toys that kids must have to make their outdoor play hours full of fun and joy. The videos on this YouTube channel are available with east search options, or you can go to the playlists to find a specific category of videos. They keep on posting some interesting videos from time to time with engaging content that kids of all ages like around the world.
Sara's World YouTube channel has received millions of likes, views, and followers within very little time. The little kid Sara in these videos is so adorable and fun-loving. She, with the help of her parents, provides valuable product reviews for a variety of toys and games. There are many short videos on the channel that your kids can watch on a regular basis to enjoy some entertaining hours. Parents can also watch these videos along with kids to enjoy some valuable time together. These videos can also help parents make informed decisions about what toys are good for their child and worth investing in.
When parents and kids watch some YouTube videos together, they share and learn together. These videos can also help your kids learn the aspects of animations and software effects. These entertaining videos also create opportunities for questions, ideas, and discussions between kids and parents. While watching these videos, you may find many new topics to engage with your growing child. However, making a selection for the right YouTube channel that kids can watch is the sole responsibility of parents. As there are millions of videos loaded on the YouTube platform, not all of them are safe to watch for kids. In order to enjoy the best learning experience with kids, it is better to subscribe and follow Sara's World channel online. They keep on updating videos with consistent schedules, and you may find a new collection every week to enjoy online.
Those who are looking for some trusted and reliable sources of entertainment for their kids online are advised to follow Sara's World YouTube Channel for better outcomes. This channel can help your kids to learn so many new things every day while enjoying the playtime routines in a more entertaining manner. This is more important during these tough times of pandemics when you cannot send your kids to play outside. Sara's World channel can turn out to be the favorite companion of your child with several learning opportunities on every day basis.
About Sara's World
Sara's World YouTube Channel is created by Sara's parents, and it was launched recently in the year 2021. All the family members of Sara do their best to create some valuable videos with Sara that can be shared with the world online. They keep on recording the unboxing moments, reviews, and play hours with some new toys and games. Moreover, viewers may also get opportunities to explore some new sites, tourist destinations, and wonderful museums with Sara. She keeps on demonstrating many new games as well that kids can play with their friends or family members at home. The channel currently has millions of followers from different corners of the world, and the count is increasing with each passing day. People are in love with the cute Sara and her creativity that attract more viewers to this channel.
Media Contact
Company Name: Sara Sofia Play
Contact Person: Media Relations
Email: Send Email
Phone: +4915700293310
Country: Germany
Website: www.youtube.com/channel/UC5yclzQmbYxknW901HVm0rw