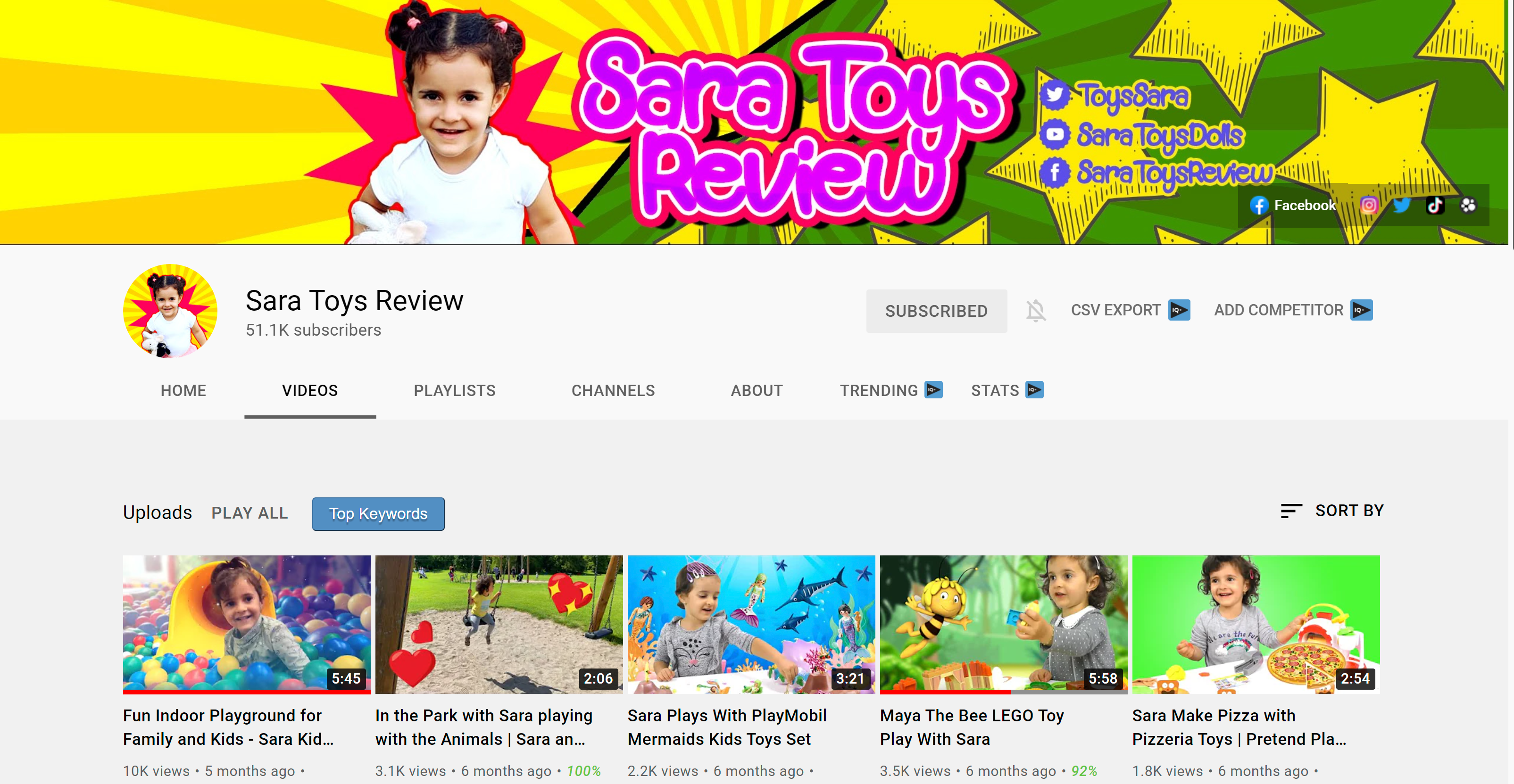 Kids are always interested in finding some new toys and games to play with. But it is always a challenging task for parents to pick the right toy for their child to ensure safe play hours. In such situations, it will be good if parents can receive a trusted review from other parents and kids on whether it is safe to invest in a certain toy or not. After all, parents always need to ensure the best for their child, without compromising on cheap quality toys or games. In this scenario, the Sara Toy Reviews channel can help you better receive quick updates on the best toys.
Sara Toys Review YouTube Channel is developed and managed by Sara's parents, and in these videos, they keep on presenting the beautiful and joyful moments with Sara. The main theme of this channel is to help viewers get the most reliable and trustworthy reviews about toys for little kids. The videos feature Sara playing with a variety of new toys and games that can be used indoor and outdoors as well. Other than this, the viewers may also find videos of Sara enjoying the adventure parks, zoo, and few other tourist destinations where kids would definitely love to visit.
This well-designed YouTube channel works as an inspiration for viewers to find new playful ideas to stay engaged every day. The videos on this channel are uploaded every week, and the main theme behind it is to entertain the children. This channel was launched a few months back, and it has already gained 51.1K subscribers from different corners of the world. If you are also looking for some trusted source of entertainment and learning that your kid's can watch, Sara Toys Review can be the most amazing choice. The viewers can find a variety of videos on this platform, and they are classified into different playlists. Therefore, viewers can find their desired content with ease.
This YouTube channel can help viewers know how toys can bring real joy to the life of a child. There are plenty of unique ideas that you can grab to make your child's life full of happiness with some handy and affordable toys. Moreover, these videos will also tell your child how good it is to play outside sometimes with friends and family. In short, parents can trust this channel and allow their kids to learn some new play tricks with Sara.
About Sara Toys Review
Sara Toys Review channel was created by Sara's parents in the year 2019, and this channel has now received more than 51.1K subscribers from different corners of the world. The numbers of viewers on this channel are increasing with each passing day as parents find it the best choice to help their kids learn new games and play tricks. Moreover, it is the most trusted platform to receive reliable reviews for toys in the market so that parents can make up their minds for purchase.
Media Contact
Company Name: Sara Toys Reviews
Contact Person: Media Relations
Email: Send Email
Phone: +1 228 383 3948
Country: United States
Website: www.youtube.com/channel/UC3HqOkBwRN0q-imuxaU8i_Q