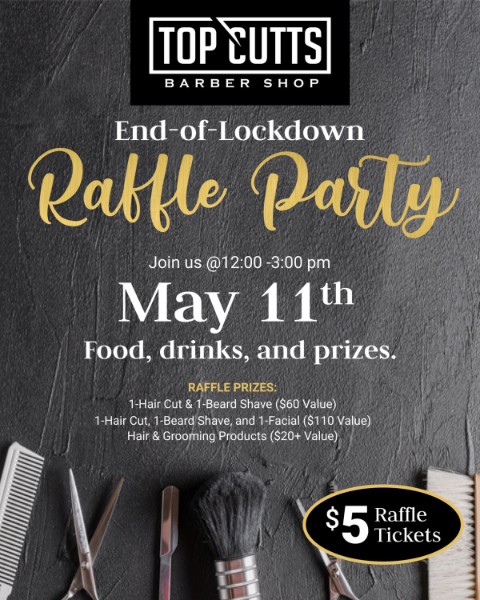 THE SAN DIEGO BASED BARBER SHOP IS HOSTING A PARTY TO CELEBRATE THE END OF LOCKDOWN ON MAY 11 FROM NOON TO THREE PM
Top Cutts Barber Shop in San Diego will have food, drinks, and raffle prizes for end-of-lockdown celebratory event. Here's all you need to know about the event that is happening on May 11th from 12:00pm – 3:00 pm.
San Diego, CA, USA – May 10, 2021 – Top Cutts Barber Shop has just announced that they are launching a special end-of-lockdown event with food, drinks, and prizes this Tuesday. Their Raffle Party is on May 11, 2021 from 12:00 pm to 3:00 pm and San Diego County residents are welcome to join in on the festivities.
As a professional San Diego Barber Shop that is open 6 days per week – including Sundays – Top Cutts offers a variety of haircut and grooming services including Men's Haircuts, Hot Towel Beard Trims, Razor Shaves, Eyebrow Threading, and more. Moreover, the popular barber shop offers these services at great prices, and you can conveniently click here to book your appointment online.
"At Top Cutts Barber Shop, our slogan is "The Best Haircut You'll Ever Get" and we stand by that. We make sure that every one of our clients gets the exact style of cut that they want. We make sure that every single hair is precisely managed, and our beard trims are an extremely popular add-on once people see how straight our skin fades line-ups are." Some clients come in worried or concerned about something else besides their hair, but our shop has positive energy and we strive to keep everyone in good spirits.
"I always find it interesting how much a haircut can change your mood… I told him I wanted to cut it all off and start fresh. He gave me his honest opinion and said he had a better option for me. As he started to cut my hair, he asked me questions. He kept me focused on the current task. I was amazed at the end result. He did better than I had imagined and the best thing is, he gave me hope that things can get better." One customer added.
Come join Top Cutts Barber Shop for a fun-filled event on May 11, 2021. There will be great food, great drinks, and great prizes.
Top Cutts Barber Shop
930 W Washington St Suite 6
San Diego, CA 92103
(619) 255-8194
Media Contact
Company Name: Top Cutts Barber Shop
Contact Person: Ray
Email: Send Email
Phone: (619) 255-8194
Address:930 W Washington St Suite 6
City: San Diego
State: CA
Country: United States
Website: https://topcutts.com/