One of the most well-liked subculture pastimes in current times is known as cosplay. Cosplayers are persons with a great level of creativity who are able to flawlessly imitate the appearance of any character they choose. The difference between cosplayers and regular individuals is that regular people only have one identity. They are able to take on new personas on a daily basis without developing a sense of tedium from the experience.
Cosplayer Sally Dorasnow is one example of this type of person who has established a name for herself by portraying well-known characters such as Rory Mercury. Sally is originally from Malaysia, and she began her cosplaying career in 2015. Since then, she has not taken a break from the hobby. She is presently one of the most prominent cosplayers in Asia, as shown by the fact that her Instagram account has 567 thousand followers. She is asked to attend local events not only in Malaysia but also in other countries such as Vietnam, the Philippines, and Indonesia. Her presence is much sought for. She is not scared to take on difficult cosplays and has expressed interest in dressing up ranging your cute little imoto till your attractive ara ara onesan.
Since she was in middle school, she has had the desire to try out cosplay, but due to the high expense of cosplay and the fact that information regarding how to cosplay or events at the time was little to non thus that enthusiasm has steadily faded away over the years. The moment that marked a turning point in her life was when she enrolled at KDU University College and became a member of the Anime club. They were quite supportive of her decision to give Cosplay another shot.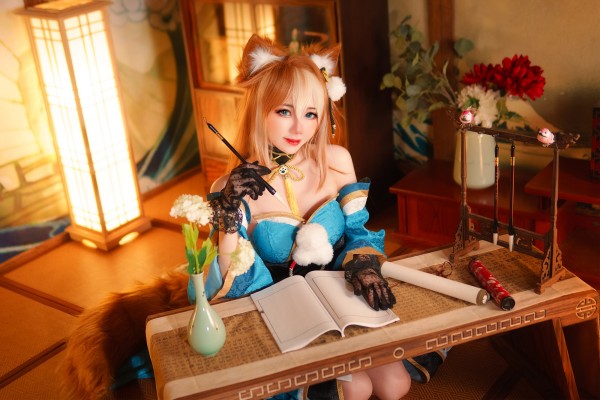 In addition to participating in cosplay, Sally likes a variety of other activities. She love going to maid Maid Cafe, and when she is not astounding her followers with her alter egos, she enjoys having fun with her pets and hanging out at her discord. She is rather reserved by nature, but it also has a dash of sauciness to it in certain ways. Gaming is another activity that holds a significant place in her heart. She would occasionally stream on Twitch, and she enjoys interacting with players of different games on the network.
It is very clear from Sally's many social media pages that she enjoys receiving clicks. She doesn't hold back when it comes to displaying her audacity. She is sensual, and she is fully aware of her own alluring persona. Her devoted followers like her daring photoshoots and express their admiration for them. She says she is really fortunate that she is able to do something she love while creating a career out of it, there is not many content creator that can strive to be self sustained yet is always doing something they are happy about.
Sally believes that "Although most people believe it to be simple, being is actually rather challenging. There is a proverb that says, If you are beautiful, it does not mean you are attractive; nevertheless, if you are attractive, that does mean that you are beautiful."
Social Links
https://www.instagram.com/iamdorasnow
https://twitter.com/iamdorasnow
https://www.facebook.com/SallyTehCosplayer/
https://www.tiktok.com/@iamdorasnow
https://www.patreon.com/iamdorasnow
Media Contact
Contact Person: Sally Dorasnow
Email: Send Email
Country: Malaysia
Website: https://www.instagram.com/iamdorasnow