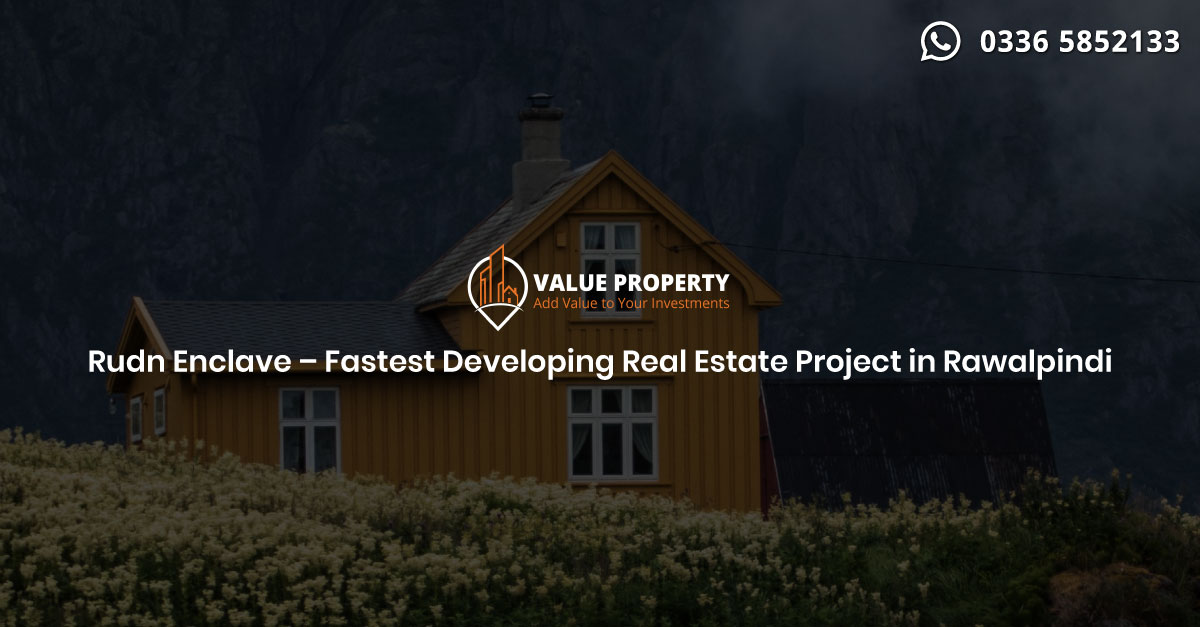 Rudn Enclave Rawalpindi is considered to be one of the most ruminative and lucrative investment opportunities by the investor community. The sole reason of this perception is the ideal location of the society.
Real estate market in Pakistan has started growing again in the recent days. The market never stopped its operations in the first place, but this business along with others stood jeopardized because of Covid-19 situations. It is the high-time to invest in real estate in Pakistan specifically for buy and hold. It's also a general perception that market will keep on growing till the end of next year in order to match the pace that it has lost lately.
Likewise, investor community is always in search of an opportunity to invest into real estate. For that purpose Rudn Enclave, Rawalpindi is a great option to look at for various reasons. Firstly, the society is being developed by RMRSCO Pvt. Ltd., which is a reputable organization working in the industry globally for a long time know. The next factor that adds to its demand is that the project is administered by Pakistan's leading consultancy, i.e. NESPAK. Both these reason make it an ideal society to invest in.
Location
Rudn Enclave is located at the main artery of twin cities adjacent to National Highway 5, Lahore-Islamabad Motorway, Proposed Ring Road, and CPEC route. Also, the society is all set to acquire a dedicated interchange just for its residents, that will save them from hassle of the other city centers.
Owing to all these reasons, society has already done well in the market since its launch. Rudn has sold almost 90% of their inventory and prices are going higher in the reselling phase on daily basis. But that shouldn't be an issue, as the developer has introduced another inventory which has limited 5-Marla plots, and we call it H-Block. Hence, it won't be just if we call it the most suitable gated-community that's loved by everyone.
Master Plan
Rudn Enclave has the main boulevard at around 200ft wide road, with all main roads around 60ft wide, and all streets around 30ft wide. 40-50% land is reserved for residential plots only, while other half of the society is dedicated for green parks, natural botanical gardens, shopping malls, and community centers. These features in Rudn Enclave add value for its residents and make the society shine brighter in investors' eyes.
Moreover, Rudn Enclave, Rawalpindi is planned to have 2 main blocks called general and executive block. General block is further divided into A, B, C, D, E, F, and G blocks. In these blocks A, C, and G blocks have dedicated residential plots of sizes 5, 7, 10 Marla, and 1 Kanal. On the other hand, B block has commercial plots of plot size 4 Marla, 8 Marla, and 1 Kanal. And D and E block of Rudn Enclave has 4 and 8 kanal farm houses.
Similarly, the Executive Block is the top of the line block of Rudn Enclave, as it enjoys a close proximity with the city centers and specifically with the Rawalpindi Ring Road, and CPEC route. Executive block has residential plots of plot size 7, 10 Marla and 1 kanal, while the commercial plots that are available for sale are of sizes 4 and 8 Marla.
Likewise, Rudn Enclave has also launched a new block i.e. H-Block, in which the society is offering very limited number of 5 Marla residential plots. H-Block was not a part of the initial development plan rather it was later added keeping in view the growing demand of customers for residential plots.
The prices and installment plan at Rudn Enclave is kept in nominal range so that it falls in range of every individual from any sector of society. The booking amount in Rudn Enclave starts from 20% upfront and rest of the amount can be paid in 4 years easy installment plan. The minimum booking for a 5-Marla plot in general block starts from PKR 240,000, that isn't much in todays' economy, the maximum booking amount for a 1 Kanal plot is 705,600.
Likewise, the minimum booking amount for a 4 marla commercial plot is 528,000, while maximum booking for a 1 kanal commercial plot is 30,00,000. Then there are farm house plots that cost you 18,40,000 for a 4 kanal, and 32,00,000 for a 8 kanal plot. While the minimum booking prices in Executive Block go from 360,000 and all the way to 14,40,000. You can visit Rudn Enclave booking office for more details.
Features and Promised Amenities
Rudn Enclave is redefining the housing concept in the twin cities, and this is claimed owing to the modern yet trendy amenities and features that it has to offer. The society is all set to provide a premium and luxury living experience to its residents. The included essential amenities in the society are 200ft wide main boulevard, streets, lanes & walk-ways, well-planned drainage & waste disposal systems, 24/7 water and natural gas supply, schools, hospitals, parks, malls and a lot of other features. Additionally Rudn has the following amenities that make it stand above the rest of similar societies.
Jami'ah Masjid
A modern yet traditional Jami'ah Masjid is built in the society where people can say their 5 times prayers in congregation.
Hospitals
Well-equipped and staffed hospitals are built within the society that will cater the needs of residents in times of emergency.
Commercial center
The commercial centers with almost every large brands and outlets is planned to be in Rudn Enclave, that will fulfill the needs of the residents.
Community center
Socializing is also a part of human life, that's why a society maintained community center is made in Rudn Enclave to allow the residents sit, chit chat and eat in groups.
Zoo
A serene zoo engulfing all modern day requirements is set up in the middle of the society that has animals from different species to let people enjoy their leisure hours.
Parks
Rudn Enclave is a home for green parks because of the natural environmental surroundings that it has. The area is not so densely populated which makes the AQI more breathable.
24/7 Electricity and Gas
Indigenous water and gas supply systems are installed, all within the society to let people have access to these basic facilities for their living throughout the calendar year.
Security and Surveillance
Rudn Enclave has installed latest security cam tech supported CCTV system that helps in managing the surveillance 24/7. A well-equipped and highly technical staff is also deployed to save people's life, belongings and provide an overall safe living experience.
Development status
Rudn Enclave is developing on a very fast pace. The complete road infrastructure that connects the society with the outer world is constructed. Moreover, the major development in the executive block is also being done speedily. Since they call the Executive Block of Rudn Enclave, the crown of Rudn Enclave, that's why the progress has been done on priority basis.
In addition to this, the telephone and broadband lines, electricity supply, and sewerage system are almost completed. Rest is done with a great pace to ensure a peaceful living experience for the residents, that's hard to find elsewhere.
End note
As a matter of fact, ValueProperty is working day and night tirelessly for the customers to provide ample investment opportunities to them. As per our expert team's various researches were conducted in which several parameters like proposed pathways, market trends and investors' choice were considered, and we found out that the prices at Rudn Enclave are most likely to increase by 25-30% for the residential plots, while the prices of commercial plots are anticipated to get jumped to 50% more value in the current calendar year.
Also we have found that the society is credible and worth your trust because the main office is selling plots on the maps and not files. This establishes that the society is only selling plots that are actually present there, on spot. This makes the chances of fraudulent activities from zero to none and establishes a great working relation between the society and the residents.
Media Contact
Company Name: ValueProperty
Contact Person: Zohaib
Email: Send Email
Phone: +92 336 585 2133
Address:Plaza 59, Wallayat Complex
City: Islamabad
Country: Pakistan
Website: valueproperty.pk