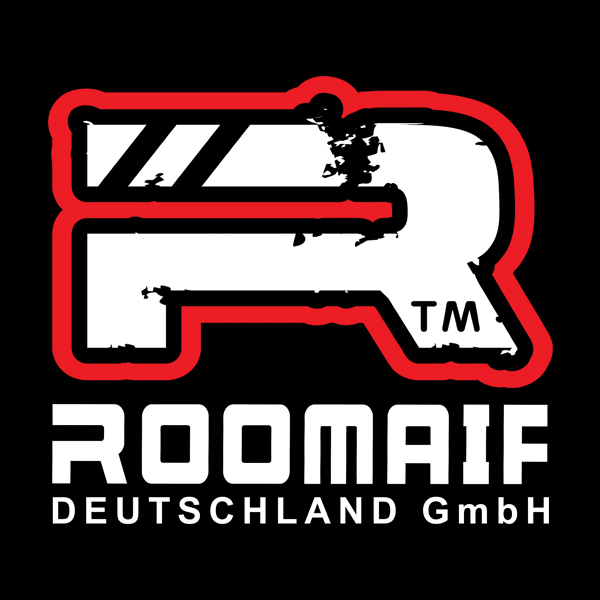 Equipment is the professional's trusted steed and closest friend when it all comes down to it, and ROOMAIF has all the quality and authenticity in their equipment, but it is their global impact and power their brand puts behind growing professional fighter sports that is putting them on the map.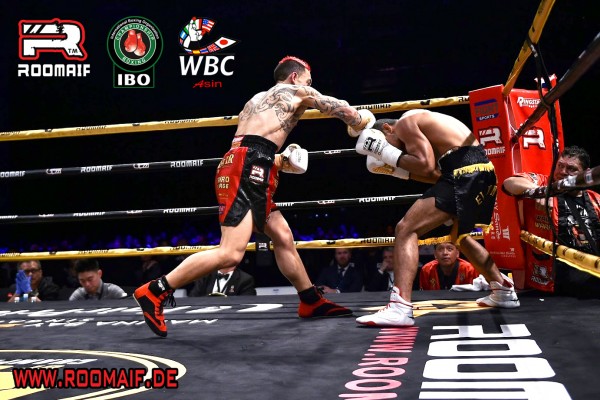 Clothing has been a part of human existence for as long as we can remember. Over time, clothing has become specialized into attires for certain occasions, equipment tailored for particular tasks, jobs, sports. It is in this world of equipment that ROOMAIF has existed since 1990, bringing the finest of German authenticity and quality into the sports and apparel universe.
Providers of top-notch sports gears and equipment, ROOMAIF is an innovative and dynamic manufacturer that specializes in Boxing, MMA, Martial Arts, and Fitness apparel. Our rapid growth and ever-expanding presence in New markets and across the world is a testament to the reliability, quality, of our products, and how much our dedication to excellence is part of our core values.
Equipment in sports is just as fundamental as the skills required by the athlete. Today, manufacturers have to find the balance between productivity, effectiveness, style, and fashion, especially in the world of Boxing, MMA, and Martial Arts, where the equipment leaves the manufacturer no room for error since it has to reflect every aspect of the fighter from endorsements to style, while still being the best possible accomplice to their performance.
The brand of ROOMAIF is respected today because of the endless pursuit of that fine balance between all these elements that go into making the ultimate fear for a fighter or fitness enthusiast.
Today's equipment world is dominated by statements, it is all about conveying a clear and precise message without having to use a million words. From the choice of color to the different accessories to the gear, ever design is a reflection of the fighter's personality and the brand's vision. The material and trims must give the fighter the best chance of winning, being fully in control of their abilities, because once they step into the ring, it is just them and their Boxing Gloves (Boxhandschuhe) Gears, against the opponent. It is this obsessive attention to detail, and ever-constant dedication to improvement that has made ROOMAIF a household and trusted name amongst fighters and their teams. Innovation through technology and the passion for what we do, makes ROOMAIF a standout brand in the world of sporting equipment and has seen us equip some of the biggest names in Boxing, MMA and Martial Arts.
MORE THAN JUST A MANUFACTURER
ROOMAIF is breaking ground as a brand, and a prominent name in the world of Professional Boxing, Martial Arts, MMA, and Fitness. With their name at the forefront of events and fighter sponsorships, ROOMAIF is setting the trend and blazing new trails for professional fighter sports, building a household brand in the process.
SAKARIA "DESERT STORM" LUKAS
The 35-year old featherweight boxer from Namibia who debuted in 2011, is one of the marquée ROOMAIF athletes and will be the focus of the boxing world in March 2020, when he headlines Madison Square Garden, taking on American, Jesse Magdaleno. Unbeaten in his professional career that spans nine years, SAKARIA is 23-0, with 16 KOs, his most recent fight coming in December 2019 against Raston Kayira (won by KO)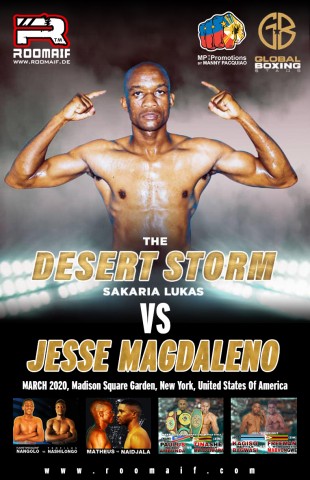 SAKARIA VS. JESSE MAGDALENO
Jesse Magdaleno is seven years younger than SAKARIA and has a year less in his pro career, but his resume is just as impressive. A 27-1 pro record with 18 KOs is telling of his skills and threat. He is currently world number three in the featherweight division and a former World Champion. Losing to Isaac Dogboe is nothing to be ashamed about, and come March 2020, SAKARIA would have to be wary of the threat Magdaleno poses. Madison Square Garden will be the venue, and both athletes will be the pride of ROOMAIF as their sponsors.
2020 WILL BE THE JAM-PACKED YEAR
ROOMAIF athletes, as they will be in action in their different divisions all around the world, growing their career résumé while representing the brand.
EVENTS IN APRIL 2020:
BOTSWANA
On the 3rd of April, Botswana native, Kagiso Bagwasi will fight for the Botswanian national title on home soil. His professional career stands at 3-0 and it will be a comeback of sorts for the 27-year old.
NAMIBIA
Come April 4th, ROOMAIF will be represented in Namibia by three commonwealth gold medalists in their different bouts.
33-year-old Jonas Matheus last lost a fight in 2016 and will be looking to keep his winning streak on home soil going in the Bantamweight division. His record stands at 13-2-1. In the lightweight division, Lazarus Shaningwa will be looking to add another victory to his pro career at home. Matias Hamunyela is still in the budding of his career, and his second year as a pro will see him try to build on his one pro career win from last year in his second fight ever as a professional.
ZIMBABWE
The arena of Zimbabwe will come alive on April 18th, as ROOMAIF fighter, Paulus "The Rock" Ambunda, will be fighting for the WABA title in the featherweight division. The 30-year old believes he has enough in the tank and will be looking to wipe off the defeat from his last fight against Stephen Fulton. Steven Bagwasi will not be far from his native Botswana, and has to confirm his recent form shown in the fight against SAKARIA Sheehama, from December of last year. Kutlwano Ogaketse will also be in action, hoping to bounce back from a shaky 2019 where he was 1-1.
ROOMAIF is not only a trusted brand, it is a growing one too, as it sets the new standards in equipment quality and excellence, championing fighter's with a history and culture of winning.
Media Contact
Company Name: ROOMAIF Deutschland GmbH
Contact Person: Mr. Peter Hoffman
Email: Send Email
Phone: +49 (0) 157 73076060
Address:Schlossstrasse 7 – 9
City: Frankfurt 60486
Country: Germany
Website: www.roomaif.com