When you think of the sport of MMA you often do not think of hip hop. The UFC has taken its brand from a $2 million company in 2001 to a billion-dollar industry in 2021. MMA is one of the largest growing sports in the world.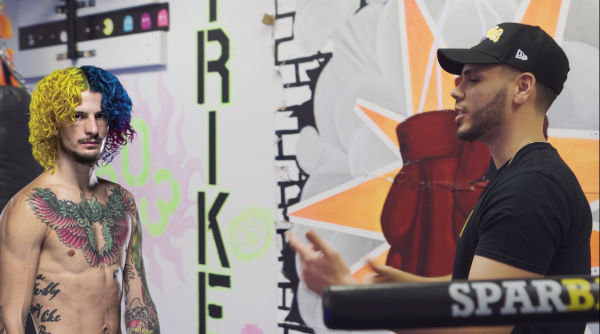 Hip-hop is the largest growing genre in the world. Put them both together and you have a global fanbase taking over entertainment world! That is exactly what NY rapper Rob Twizz has done with his new MMA Cypher. Unique and creative, never done before and witty with the metaphors.
Rob finds a way to name drop 23 fighters within 90 seconds – TKO within the first round. Creating punchlines by using the fighters names , for example "On the mic (Mike) I go Perry, leave your whole corner vacant" referring to Mike Perry having no one in his corner in his recent fights, insinuating Rob's skills on the mic can take out any ones whole team. Hip Hop and mixed martial artists both have built themselves on attitude and taking shots – that is exactly what Rob does! It is a combination of paying homage and poking fighters with fun word play. He has received props from some of the biggest names in MMA such as Jon Jones and the JacksonWink Academy, sharing his music on their social media platforms.
In this most recent effort, he brings in none other than the legendary UFC octagon announcer – Bruce Buffer! Bruce Buffer recently celebrated his 25 years with the Ultimate Fighting Championship, making him a staple in the sport. He starts off the video by presenting Rob "The Albanian Lyrical Tasmanian" Twizz, bringing his strong energetic presence to the cypher from the beginning.
Never have we seen Bruce in this element, celebrating hip hop; just exciting and amazing to view! Rob will continue to bring his creativity to the sport, working as ambassador for the innovative UK based company Sparbar. Who knows, maybe we will hear him in the next UFC EA Sports video game soundtrack!
In the meantime, you can check out his video "MMA Cypher 2.0" right here on YouTube:
https://www.youtube.com/watch?v=GJ3YyFSf7Rg
Media Contact
Company Name: Sparbar
Contact Person: Robert Nikic
Email: Send Email
Address:1012 Dockside Rd
City: London
Country: United Kingdom
Website: robtwizz.com