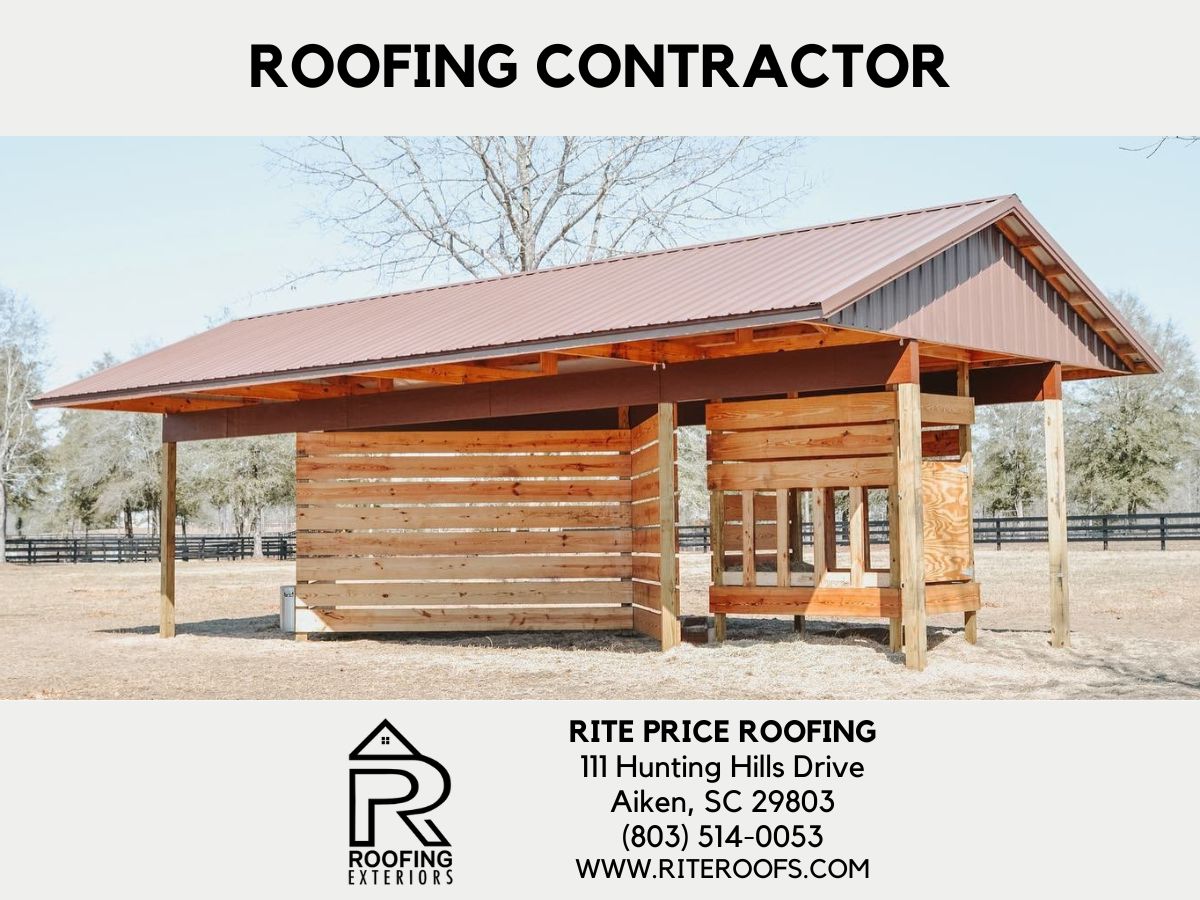 Rite Price Roofing offers roofing contractor services for residential and commercial properties and outbuildings in Aiken SC and surrounding areas.
A sturdy and durable roof protects houses and other buildings from the elements, enhances their curb appeal, and increases their overall value. However, over time, wear and tear are inevitable, and that's when the services of a professional roofing contractor are crucial. In Aiken, SC, and the surrounding areas, one name stands out for their exceptional roofing services – Rite Price Roofing.
Roofing contractors are skilled professionals who specialize in the installation, repair, and maintenance of roofs. They possess the expertise, experience, and authority to ensure a roof remains in top condition, providing a safe and comfortable living environment.
"There are any number of reasons an Aiken homeowner reaches out to us, from roof leaks to information on roofing materials suitable in our region. If it involves a roof, we are ready to help," says Bobby Robinson, of Rite Price Roofing.
Key reasons to contact a roofing contractor include the following:

Storm Damage: Harsh weather conditions can wreak havoc on a roof. From heavy rains to hailstorms, roofs in the Aiken SC area take a beating. If a homeowner notices signs of storm damage such as leaks or missing shingles, it's time to call a roofing contractor for immediate repairs.
Regular Inspections and Maintenance: Regular roof inspections and maintenance can identify potential issues before they become major problems. A professional roofing contractor, like Rite Price Roofing, can help extend a roof's lifespan and save homeowners money in the long run.
Indications of Aging: Advancements in roofing technologies have increased the projected lifespans of many new roofs. Still, over time, every roof will show signs of wear and tear. Cracked shingles, sagging areas, or frequent leaks are all indicators that a roof needs professional attention.
Roof Replacement: When the damage to a roof is extensive and beyond repair or when a roof is beyond its projected lifespan, a roofing contractor can guide a homeowner through the process of roof replacement. They'll help a homeowner choose the right materials for their home and ensure a seamless installation.
Rite Price Roofing: A Trusted Roofing Contractor in Aiken SC
Rite Price Roofing specializes in all aspects of roof repair. Whether it's a minor leak, missing shingles, or storm damage, their team of experts is ready to provide timely and efficient solutions. The key to a long-lasting roof is addressing issues promptly, and Rite Price Roofing excels in this regard.
In some cases, repairs may not be enough, especially if a roof has suffered extensive damage or has reached the end of its lifespan. Rite Price Roofing offers top-tier roof replacement services, ensuring a homeowner's new roof is durable, energy-efficient, and complements their home's aesthetics.
Aiken's Experts in Shingle and Metal Roofing
Rite Price Roofing has a reputation for excellence when it comes to shingle and metal roofing. They offer a wide range of options, enabling Aiken homeowners to choose the best roofing material for their needs. Whether they prefer the classic appeal of shingles or the durability of metal, Rite Price Roofing has the experience to install and maintain any roof with precision.
A Homeowner's One-Stop-Shop for Home Exterior Needs
A roof's functionality is closely linked to a well-maintained gutter system. Rite Price Roofing offers seamless gutter systems that are designed to efficiently divert rainwater away from the home, preventing potential water damage and ensuring the longevity of a roof.
In addition to roofing and gutter expertise, Rite Price Roofing also provides high-quality siding services. Siding plays a vital role in protecting a home's structure from the elements and enhancing its appearance. Rite Price Roofing can assist homeowners in choosing the right siding material and can install it with precision.
What sets Rite Price Roofing apart is that they are not just a roofing contractor; they are a one-stop-shop for all of a home's exterior needs. When Aiken homeowners choose Rite Price Roofing, they are selecting a comprehensive service provider for maintaining and enhancing the exterior of their home. Rite Price Roofing's dedication to expertise, experience, and authority extends to all their services. Homeowners can trust that the same level of quality that defines their roofing work will be evident in their siding, gutter systems, and other services.
Rite Price Roofing is well-equipped to address any homeowner's roofing requirements, whether it's repairs, replacement, or maintenance. Whether it's a minor repair or a complete roof replacement, they ensure that every aspect of the job is done with precision. Rite Price Roofing also offers competitive pricing without compromising on the quality of materials or workmanship, ensuring clients get the best value for their investment.
For more information on Rite Price Roofing's roofing contractor services, visit https://www.riteroofs.com/ or contact them today.
Media Contact
Company Name: Rite Price Roofing
Contact Person: Bobby Robinson
Email: Send Email
Phone: (803) 514-0053
Address:111 Hunting Hills Drive
City: Aiken
State: SC
Country: United States
Website: https://www.riteroofs.com/