Talented artist and poet, Riccardo de Bruce, remembers the efforts of the inspirational Breonna Taylor in a new poem titled Breonna Taylor Remembered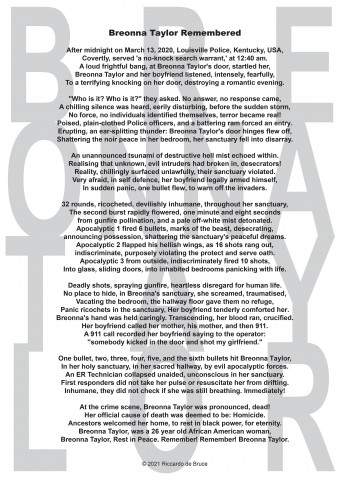 Riccardo De Bruce is dedicating his latest piece titled Breonna Taylor Remembered, atribute poem to the revolutionary Breonna Taylor, remembering her for the contributions she made in advocating for social justice and fairness, irrespective of age or gender. The poem will be officially released on the 13th of March 2021, exactly a year after Breonna Taylor was shot in her Louisville, Kentucky, apartment by white plainclothes officers.
"Writing this tribute poem for Breonna Taylor was very emotional. I feel very inspired and humbled to write a tribute poem that keeps her memory alive. As a contemporary artist and poet, I believe it's important to create works that comment on issues that impact Black lives. My documentary-styled poems are as critical as my paintings. Some incidents cannot be painted. Words can convey another important perspective when commenting on the true reality of Black lives taken inhumanly," said Riccardo de Bruce.
The issue of discrimination based on gender and color remains a scourge that millions of people in different parts of the world have to face. The case of the 26-year-old Breonna Taylor brought this monster to bear again, following a fatal shooting that led to the death of the young, passionate emergency medical technician. Taylor was hit by six bullets and died after the officers fired 32 shots without eventually searching her apartment. While Taylor's body was laid to rest on March 21, 2020, the memories of the incident linger, with protesters across the globe requesting that officers involved be dehired and criminally charged.
The Breonna Taylor Remembered tribute poem from Riccardo De Bruce will bring awareness to the plight of minority communities and the need to make things right one person at a time. Riccardo De Bruce will also be launching two artworks for online viewing and sharing.
For more information about the Breonna Taylor Remembered tribute poem and other works from Riccardo De Bruce, please visit his page on Facebook.
Media Contact
Contact Person: Riccardo De Bruce
Email: Send Email
Country: United Kingdom
Website: https://www.facebook.com/Riccardo-De-Bruce-1543855499262479/?__xts__%5B0%5D=68.ARB6nVXPNSkY5vG1jQEER1ZvkLwqncmXMCujiZ0Y9WZKquGquKIfz7LLob-NCWfN3kbOgljjydwoInLxvod0_QpNNWKCB_E5UlXLKWff9BAyqicACepybewOiA4vKgzrzP9rPC5OEEdTCbw0mNrGzjpFvRSA0xEUPGAwtMj9zOejXFRO77PPgjWybMmnMolEb4YSS2bQ8inO7dk