Lykke, the blockchain-based investment and financial product provider is proud to announce its partnership with Koinly—one of the leading cryptocurrency tax specialists in the market—in order to make the process of managing, tracking and reporting crypto taxes as easy and painless as possible.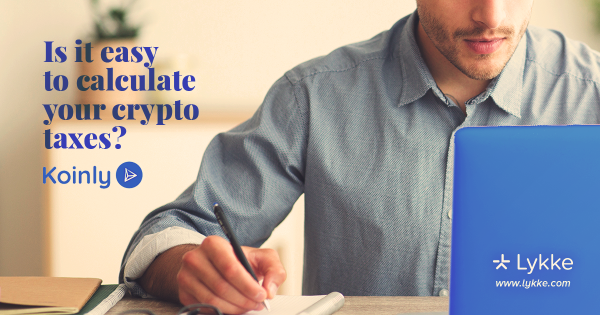 An often overlooked and sometimes downright dismissed topic has suddenly taken a front seat in recent months. Several regulatory agencies and tax authorities around the world have started to take interest in crypto traders with unpaid taxes. It is becoming clear that in order to avoid serious repercussions later, no serious investor should ignore crypto taxes management any longer.
The process of reporting crypto taxes happens to be a very confusing process. Even casual traders who only operate sporadically can rack up a lot of transactions per year, the act of keeping up with just a small amount of activity can prove to be a nightmare. On the other hand, many professionals are just not well prepared or even informed about current regulations and best practices in order to successfully guide their clients, which ends up perpetuating the cycle.
As global mainstream adoption increases, coupled with more clear regulations, the once untamed crypto industry is slowly starting to mature. Choosing a robust yet easy to use system for managing your taxes for years to come is a no brainer.
About Koinly
Koinly is a crypto tax startup that helps investors prepare their crypto tax reports in a fast and efficient manner. By linking crypto exchange accounts and public wallet addresses with Koinly via an API, investors can get a detailed capital gains report within a matter of minutes.
Their platform currently supports over 400 crypto exchanges and wallets as well as 6000 cryptocurrencies. It also comes with tax-planning features that can help investors plan their trades in a tax-efficient manner, give advice on how to minimise tax liabilities and even speak to a qualified accountant well versed in cryptocurrency rules & regulations.
Some other features include income reports for Mining, Staking and DeFI interest, compliant transaction logs, support in more than 100 countries and many other features to simplify the tax aspects of crypto trading. You can learn all about Koinly integration here.
Media Contact
Company Name: Lykke Business
Contact Person: Marina De Mattos
Email: Send Email
Phone: +41 43 508 63 79
City: Zug
Country: Switzerland
Website: https://www.lykke.com/