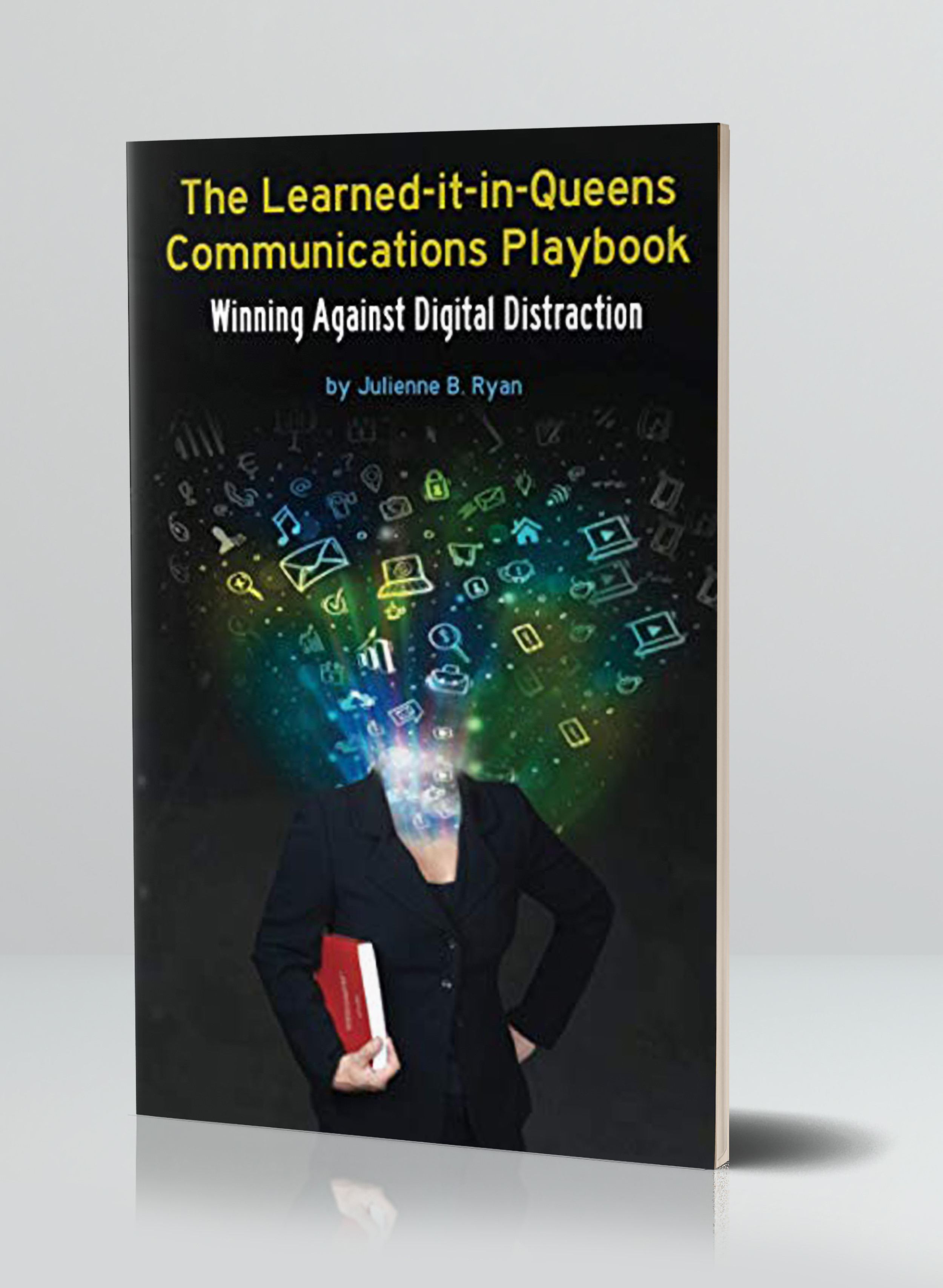 Author Julienne Ryan introduces the second edition of her acclaimed book, The Learned-It-in-Queens Communications Playbook, focusing on enhancing communication skills in the digital age through relatable anecdotes, authentic interactions, and the importance of face-to-face conversations, providing valuable insights for personal and professional relationships.
In a recent interview on The Michael D. Show, New York-based author and communications catalyst and humorist Julienne Ryan unveiled the second edition of her highly acclaimed book, The Learned-It-in-Queens Communications Playbook: Winning Against Digital Distraction. With a focus on empowering professionals to enhance their communication skills and overcome challenges posed by the digital age, Ryan's humorous book has garnered attention for its practical insights and relatable anecdotes.
In a lively conversation with show host Michael D. Butler, Ryan shared her motivation behind the book's creation. "I was spending too much time with lawyers," she explained, noting how preventable communication errors were leading to legal complications for individuals and businesses alike. The revised edition of her playbook is designed not only to facilitate smoother interactions within teams but also to help individuals navigate complex communication landscapes.
Ryan's playbook emphasizes authenticity as a cornerstone of effective communication. Drawing parallels to the diversity of her home borough of Queens, New York, Ryan remarked, "Queens is my sidekick in the book. That's where I learned a lot of life lessons because Queens is the most multi-cultural place in New York City and more than a little confusing to navigate. It forces you to keep learn about yourself and others every day." By embracing one's unique background and staying true to oneself, Ryan asserts that individuals can foster meaningful connections and engage in more productive dialogues.
The book also delves into the importance of direct, personal conversations in the age of digital communication. Ryan advises readers to prioritize face-to-face interactions whenever possible and highlights the nuances and intentions that can be lost in text-based conversations. "Our mobile phones are fantastic. They can help us communicate, but we don't. We get sucked into the digital abyss too easily." Ryan cautioned. "When you're talking about something a little more challenging, pick up the phone, and do it live with video. Watch the body language. Check for intent and what people are hearing, and don't jump to a quick conclusion."
Butler, the host of the show, commended Ryan's insights, stating, "Every team needs a playbook. This will help you become a better communicator with your spouse, with your business partners, with your children, with people you want to invest in your company, this is so important." The Playbook is a valuable resource for fostering relationships not only in the business world but also in personal spheres.
The second edition of The Learned-It-in-Queens Communications Playbook: Winning Against Digital Distraction includes new learning pages that encourage readers to reflect on their communication practices and embark on a journey of self-improvement is available everywhere books are sold now. Ryan's engaging writing style, likened to having a personal coach in one's ear, adds a unique flavor to the book's content.
For more information about Julienne Ryan and her work, please visit her website at JRyanPartners.com. The book is available for purchase on major online retailers including Amazon and Barnes & Noble. Readers can follow Julienne Ryan on LinkedIn for insightful updates and engaging discussions on effective communication strategies.
Media Contact
Company Name: Beyond Publishing
Contact Person: Michael Butler
Email: Send Email
Phone: 918.955.3227
Country: United States
Website: www.beyondpublishing.net