ReknRoad consists of Jeff Edwards (lead vocals/lead guitar), Tom Fahlen (harmony vocals/electric guitar), Colton Fair (drums) and Troy Wilson (harmony vocals/bass) Providing smooth melodies, vocal harmonies, and jaunty lyrics, the group creates a unique listening experience that is upbeat, and overwhelmingly positive. Their latest track "Infatuation" is an energetic rock/blues single that uses acoustic and electric instruments to create a smooth, rounded sound and powerful harmonized vocals to create a powerful voice to go alongside.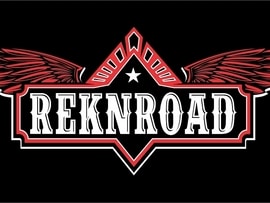 Having played instruments since they were teenagers, ReknRoad (reckon-road, or a "road to understanding") allows each member to bring their own musical taste and influence to create a beautiful mix of classic rock, alternative, country and blues together in perfect harmony. Featuring an electric guitar, acoustic guitar and rhythm section, their setup provides listeners with a rich and vibrant sound accompanied by vocal harmonies that are reminiscent of notable bands such as the Allman Brothers Band and The Eagles. The end result is a collection of music that is both thoughtful, yet danceable and blends each member's unique musical backgrounds.
Ranging from pop to country, ReknRoad runs the gamut of guitar rock music and embodies the evolution of blues and folk rock, without tipping the needle too far on either side. Their harmonies allow the group to improvise considerably, and cover songs from a wide variety of genres. And while covers are fun and all, it's their original work that gives ReknRoad the bravado that they show on stage. The group specializes in creating original tracks that are naturally crowd pleasing, and engineered with a great ear. Tantamount to ReknRoad's philosophy is their sound, believing that a good sound makes a good song, leading to their meticulous song crafting, and live chemistry.
Behind the scenes, the band is aided by a live soundman, Keith Pechar, who accompanies the band to almost every live show, and gets them the most out of their sound. A veteran of sound engineering, Pechar has worked with virtually every band one might hear on classic rock stations. It is this expertise in sound production and the wide variety of influences that makes ReknRoad a band that sounds familiar, but too unique to pin down. The combination of experience and creativity allows this four (five if you count their sound guy, which they do) piece outfit to create the robust sound that makes them stand out.
The name ReknRoad represents the road to understanding that one must walk. A-lot of the band's success can be attributed to their life experience and influences. Recorded at a home studio, "Infatuation" is the first track off of their new album "All That Rain", which will be released sometime next year. The first track since the release of their self-titled album in 2018, "Infatuation" picks up right where the first album left off with twangy (but not too twangy) classic guitar, vocal harmonies and fast-paced rhythm that is as soulful as it is joyful. Even though the band is facing the same hardships as other musicians, they have taken this time to fine-tune their sound. This has allowed the group to put those finishing touches on the tracks set to appear on "All That Rain", yet continue to book as many live performances as able.
Don't sleep on what promises to be a fresh take on the classic rock genre, from a group of musicians and engineers with more years of experience in the industry, than is probably even necessary. Check out "Infatuation", the new song off of their new album "All That Rain" as well as their self-titled release ReknRoad on Apple Music, Spotify, Napster, Amazon, YouTube and virtually any online music platform.
Also be sure to follow the band for updates on their Facebook Page and check out their website www.reknroadband.com.
Media Contact
Company Name: 3000 Records
Contact Person: Terrance Schemansky
Email: press@3000records.com
Phone: 586-480-3000
Address:P.O. Box 285
City: Fenton
State: MI
Country: United States
Website: http://reknroadband.com