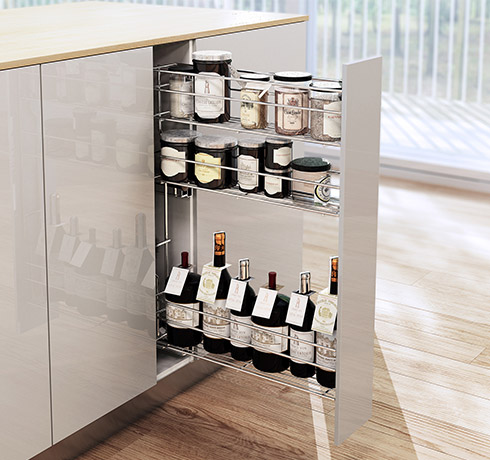 Giving clients good quality and modern design when it comes to kitchen storage solutions
One of the UK's leading producers of furniture fittings, REJS is setting a record for itself by providing customers with simple and practical kitchen storage solutions. REJS is an expert in the production of wire, steel and aluminum accessories for modern kitchen and wardrobe furniture. The company specializes in providing everything related to kitchen storage including, furniture fittings, drawer runners, corner cabinets and comfort drawers' systems. REJS prides itself on selling goods that are easily available in a wide range of different types, matching all varieties of customers' individual requests.
Founded in 1993, REJS is a family-run business that has created a large and stable organization, with a sales area covering Poland, and numerous European and overseas markets. In the course of fifteen years of development, REJS has continuously updated its technical infrastructure and also added experienced staff. This has enabled REJS to create innovative solutions and improve the comfort of everyday living for its customers.
Customers are assured of not only getting good quality and modern design but also professional customer service. They have a system of a kind and helpful sales staff that supports clients at each stage of sales and even after-sales. Customers that patronize REJS kitchen storage solutions have the advantage of having fast and secure payments for a hassle-free shopping experience. In addition, there is a 14 days return policy in case clients change their minds. Customers in the UK also get to enjoy free delivery for UK Mainland customers with orders of £75 and above.
The company understands that today's market and customers have high expectations and are setting high standards and demands on industrial producers and suppliers. Customers now demand quality, good design, competitiveness in costs, short and on-time deliveries. This is why REJS is focused on developing and optimizing its production and service processes, to reach the best results, fit into each market characteristic and bring satisfaction to its customers.
For more information on REJS, visit their website – rejsltd.co.uk
Media Contact
Company Name: REJS UK Ltd.
Contact Person: Kate Brown
Email: Send Email
Address:28 Slough Business Park, 94 Farnham Road
City: Slough SL1 3FQ
Country: United Kingdom
Website: https://www.rejsltd.co.uk/