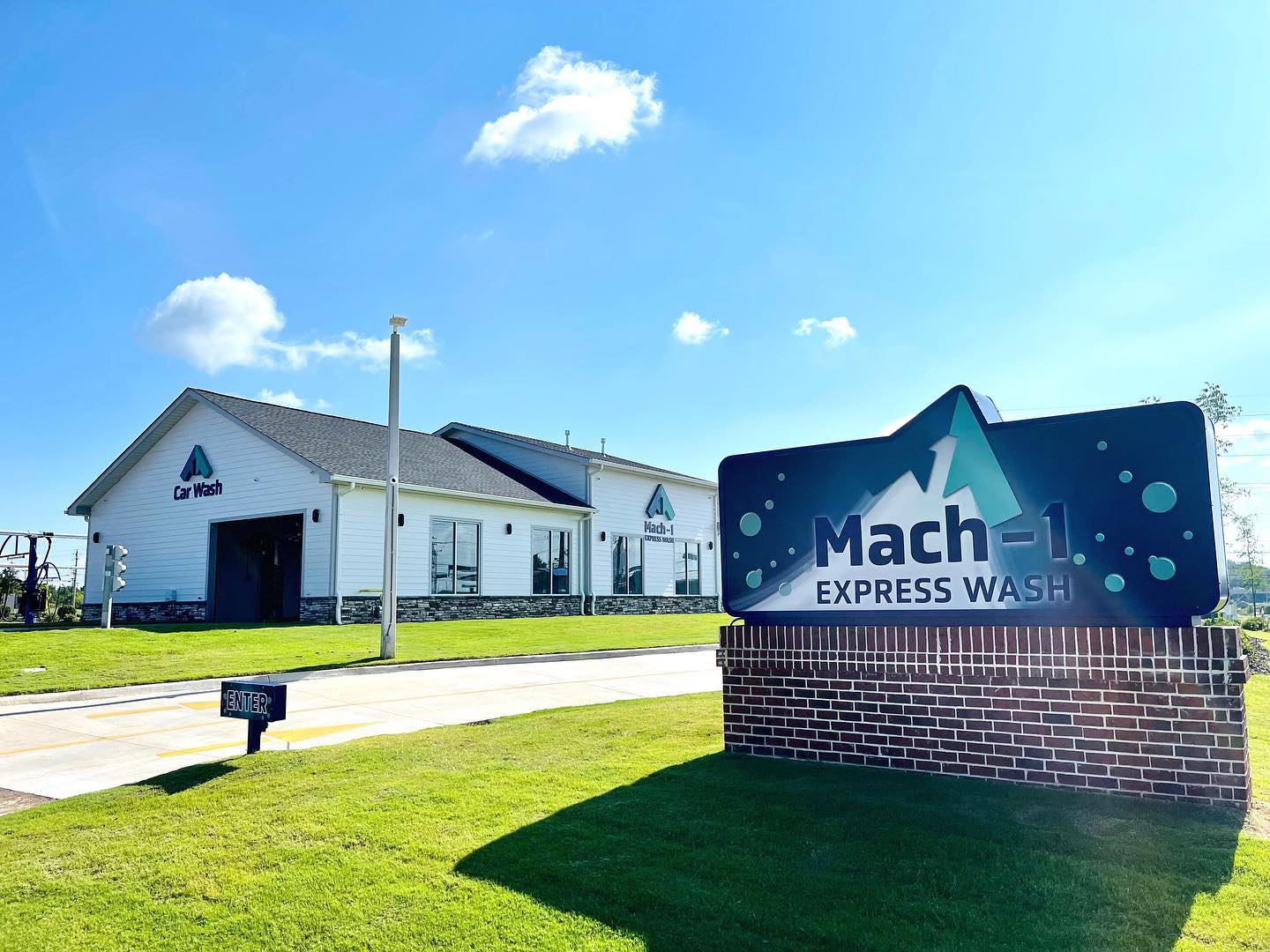 NEWPORT BEACH, Calif. – RealSource Group, a national commercial real estate brokerage company focused on retail, healthcare, automotive and education properties, announced the sale of a two-property Mach-1 Express Wash sale-leaseback portfolio. The sale price was $7.9 million.
RealSource's Senior Vice President of Investment Sales, Austin Blodgett, in association with Chris Salemi, Managing Director at Aileron Capital Management of Tampa, Florida, represented the seller, Mach One Holdings based in Centre, Alabama. The buyer was an institutional buyer based in New Jersey and represented themselves.
Mach-1 Express Wash is a family-owned and operated business with over 15 years of experience in the express carwash industry. The company has 12 sites open or coming soon in the U.S. (Alabama, Delaware, Georgia, Mississippi, New Jersey, North Carolina, Ohio and Pennsylvania).
The first property, a new, single-tenant 4,000-square-foot Mach-1 Express Wash, is located at 157 Plaza Drive on a one-acre pad to a Walmart-anchored shopping center in Forest City, North Carolina. Mach-1 Express Wash opened in March 2020 along the main arterial in the trade area's major retail corridor. The site has strong vehicular counts, with a combined total of 30,000 cars per day at the intersection and is situated in the Myrtle Beach-Conway, South Carolina-North Carolina Combined Statistical Area with a population of over 550,000. According to Blodgett, there is limited direct competition within a three-mile radius of the property.
The second property is located at 1559 Rome Highway in Cedartown, Georgia, just 60 miles outside of downtown Atlanta. The single-tenant 4,000-square-foot Mach-1 Express Wash is situated on a one-acre pad in a Walmart anchored-shopping center and across from a Home Depot-anchored shopping center, the two largest shopping centers in the area. The property, which opened in July 2019, enjoys strong vehicular counts, with a combined total of 32,000 cars per day at the intersection, and zero competition within a three-mile radius, reports Blodgett.
"Both car wash locations have a 100-foot tunnel filled with top-of-the-line equipment and a new 20-year absolute triple-net lease," said Blodgett. "The buyer purchased the two properties as a sale-leaseback from Mach-1 for a long-term hold and is taking advantage of the new, long-term lease, annual increases and 100% bonus depreciation tax benefits that come with car wash properties in 2022."
Blodgett continues, "The tenant wanted to do a sale-leaseback to move money quickly out of the real estate to be used to grow the business."
This sale represents the continued demand for express car washes. "This sale achieved premium pricing for smaller express wash operators who are still growing rapidly. With smaller chain operators like Mach-1 Express, buyers can still get a long-term lease with a strong guarantee and bonus depreciation, but at a slightly higher cap rate in the 6% range," Blodgett explained.
"Many small unit operators want to take advantage of sale-leasebacks but may not think they have the credit to do so. However, transactions like this demonstrate the institutional investor demand for even a small portfolio of single-tenant car wash portfolios, and we have been very successful at matching operators with institutional cash buyers. This is also a win for the operators who want to fund their expansion through the sale of their real estate," noted Blodgett.
In 2022, RealSource Group has completed the sale of 14 single-tenant net-leased car washes valued at more than $70 million located in the Midwest and Southeastern states. In mid-June 2022, RealSource Group arranged the sale of a single-tenant net-lease investment occupied by Mach-1 Express Car Wash at the new Publix grocery-anchored shopping center in Huntsville, Alabama. The sale price was $4.3 million.
"With the phase-out of 100% bonus distribution at the end of the year, we expect that the demand for new single-tenant net-lease car washes will continue to be strong in 2022," said Blodgett. "There is currently little on the market that can compare to the return on a brand-new construction express car wash with a new 20-year triple-net lease with a corporate guarantee and annual increases. Also, accelerated depreciation is always a driver for investors to purchase these sites, giving them tremendous tax advantages over other retail asset types in 2022."
About RealSource Group
RealSource Group, founded in 1991, is a national commercial real estate brokerage company that specializes in tenant representation, investment sales and sale-leaseback transactions. With the combination of RealSource's leasing and sales experience, vast broker network, technology, unique processes, and national reach; RealSource delivers consistency, high production, quality service and measurable deal-making results for its clients on a nationwide platform. RealSource transacted over 900 commercial real estate deals nationwide, RealSource has perfected its platform through proven execution over the last 30 years. For more information, visit: realsource.com.
Media Contact
Company Name: RealSource Group
Contact Person: Austin Blodgett, Senior Vice President, Investment Sales
Email: Send Email
Phone: 949.431.2735
Address:12 Corporate Plaza Suite 150
City: Newport Beach
State: California
Country: United States
Website: https://realsource.com/