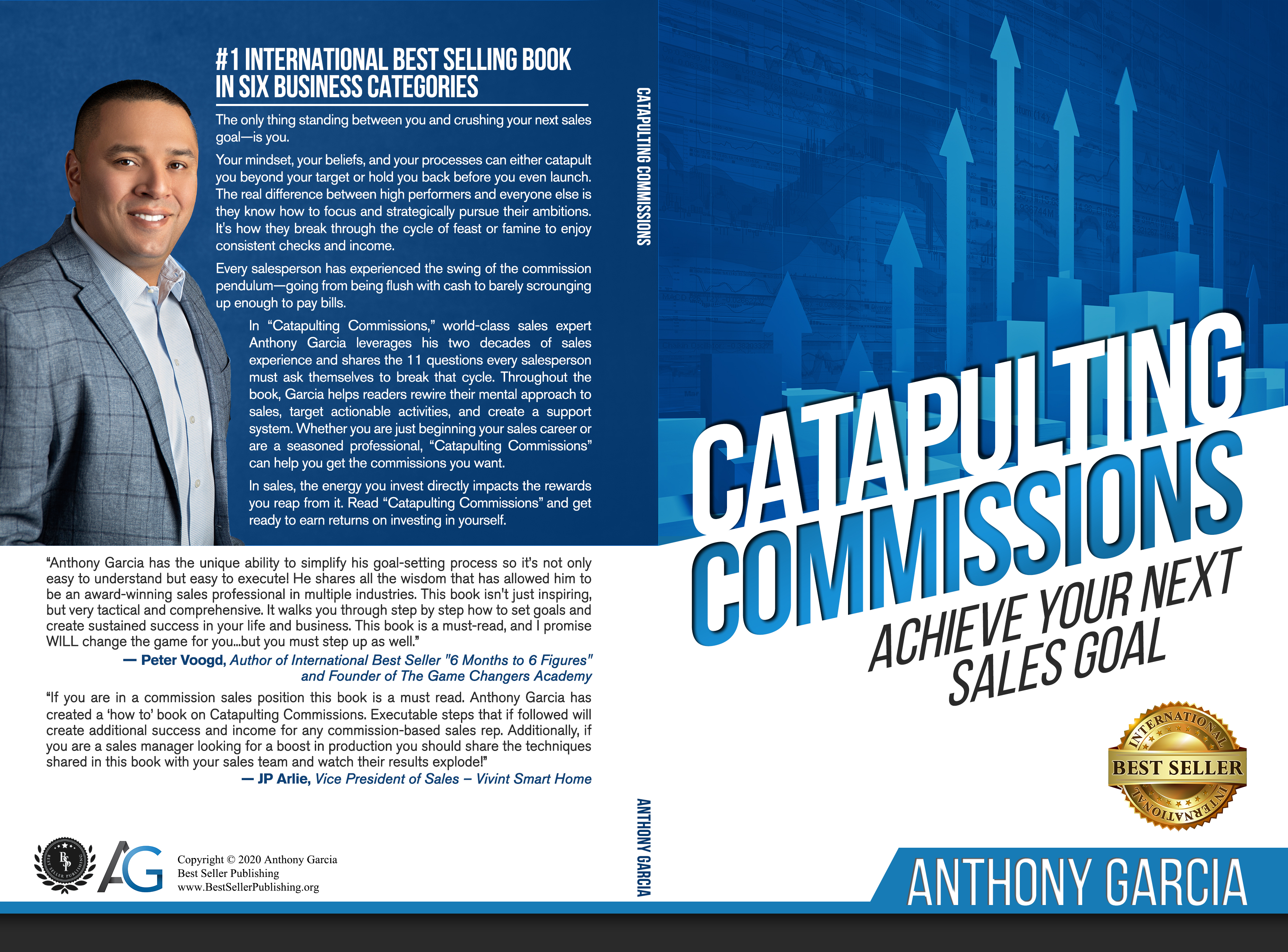 February 13, 2020 – Rated as one of the most sought-after speakers on sales and performance, Anthony Garcia recently broke a new chapter as his latest book, Catapulting Commissions, recently ranked number one in more than six countries and over five categories on Amazon Kindle. Catapulting Commissions brings fresh insight to sales as it focuses on the seller, unlike other books in the market.
The new book by Anthony Garcia, Catapulting Commissions, helps people take a deep dive into an essential factor in the business of sales, which is the seller. Drawing from his wealth of experience as an expert in sales training, recruiting, goal achievement, and performance coaching, Anthony addresses how the salesperson's mindset can be both an obstacle and a Launchpad in sales.
"I am happy to see how my new book has gained traction as the number one in more than six countries. I am passionate about helping salespeople maximize their potentials. From my over 17 years' experience, I realized that the seller might be the reason for the poor sales, though unintentionally and without even ever knowing," says Anthony Garcia.
He says further, "I am as well humbled to be recognized as an international bestseller on Amazon. The feedbacks on Amazon have been very encouraging; seeing how the book is helping people get better first as a person and helping them get psychologically and emotionally rewired for increased sales performance."
For more information about Anthony's latest book, Catapulting Commission, visit the Amazon page.
"As a coach, I am familiar with many goal-setting systems. What is unique about this one is that it addresses the one critical success parameters that most goal-setting systems ignore: The goals setter himself/herself… The book is an easy read. Aside of having the author's own examples to follow, it is written in a simple, direct style that is easy to understand. It is also well balanced in volume without any fluff…" says a recent verified buyer on Amazon, Shmaya David.
About Anthony Garcia
Anthony Garcia is an expert in sales training, recruiting, goal achievement, and motivating salespeople to peak performance. As a 17 year veteran of sales, Anthony has achieved top accolades in direct sales, business to business sales, and medical sales. In his previous roles, he has trained and developed sales teams for Cutco Cutlery and Paychex. In his current position, Anthony is on the leadership team that oversees a 500-million-dollar business in medical sales where he also trained international sales forces and helped facilitate product launches in new markets.
For more information about Anthony Garcia, visit Anthonypgarcia.com.
Media Contact
Company Name: Anthony Garcia Inc
Contact Person: Anthony Garcia
Email: Send Email
Phone: 661-232-0770
Country: United States
Website: www.anthonypgarcia.com