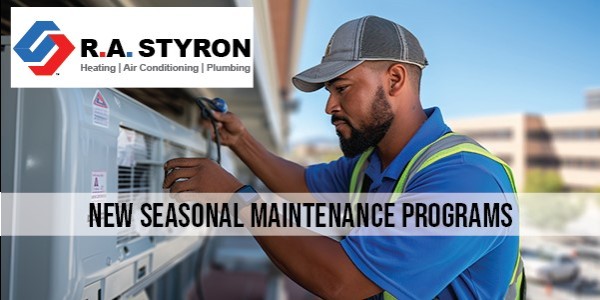 R. A. Styron Heating & Air Conditioning, Inc., a trusted leader in the HVAC industry, is excited to announce the launch of its exclusive seasonal maintenance packages for Winter and Summer. With a commitment to ensuring optimal comfort and efficiency for residential and commercial customers, these packages are designed to address each season's unique demands proactively.
As temperatures fluctuate, it is crucial to maintain heating and cooling systems to avoid unexpected breakdowns, reduce energy consumption, and prolong the lifespan of HVAC equipment. R. A. Styron's new Winter and Summer HVAC Maintenance Packages offer a comprehensive solution to keep systems running smoothly year-round.
Key features of the Winter Maintenance Package include:
Furnace Inspection and Cleaning: Thoroughly examine the furnace to ensure it operates efficiently and safely during the colder months.
Ductwork Inspection: Assessment of ductwork for leaks, blockages, or inefficiencies that may compromise heating performance.
Filter Replacement: Regular replacement of filters to enhance indoor air quality and maintain optimal system efficiency.
Thermostat Calibration: Calibration of thermostats to guarantee accurate temperature control and energy efficiency.
The Summer Maintenance Package includes:
Air Conditioner Inspection and Cleaning: Detailed examination of the air conditioning system to ensure peak performance during hot weather.
Refrigerant Level Check: Verification and adjustment of refrigerant levels to maximize cooling efficiency.
Condenser Coil Cleaning: Thorough cleaning of condenser coils to enhance overall system efficiency.
Checking and Tightening Electrical Connections: Ensuring electrical connections are secure to prevent malfunctions and improve safety.
By offering these seasonal HVAC maintenance packages, R. A. Styron Heating & Air Conditioning, Inc. aims to empower customers to enjoy year-round comfort with the confidence that their HVAC systems are operating at peak efficiency.
At R. A. Styron Heating & Air Conditioning, Inc., they are committed to delivering exceptional service and ensuring the longevity of their customers' HVAC investments. Their seasonal maintenance packages are designed to provide peace of mind, cost savings, and a comfortable indoor environment.
For more information about the winter and summer HVAC Maintenance Packages or to schedule an appointment, please contact R. A. Styron Heating & Air Conditioning, Inc. at https://rastyron.com/
About R. A. Styron Heating & Air Conditioning, Inc.
R. A. Styron Heating & Air Conditioning, Inc. is a Virginia-based HVAC company with a reputation for excellence in providing heating, ventilation, and air conditioning services. With a team of experienced technicians, the company is dedicated to delivering top-notch solutions and ensuring customer satisfaction.
Media Contact
Company Name: R. A. Styron Heating & Air Conditioning, Inc.
Contact Person: Ms. Tabitha Phillips
Email: Send Email
Phone: (757) 420-5488
Address:808 Juniper Crescent #206
City: Chesapeake
State: VA 23320
Country: United States
Website: https://rastyron.com/