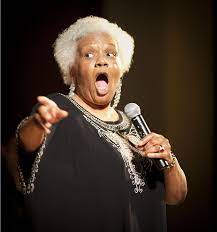 Studio City, California  –  The world bids farewell to the legendary Jazz and Blues singer Barbara Morrison, as her final album, BLUES MAMA!, is now available on all major streaming platforms. Despite her passing on March 16, 2022, Morrison's creative brilliance lives on through this remarkable album, which she was working on alongside producer David Longoria and the incredible blues ensemble, The Legacy.
David Longoria, an award-winning music producer and artist known for his hits in jazz, dance, and other genres, first met Barbara Morrison in 2018 during the production of his album MOOD. Their collaboration on the classic jazz song "Body And Soul" earned them the prestigious 2019 Hollywood Music In Media Best Jazz award, and their friendship was instantly forged. Reflecting on their time together, Longoria fondly recalls her beautiful spirit and mesmerizing voice.
BLUES MAMA! consists of 15 captivating tracks, including beloved blues classics that Morrison was renowned for delivering in her unmistakable, authentic style. The album's title track, "Blues Mama!", was specially written for her by David Longoria, showcasing their deep artistic connection. Additionally, another original song titled "Gotta Get To You," penned by Longoria and iconic songwriter Carol Connors, graces the collection. Miss Connors, famous for her work on timeless classics such as "With You I'm Born Again" and the theme for the Rocky movies, sang the song on the album as a tribute to Morrison, who unfortunately passed away before recording the vocals.
The album also features three special excerpts from the title track, playfully rendered in old blues styles, and titled Interludes and a Postlude.
Throughout her illustrious career spanning over 50 years, Barbara Morrison mesmerized audiences worldwide with her performances in concerts, blues clubs, and Jazz and Blues festivals. Notably, a remarkable performance in July 2004 brought together Blues Guitar legend Buddy Guy, Barbara Morrison, and Carlos Santana on stage at a festival in Montreal, Switzerland. Her talent also graced the stage alongside greats like Stevie Wonder, Dizzy Gillespie, Chaka Khan, Ray Charles, Etta James, and Tony Bennett, among many others.
In 2019, Morrison established the Barbara Morrison Performing Arts Center in Leimert Park, California, a venue dedicated to nurturing performers of all ages and cultures and promoting music and dance. To honor her immense contribution, the City of Los Angeles named the intersection in front of her venue Barbara Morrison Square in 2022.
Reflecting on her legacy, Carol Connors, who co-wrote "Gotta Get To You" with David Longoria, expressed her admiration for Morrison's unique interpretation of their song "With You I'm Born Again." She describes feeling reborn after hearing Morrison's jazz rendition and proudly acknowledges the impact they made together. Dionne Warwick, also touched by Morrison's talent, passionately asserts that her final recording should be considered for a Grammy without a second thought.
As we celebrate Barbara Morrison's extraordinary career and mourn her loss, let us cherish the beautiful gift she has left behind with BLUES MAMA!, a timeless testament to her unparalleled artistry.
https://fycbarbaramorrison.com/
Media Contact
Company Name: ICT PR
Contact Person: H Davidson
Email: Send Email
Country: United States
Website: www.iconnectyou.today