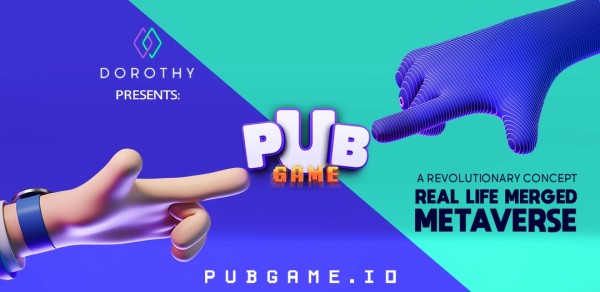 PubGame's purpose is to transform the concept of using NFTs and tokens into a profitable environment for companies and users to share a sustainable and fun Multi-Chain Metaverse with the same collaborative vision.
For this, we adopt a branding strategy, achieving a healthy union of the virtual and physical worlds, creating immersive and unique experiences, focusing on profitability and real benefits in people's lives.
Many people think that the GameFi trend is over, but it is only maturing, we are experiencing a scenario in which it is clear that we see the need for companies and people in the traditional market to join the Web3," says Ricardo Sargo, Chairman and Founder of PubGame.
Bringing an innovative concept, PubVerso will be the first launch of the company, being the core of fun and entertainment of a metaverse with numerous possibilities and immersive experiences integrated with a business hub similar to revolutionary technological investment in blockchain network.
How does the connection between worlds work in practice?
PubGame will connect businesses and users in PubVerso, the goal is to ensure economic sustainability in a viral ecosystem, through an engaged and united community that shared immersive experiences in: Disputes, explorations, festivals events among other available modalities. This connection will provide gains and rewards within and beyond this new reality.
Pubverso promises to boost the adoption of the real use of crypto assets by opening space for partner brands to interact with their users, promoting and marketing their products and services through campaigns, creation of collectible items such as: NFT (avatars, terrains and custom accessories) that will be used and acquired by the community within this metaverse, providing for the holders of these collections in addition to the advantages and unique skills that enable earnings in PubCoins, tokens native to the PubGame ecosystem, exclusive benefits of these partner brands in the daily lives of their users in the physical world.
Imagine that a user acquires a personalized Legendary NFT at the launch of a specific collection of an eyewear brand inserted in the Pubverso, in addition to this holder can use this NFT on the Platform, he will receive an eyewear in his home whenever a new collection of this brand is launched in the physical world, or not necessarily win the glasses but become a VIP customer of this brand and can purchase any product with an exclusive discount. Says Ricardo Sargo.
And it is with this mission that PubGame advances with great partnerships with the brands: Aguzzo Cuccina, Simpli Cred, Teleport and 25 other companies, among many others that are still to be announced, even before the official launch of its metaverse.
PubGame already has its first collection of NFTs, the Founders Collection. An exclusive collection of 6,750 units, which aims to honor the first members of the community, providing various advantages and benefits for its holders as: guaranteed participation in whitelists, early access to platforms, 1 Bitcoin raffle at the end of sales, and the Staking to farm the Pubcoins that has its launch scheduled for November 25 at 0.035 USD at QuickSwap, the largest DEX of Polygon Network.
Media Contact
Company Name: Pubgame
Contact Person: Dorothy
Email: Send Email
Phone: ?5511940166121?
Address:Rua VCL PL
City: São Paulo
Country: Brazil
Website: https://pubgame.io/