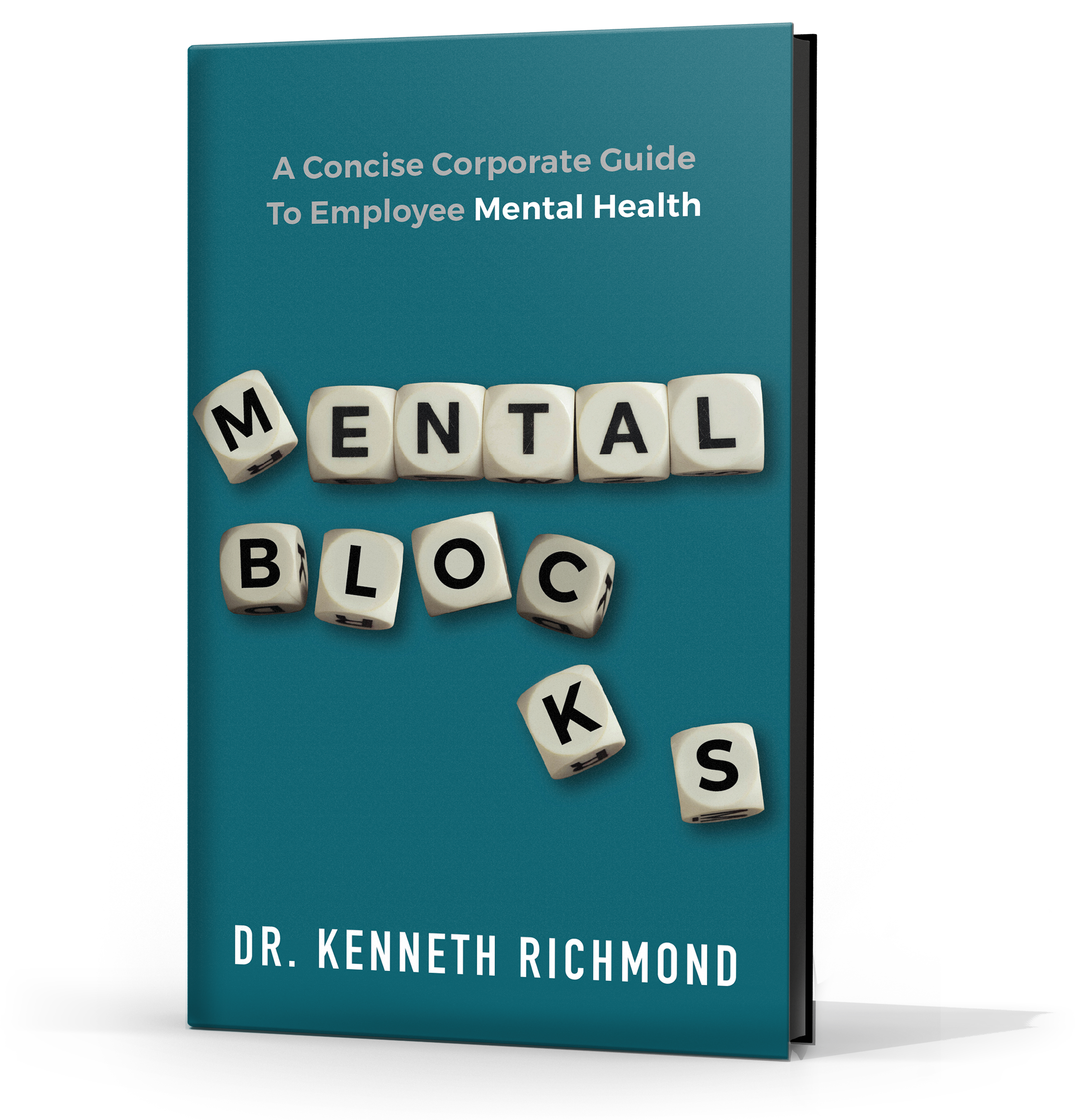 The workforce is changing at a rapid rate causing increased demands to be placed on employees. The result is a rise in conditions such as depression, anxiety, substance use disorders, ADHD, and psychosis. To help leaders and managers connect with personnel and address the barriers interfering with their ability to be effective in the workplace, Dr. Kenneth Richmond has released Mental Blocks: A Concise Corporate Guide to Employee Mental Health.
HAMPTON, VA – April 2, 2020 – In Mental Blocks, bestselling author and psychiatrist, Dr. Kenneth, encourages leaders and managers to assess their leadership style and challenges them to explore how they can make the crucial adjustments to create a healthier workforce both mentally and physically. By detailing some of the most common mental health issues affecting personnel, this informative guide will aid employers seeking to support their staff as they navigate these widespread conditions.
"This book is for the leader or manager who seeks to take a different approach to helping their employees live better work lives and who wants to contribute in a meaningful and powerful way to lifting the heavy mental health veil that must no longer be ignored. This book is not for the leader or manager who believes the workplace is immune to the impact of psychiatric conditions or that the status quo — high turnover, workplace dissatisfaction, absenteeism, and presenteeism — is acceptable," says Dr. Kenneth.
The topics covered in Mental Blocks will reveal to employers the mental health issues that might be affecting their employees — resulting in underperformance, lack of productivity, and low workplace morale — the role they might be playing in perpetuating them, and strategies for how to address and transform these challenges into solutions that will benefit the overall well-being of the employee, establish meaningful organizational change, and create a happier and healthier workplace.
Mental Blocks gives employers the credible insight and tactics they need to offer substantial and transformative support to their employees.
Dr. Kenneth Richmond is an ABPN board-certified psychiatrist and a nationally recognized author, speaker, consultant, sought-after media expert regarding mental health issues, and thought leader in the area of telemedicine delivery. He served in the United States Air Force, earned his doctor of medicine from George Washington University, and completed his internship and residency at the University of Pittsburgh Medical Center. He also has a master of science in organizational management.
Published by Purposely Created Publishing, Mental Blocks: A Concise Corporate Guide to Employee Mental Health is now available for purchase at www.drkenrichmond.com.
Media Contact
Company Name: Purposely Created Publishing Group
Contact Person: Shani McIlwain
Email: Send Email
Phone: (888) 949-6228
Country: United States
Website: www.publishyourgift.com