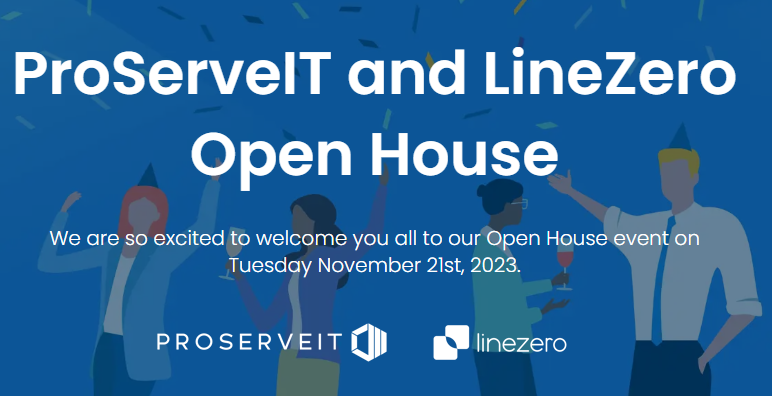 Seize a front-row seat to shape the future. It's not just an event; it's a window into how AI and the Metaverse are propelling us into uncharted territories of innovation and possibility
An extraordinary adventure into the world of innovation beckons! ProServeIT and LineZero, trailblazers in transformative technology solutions, cordially invite you to embark on a captivating journey at their Open House event. On Tuesday, November 21, 2023, starting at 3:00 PM, the doors of their brand-new Oakville headquarters swing open to unveil the future of technology – and you'll be at the center of it all.
Step into Tomorrow's Technology Today
Imagine a day when the ordinary gives way to the extraordinary. As you walk through the doors, you'll be greeted with the thrill of a "Ribbon Cutting Ceremony," marking the official launch of the Oakville hub. It's more than an event; it's a declaration of what's to come.
But that's just the beginning. Witness the future unfold before your eyes with live demonstrations of the groundbreaking "Microsoft 365 Copilot," a powerful AI-assisted productivity tool, and "Meta Quest," the gateway to the Metaverse, showcasing real-world applications that are revolutionizing how consumers engage with technology.
"The world of technology is ever-evolving, and at LineZero, we're passionate about being at the forefront of innovation," said Jamie McMahon, Chief Digital Officer at LineZero. He went on to say, "Our Open House is your chance to dive headfirst into the possibilities of the Metaverse and experience the remarkable impact of new technologies. We can't wait to show you what's next."
Be the Architect of Your Future
Why should you attend? Because at this Open House, you'll seize a front-row seat to shape the future. It's not just an event; it's a window into how AI and the Metaverse are propelling us into uncharted territories of innovation and possibility. Whether you're a tech aficionado, an industry leader, or an eager explorer of the digital landscape, this is your opportunity to see, touch, and feel the limitless potential of tomorrow's technology.
When asked about the upcoming open house, Eric Sugar, President of ProServeIT said, "We believe in transforming the future through innovation. Our Open House is an opportunity for you to witness the incredible power of AI and how it can redefine business strategies"
RSVP today to secure your place at this extraordinary event. Don't miss the chance to be part of a journey that promises to transform the way we think, work, and connect with technology.
About ProServeIT Corporation
Established in 2002, ProServeIT Corporation was one of the first Microsoft Partners to spearhead the adoption of Cloud computing. As a modern IT specialist and trusted technology advisor, ProServeIT continues to help organizations in various industries unlock their digital future and turn technology into a true business enabler. ProServeIT is headquartered in Oakville, Ontario, with offices in Prince Edward Island (Canada), Illinois (United States), New Mexico (United States), Paris (France), and Ho Chi Minh City in southern Vietnam. ProServeIT is a people-first organization, and its employees aim to live out its three core values on a daily basis: People Matter. Be Like Gumby. Do It Right. Your success matters to us. Partner with ProServeIT and unlock your organization's digital future.
About LineZero
At LineZero, our philosophy is centered around people. We prioritize the connection between individuals and believe that companies benefit significantly from this approach. Our solutions are thoughtfully crafted, with a focus on employee experience and culture building.
Our team at LineZero consists of experts in technology and communication who are dedicated to maintaining the utmost level of security for our clients. Our journey began years ago in software development as a smaller entity of a larger team, but in 2018, we made a significant shift in becoming Canada's first Workplace from Meta partner.
What sets us apart from the competition? As a proud partner of Workplace from Meta and Microsoft, we have an exceptional reputation for security, an agile and innovative culture, unparalleled service, and attention to detail. Our specialized team operates in both Canada and the United States, helping Fortune 500 adopt Workplace from Meta to transform their digital culture and explore the corporate metaverse. Our process is straightforward, and our delivery is seamless, fueled by our passion and commitment to delivering remarkable results. Don't take our word for it – check out our success stories!
Media Contact
Company Name: ProServeIT
Contact Person: Caleb Harper
Email: Send Email
Country: United States
Website: https://proserveit.com/