Product Alliance has officially released their ultimate job list which aggregate top nontechnical jobs at tech companies for recent university and MBA grads.This free list aggregates over 150 jobs from over 2 dozen top companies in roles such as product management, marketing, business development and more!
Product Alliance is a collective of Product Managers from top companies including Google, Facebook, Microsoft, and more who are all committed to making the product management field more accessible and transparent. Product Alliance is committed to diversity and is proud to have 60% female instructors.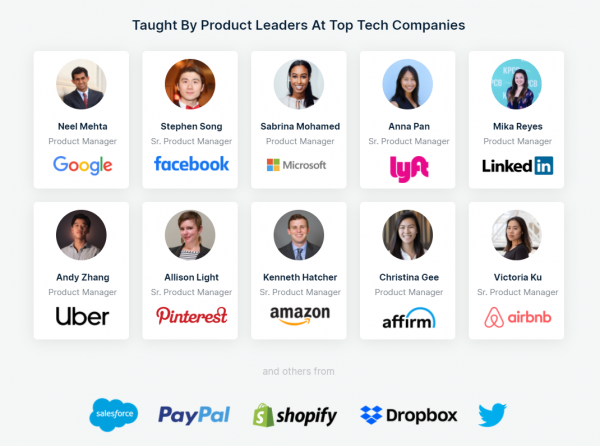 Previously, learning from expert PMs was something only those with insane connections or those willing to pay $300+/hour could experience. Alternatively, you could read Cracking the PM Interview and Decode and Conquer. However, there is a night and day difference between reading a good answer and watching experienced PMs from top companies deconstruct exactly what makes for a perfect answer. Only by watching 10/10 video responses can you truly understand the response structure, body language, and whiteboarding frameworks that you need to know to consistently land PM job offers.
Now,thanks to Product Alliance,you can learn exactly how to land your dream PM role.Product Alliance offers immersive HD video courses on breaking into product management,hacking the PM interview,and deep dives for the top 22 companies to assist you in your product journey regardless of stage of recruitment process you are currently in.
Product Alliance's course instructors include renowned PMs such as Neel Mehta, Anna Pan, Victoria Ku, Mika Reyes and dozens more! The courses are hosted by Adi Agashe, the bestselling author of Product Management's Sacred Seven and Swipe to Unlock. Swipe to Unlock was touted as "One of five books all company founders need to read" by Forbes and has been translated to over half a dozen languages.
Facebook Product Management Lead Henry Soong said, "Product Alliance is a comprehensive tool to help you succeed in landing a product management job. There are good books that help you learn frameworks for PM interviews, but the content is neither tailored to specific companies nor demonstrates the soft skills/rapport needed in product interviews. Product Alliance is uniquely useful for PM candidates, because it incorporates good theory/frameworks; is specific to the PM-interview nuances between companies; and has dozens of filmed mock interview examples."
Product Alliance has helped hundreds of PMs land their dream job. Check out Product Alliance's resources today to fast forward your product career!
Media Contact
Company Name: Product Alliance
Contact Person: Tiffany Kim
Email: Send Email
Phone: 650-785-2145
Country: United States
Website: www.productalliance.com