Join us for the incredible theatre musical, "Pride and Prejudice," hosted by 'Theatre For a Cause'. They are on a mission to raise funds for Mitti Cafe, an award-winning non-profit organization that does remarkable work supporting the livelihoods of individuals with physical and intellectual disabilities.
The excitement doesn't stop there – the play will dazzle audiences in both Delhi and Gurgaon, and we need your help to spread the word and show your fantastic support.
We are delighted to extend an invitation to an extraordinary event that promises an evening of entertainment and is a commendable initiative to support Mitti Cafe, a non-profit organization dedicated to empowering individuals with physical, intellectual, and psychiatric disabilities.
The spotlight is on the theater musical production of "Pride and Prejudice," presented by the esteemed NGO, Theatre for Change, in their 5th successful season. This special event is designed to raise funds for Mitti Cafe, which plays a pivotal role in supporting the livelihood development of individuals with disabilities.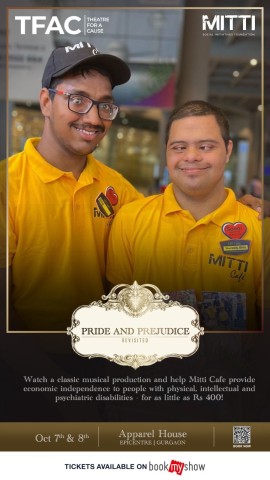 About Mitti Cafe:
Mitti Cafe is committed to fostering economic independence and dignity for adults with disabilities and vulnerable communities. Their outreach initiatives also play a crucial role in promoting awareness about inclusion and disability rights. Mitti Cafe focuses on skill development and employment for adults with physical, mental, and psychiatric disabilities, particularly those from economically disadvantaged backgrounds, in the hospitality and retail sectors. The organization provides a platform for them to harness their potential, become gainfully employed, and promote inclusion. During the COVID-19 pandemic, Mitti Cafe served over 2 million meals to underserved and homeless communities.
Notable Awards and Achievements:
United Nations Intercultural Innovation Award
Commonwealth Youth Icon Award
Forbes list of 30 under 30
Zero Project Award
NCPEDP Mindtree Helen Keller Award
Microsoft Nipman Award for Innovation in Disability Inclusion
TIECON Young Female Entrepreneur of the Year award for MITTI Café
Winner of Best CSR Initiative @ Annual Restaurant Congress Awards
Winner, Times of India- She Unlimited Award
SIF-Deutsche Bank's Made for Good Award
Samvida Social Enterprise Competition
Janhit Jagran Award in the field of poverty alleviation
United Nations Cultural Innovation Award
YSE Deutsche Bank Award
YWSE – UNESCO
Karnataka Women's Achievers Award
Rotary Exemplar Award- Best Social Enterprise
Dainik Jagran Social Enterprise Competition Winner in the field of Poverty Alleviation
Selected by the Australian government for the Going Global Program – Queensland
Winner, Ford Foundation Social Enterprise Competition
Social Entrepreneur of the Year by Emerge India
Bangalore Trote Trophy for Promising Social Entrepreneur
Winner of Samvidha Social Enterprise Finals, Deshpande Foundation
United Nations Intercultural Innovation Award – 2021
COVID Warrior Award: Deutsche Bank – YSE -2021
Motwani Jadeja Foundation – Rajeev Circle fellowship
Winner of Bumble Grant
Winner, Rotary Exemplar Award – Best Social Enterprise
Unlimited India Award
About the Event – "Pride and Prejudice" by 'Theatre For A Cause:
Prepare to be enthralled by the magnificent theatrical production of "Pride and Prejudice." This event, presented by 'Theatre For A Cause,' is dedicated to raising funds exclusively for Mitti Cafe's impactful work. Event details can be found in the presentation here: https://drive.google.com/file/d/1JesL3wOcor8Gg819SauwAJ6KseuLawEC/view?usp=sharing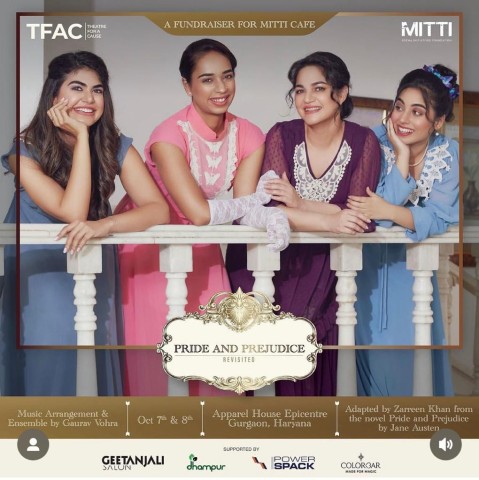 Event Details:
Gurugram Venue: Apparel House Epicentre, October 7th & 8th, 7:00 PM onwards
Delhi Venue: Sriram Centre, Mandi House, Delhi, October 12th & 13th, 7:30 PM onwards
Gurgaon: https://in.bookmyshow.com/plays/pride-and-prejudice-revisited/ET00370122
Delhi: https://in.bookmyshow.com/plays/pride-and-prejudice-revisited/ET00370310?webview=true
All proceeds from this event will directly contribute to providing livelihood support for persons with disabilities, significantly impacting their lives.
Tax Exemption: Your donation is exempt under 80G under Order No. ITBA/EXM/S/80G/2018-19/1011678966(1), applicable since 21/08/2018.
Contact Us: Please visit Mitti Cafe's Website or contact us directly at 8008944931 or hello@mitticafe.org
Join us in making a meaningful difference in the lives of those with disabilities and advocating for a more inclusive society. We hope to see you at "Pride and Prejudice," where entertainment and empathy come together.
Media Contact
Company Name: Mitti Cafe
Contact Person: Ayesha Alam
Email: Send Email
Phone: +918008944931
Address:716/2, 22nd Cross Rd, K.R.Road, Banashankari Stage II, Banashankari
City: Bengaluru
State: Karnataka 560070
Country: India
Website: https://www.mitticafe.org/