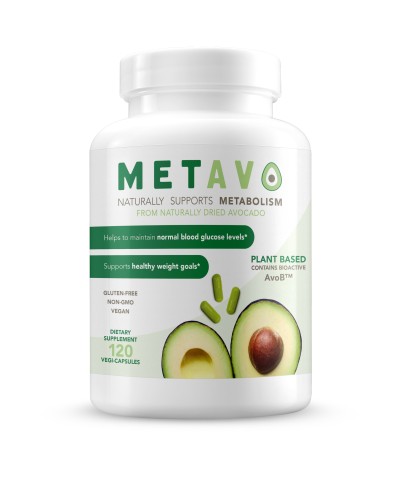 SP Nutraceuticals, a rapidly-growing business committed to creating scientifically proven natural health products, is elated to announce that its natural supplement, Metavo, is now listed at select CVS Pharmacy's across the United States. Metavo is currently the world's most advanced metabolism management brand designed to tackle metabolic dysfunction.
Simplified for the layman, a dysfunctional metabolism occurs when the metabolism process fails and causes the body to have either too much or too little of the essential substances needed to stay healthy. It can be identified by low energy, weight gain, low libido, thinning hair and nails, higher blood pressure, high blood sugar, sugar cravings, and even pre-diabetes. Available statistics suggest that dysfunctional metabolism impacts 88% of North Americans.
As a solution, SP Nutraceuticals created Metavo as a natural alternative to prescriptions like Semaglutide and Metformin, which is effective for pre-diabetics looking to get control of their blood sugar, improve insulin sensitivity, curb sugar cravings, and manage their weight. Such is the efficacy of Metavo that CVS Pharmacy listed Metavo capsules and smoothie mix in the diabetic aisle of select stores across the country.
It's pertinent to note that Metavo contains a powerful bioactive called Avocatin-B (AvoB™), a lipid found in a unique subset of avocados with powerful properties. The natural fat molecule from avocado is exclusive to Metavo and is proven in pre-clinical studies to help manage blood sugar, improve insulin sensitivity, and support weight goals. Dr. Paul Spagnuolo, the founder of SP Nutraceuticals discovered AvoB in 2012 during his research on food-derived bioactive compounds.
Dr. Paul Spagnuolo is an Associate Professor at the Department of Food Science, University of Guelph. His research focuses on developing novel nutraceuticals for the treatment of metabolic diseases. Dr. Spagnuolo has received several national and international recognitions for his research contributions including Young Investigator Award for Outstanding Research by both the American Society for Nutrition April 2016 and the Canadian Nutrition Society (CNS) April 2021. He also clinched the 2022 ASN award for outstanding research on the safety and efficacy of bioactive compounds for human health.
"We are on a mission to stop metabolic dysfunction. We believe that Metavo, powered by AvoB is one of the best solutions out there for the 88% of North American's impacted by a dysfunctional metabolism. We're thrilled to partner with CVS Health Hub and bring this breakthrough innovation into the hands of the people who need it most," said James Le Duc, Chief Revenue Officer, SP Nutraceuticals Inc. Metavo is Project Verified Non-GMO, meaning it was created without any genetic engineering. Furthermore, Metavo is 100% natural, natural, clean, vegan, keto-friendly, and gluten-free.
SP Nutraceuticals operates on the business principles of honesty, reliability, scientific discovery, helping humanity, and empowerment for natural-health seeking consumers. This commitment is aptly exemplified by the rave reviews Metavo has elicited from its users. "Amazing benefits. I have been using Metavo every morning for about a month now and I can honestly say, I love both of their products! I am not a huge fan of the texture of avocados so I love the Metavo makes it easy with their capsules and mix to get the same amazing benefits" said Christian M.
"I feel great! As a type I diabetic for 40 years, I've had my fair share of high and low blood sugar readings. After taking Metavo, my A1C was 6.5, which is the lowest it's ever been. I feel great! This product is remarkable", declared another satisfied customer.
To have an in-depth look at the incredible Metavo natural supplement powered by bioactive AvoB™, check out SP Nutraceuticals' website at metavo.com, search Metavo at cvs.com or go to a CVS Pharmacy near you.
Media Contact
Company Name: SP Nutraceuticals Inc
Contact Person: Darren Contardo
Email: Send Email
Country: Canada
Website: https://www.metavo.com/