La Rosa Holdings Corp is proving that even the longest-standing sectors can respond well to new tricks. Rather than following trends, La Rosa is pioneering a better way for itself, its affiliates, and franchisees to earn a more significant share of a $113 trillion U.S. real estate market opportunity – and the company is wasting no time making its point. LRHC's pace of growth was accelerating even before its IPO earlier this week, but now, post-IPO from Tuesday, developments are shifting into warp speed. That growth is being fueled by a capital war chest aiming to make the company's name – and how it rewards its agents and affiliates – nationally known.
That message is being heard loud and clear, spread from LRHC's current 35 affiliate and franchise offices in California, Georgia, New York, Puerto Rico, South Carolina, and Florida. While these offices form an impressive foundation, especially regarding their contributions to a steepening revenue curve, those locations are likely the precursors to more exponential growth starting in Q4 and through 2024. That's not overzealous speculation, either.
There's a fundamental difference making it more likely than not that agents will run, not walk, toward LTHC. Instead of earning a percentage of a percentage at residential companies like Remax (NYSE: RMAX) and Berkshire Hathaway Home (NYSE: BRK-B), they can earn 100%, less some very minor fees.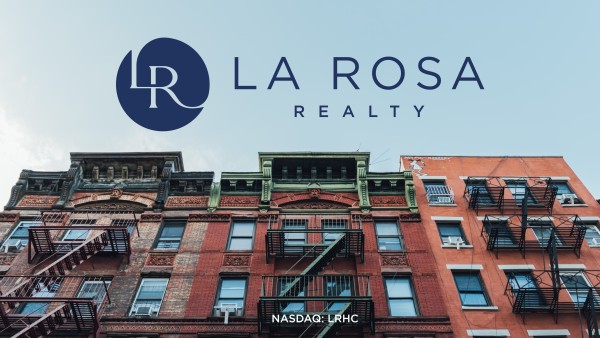 La Rosa Holdings is an Agent-Centric Platform
In other words, LRHC provides a platform that will allow agents to earn thousands more per transaction, which could double or even triple their annual income. That's not a stretch; motivated agents do much better when they get to keep nearly all the spoils of their work. LRHC understands that dynamic, with that understanding used to assist in designing its unique business model and platform.
That's led to La Rosa creating a win-win-win platform whereby buyers, sellers, and agents all benefit. Home buyers benefit from the platform simplifying the buying and selling process, enabling them to leverage LRHC's strength in limited inventory markets where competitive bidding and multiple offers can create considerable emotional stress. Agents overcome challenges by signing with La Rosa, as well.
Foremost, agents are provided the tools to meet demanding client expectations. They are equipped with the most current technologies required to successfully battle intense competition, enabling them to become a virtual one-stop shop providing ancillary services like mortgage insurance and title services. Better still, agents get enormous support from LRHC beyond that associated with buying and selling properties. La Rosa agents learn proprietary technology, receive ongoing training, and can tap into results-driven coaching from an LRHC team equally committed to making its representatives deal-making leaders.
Growth in Six States and Counting
That team-centric theme has allowed LRHC to accrue $2.9 billion in total transaction volume, open offices in six states, have an agent headcount of 2,450, and complete 8,300 total transactions in FY2022. Now equipped with a war chest from the proceeds of its IPO, LRHC can grow bigger faster – and not only in its current six-state presence.
La Rosa can expand its award-winning performance across the country. That potential is supported by industry recognition and awards over the last several years that include being named as one of the Top 75 Residential Real Estate Firms in the United States by the National Association of Realtors, a "Top Work Place" by the Orlando Sentinel, in the large business work place category in 2022. Those accolades matter.
Why? Because in an uber-competitive sector, the best typically migrate to the best. In that matter, LRHC checks the right boxes. The company attracts talent through an arsenal of supporting assets, including those inherent to franchise opportunities, coaching, real estate transaction platforms, and the ancillary service already mentioned. While these are all excellent features, there's one factor that's most important.
The biggest attraction to LRHC is that agents make more money – considerably more. That's made possible by the company's disruptive business model that departs from the traditional. Instead of earning, say, 30% commission to the broker, LRHC pays 100%. Plus, LRHC agents get free education benefits, a proprietary training experience, and access to the latest technologies to drive sales.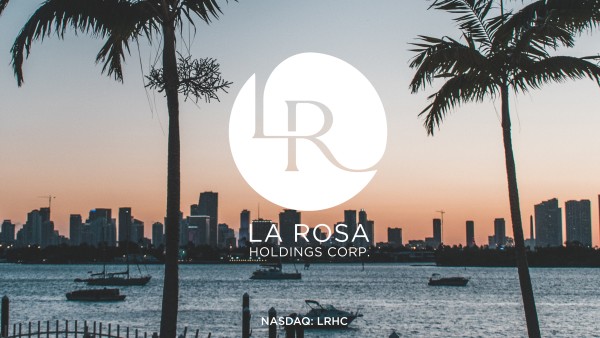 The La Rosa Difference in Dollars and Cents
All of that leads to agents getting significantly more earnings power. For example, assume a home sold for $350,000. A traditional brokerage would earn a 3% commission. From that total of $10,500, the split to the broker may be 30%, leaving a $3,150 split to the broker and $7,300 to the agent. It totals much differently on the LRHC table.
In the same example, that same 3% still applies. In LRHC's model, however, there is no split to the broker. That means the entire $10,500 drops to the agent, providing nearly 43% more income to the agent. There are small fees, in the hundreds of dollars, to take from that gross earnings. However, even after those fee deductions, the agent is still ahead by thousands comparably. Importantly, La Rosa wins as well.
The company benefits from a diversified set of revenue streams. La Rosa Realty earns a fee for agent-generated transactions and income from recurring monthly "dues." It also generates income from a 10% commission on commercial real estate transactions. A third value driver is La Rosa Property Management, which contributes revenues paid by the sales agents from fees generated from property owners, rental fees, and rent. There's more.
La Rosa also earns money from franchising. In that instance, LRHC earns a one-time fee upon signing the franchise agreement as well as monthly recurring revenues from, among other things, annual membership costs, technology, interest, late fees, and audits. Additional income to LRHC is made through coaching, which is based on commissions earned by the sales agent. The coaching segment earns other income through event fees and break-out sessions.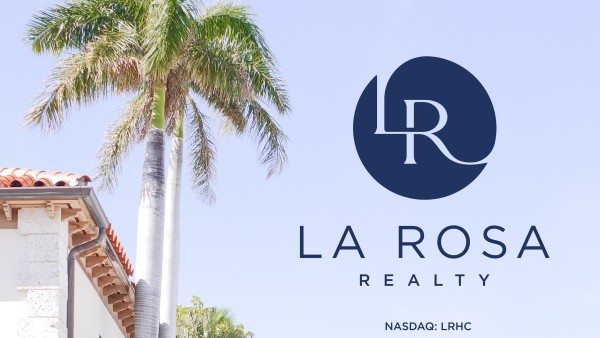 Post-IPO, LRHC Presents a Compelling Value
All told, LRHC presents a compelling value investment opportunity post-IPO. Keep in mind this company isn't a start-up. They generated revenues of over $26.2 million in FY2022, higher by over 8% from the $24.1 million earned in FY2020. Although slightly off of its FY2021 total of $28.7 million, the income is mighty impressive considering the wave of disruption caused by COVID-19, which essentially muted transactions. Remember, agents couldn't even show homes, yet LRHC managed only a 9% revenue decline. Holding ground should bode well for LRHC going forward, especially with P/E ratios holding strong despite what many call a "challenging time" in real estate. RMAX holds an 11.55X as of October 4, 2023 and a company similar in some ways to LRHC, eXp Realty (NASDAQ: EXPI) scores an aggressive 288X on the same day. On a comparatives market cap basis, those numbers prove LRHC is in a red-hot sector at the right time. According to the latest quarterly reports, between October 2022 and June 30, 2023, the market caps of Fathom Holdings (NASDAQ: FTHM), eXp World Holdings, and The Real Brokerage Inc. (NASDAQ: REAX) increased by 42%, 81%, and 34% respectively.
Thus, to be bullish on LRHC in both challenging and normalized markets, including this one with interest rates above 7%, is justified. While many are getting sticker shock from how rates affect home buying, the truth of the matter is that from a historical perspective, current rates are in line with decades of precedent. In fact, between April 1971 and September 2023, 30-year fixed-rate mortgages averaged 7.74%. 
Therefore, investors may want to rethink selling real estate stocks. In fact, sector weakness may expose a massive investment opportunity. With a tiny float, substantial revenues, and a game-changing platform that is transforming many parts of the real-estate market landscape, La Rosa Holdings may be a value proposition too good to ignore.
Disclaimers: Hawk Point Media Group, Llc. (HPM) is responsible for the production and distribution of this content. Hawk Point Media Group, Llc. is not operated by a licensed broker, a dealer, or a registered investment adviser. It should be expressly understood that under no circumstances does any information published herein represent a recommendation to buy or sell a security. Our reports/releases are a commercial advertisement and are for general information purposes ONLY. We are engaged in the business of marketing and advertising companies for monetary compensation. Never invest in any stock featured on our site or emails unless you can afford to lose your entire investment. The information made available by Hawk Point Media Group, Llc. is not intended to be, nor does it constitute, investment advice or recommendations. The contributors do NOT buy and sell securities before and after any particular article, report and publication. HPM holds ZERO shares and has never owned stock in La Rosa Holdings, Inc.. In no event shall Hawk Point Media Group, Llc. be liable to any member, guest or third party for any damages of any kind arising out of the use of any content or other material published or made available by Hawk Point Media Group, Llc., including, without limitation, any investment losses, lost profits, lost opportunity, special, incidental, indirect, consequential or punitive damages. Past performance is a poor indicator of future performance. The information in this video, article, and in its related newsletters, is not intended to be, nor does it constitute, investment advice or recommendations. Hawk Point Media Group, Llc. strongly urges you conduct a complete and independent investigation of the respective companies and consideration of all pertinent risks. Readers are advised to review SEC periodic reports: Forms 10-Q, 10K, Form 8-K, insider reports, Forms 3, 4, 5 Schedule 13D. For some content, HPM, its authors, contributors, or its agents, may be compensated for preparing research, video graphics, and editorial content. Hawk Point Media Group, LLC. has been compensated ten-thousand-dollars cash via wire transfer from One Eyes Jacks, Inc. to produce and syndicate content for La Rosa Holdings, Inc. for a period of one month beginning on 10/09/23 and ending on 10/06/23. This compensation is a major conflict of interest in our ability to be unbiased regarding our alerts. Therefore, this communication should be viewed as a commercial advertisement only. Any non- compensated alerts are purely for the purpose of expanding our database for the benefit of our future financially compensated investor relations efforts. As part of all content, readers, subscribers, and website viewers, are expected to read the full disclaimers and financial disclosures statement that can be found on our website. Contributors reserve the right, but are not obligated to, submit articles for fact-checking prior to publication. Contributors are under no obligation to accept revisions when not factually supported. Furthermore, because contributors are compensated, readers and viewers of this content should always assume that content provided shows only the positive side of companies, and rarely, if ever, highlights the risks associated with investment. Thus, readers and viewers should accept the content as an advertorial that highlights only the best features of a company. Never take opinion, articles presented, or content provided as a sole reason to invest in any featured company. Investors must always perform their own due diligence prior to investing in any publicly traded company and understand the risks involved, including losing their entire investment.
The Private Securities Litigation Reform Act of 1995 provides investors a safe harbor in regard to forward-looking statements. Any statements that express or involve discussions with respect to predictions, expectations, beliefs, plans, projections, objectives, goals, assumptions or future events or performance are not statements of historical fact may be forward looking statements. Forward looking statements are based on expectations, estimates, and projections at the time the statements are made that involve a number of risks and uncertainties which could cause actual results or events to differ materially from those presently anticipated. Forward looking statements in this action may be identified through use of words such as projects, foresee, expects, will, anticipates, estimates, believes, understands, or that by statements indicating certain actions & quote; may, could, or might occur. Understand there is no guarantee past performance will be indicative of future results. Investing in micro-cap and growth securities is highly speculative and carries an extremely high degree of risk. It is possible that an investors investment may be lost or impaired due to the speculative nature of the companies profiled.
Media Contact
Company Name: Hawk Point Media
Contact Person: Editorial Dept.
Email: info@hawkpointmedia.com
Country: United States
Website: https://hawkpointmedia.com/