Type: EN18 mini series cable chain
This min-series drag chain has bridge and semi closed type, with integrated structure. It suitable for highly dynamic projects. Openable from the inner radius. Better reduce the friction between and cable and drag chain. Fire-proof materials are available if customer need.
Features
1. Inner height: 18mm. 2. Bridge type. 3. Openable from inner side. 4. Small pitch, low noise. Easy to aeesmble and disassemble 5. Flammability class UL94V-2.6. Integrated mounting bracket with tie wrap clamp optional. 7. Beautiful and decent appearance design. 8. Anti-corrosion, Rub-resistance, Gliding application. 9. Assembled as "s" shaped chain (only for EN15&EN18).
Application:
1. For low loading,
2. For small bending radius
3. For short travel distance
4. For slow speed working environment.
Inapplicable occasion
1. Not for Twisty situation
2. Not for long distance running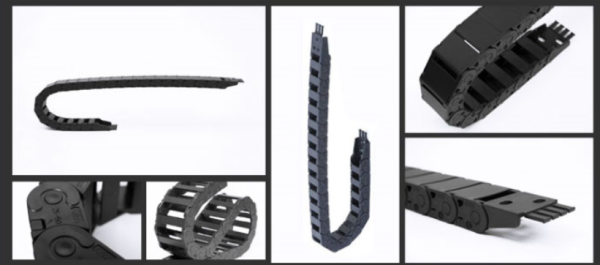 Media Contact
Company Name: Jiangsu Krius Machine Partsanp Accessories Co., Ltd.
Email: Send Email
Phone: 0086-15371491231
Address:No.59 Huacheng East Road, Lujia Town
City: Kunshan
State: Jiangsu
Country: China
Website: https://www.kriuschain.com/