Pet-friendly families with bored cats living indoors are being offered today on Kickstarter, the world's first enhanced cat tree that keeps cats comfortable, entertained, brushed, and that even massages them.
The main innovative feature of PLANEST is its smooth massaging teeth-shaped ring. This ring is soft, highly elastic, and adaptable to kittens and cats of all sizes and ages. It smoothly massages as they go through it, mimicking the typical movements of a human petting them. This ring also brushes cats and scrapes and retains any shedding hair, making it easy for their human friends to clean and remove the shedding hair in a seamless way.
The teeth-shaped ring is the same size as the elastic silica gel channel, being extra comfortable for any cat. Stability has also been a concern. PLANEST's solid wood cat-scratching post is wrapped with extra strong sisal rope, with no cardboard involved in the structure. Built to stimulate vigorous scratching and play, PLANEST's wall is made of a 4mm-thick ultra-hard waterproof pulp that endures the typical energy bursts of cats, and deviates their attention away from expensive furniture that people want to see untouched.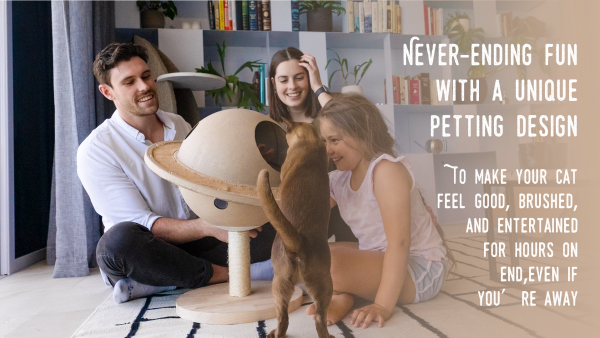 "We also used a toxic-free special recycled pulp and premium quality jute that are also waterproof, moisture-proof, and scratch-resistant," the crowdfunder stated, clarifying that the structure is robust, environmentally-friendly, entirely safe for cats, and built to last.
PLANEST is also aimed at being a stylish home décor item, featuring an original design that is intended to make it look good as a home décor highlight wherever people place it.
The PLANEST Cat Tree campaign on Kickstarter is seeking to fund the large-scale production of the structure. Backers who support the campaign gain early and discounted access to the product.
For more information, please visit <https://reurl.cc/LpZo1e> or contact at hello@hkgalaxan.com
GALAXAN Cat Tree is developed by HONG KONG GALAXAN International Company Limited, a company that was established in 2010, and focuses on the pet products and services. Started from the smart home appliance industry, and have been exposed to various pet smart products with advanced technology in Europe and the United States, our company has rich industry resources and advanced design and R&D team. As the pet market rises and develops quickly in Hong Kong, from 2015, we began to create original pet product series and online service platform. Being committed to providing high-quality services to pets and pet lovers around the world, as well as to create unique products like PLANEST.
Media Contact
Company Name: HONG KONG GALAXAN International Company Limited
Contact Person: Media Relations
Email: Send Email
Phone: +86 18675523769
Country: China
Website: https://www.kickstarter.com/projects/1795024773/galaxan-planest-the-only-cat-tree-that-pets-your-cat?ref=cjrhzr