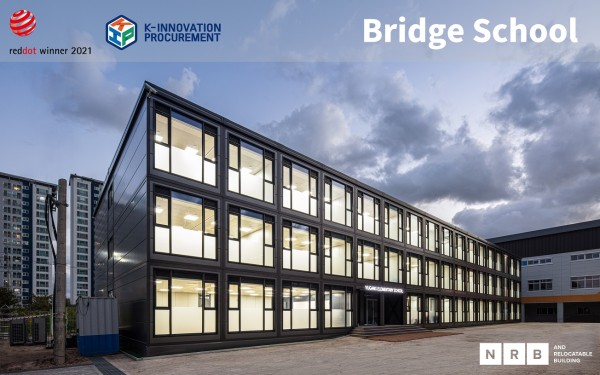 NRB, Korea (CEO Keon-woo Kang) is a startup specializing in mobile buildings that brings a new trend in the building industry. The technical professionals who designed and manufactured Pyeongchang Winter Olympics Media Residence (POSCO A&C), the first Relocatable building in Korea, worked together. In 2019, NRB started to pioneer a new market with technology, taking a role in the consultation for 'Jeonbuk Gochang High School Project,' the first mobile school in Korea. NRB possesses 4 types of design copyrights and patented technologies related to Relocatable schools, being recognized for its unrivaled technology in the field of 'Relocatable building.'
• 'Bridge School,' a modular Relocatable school, selected as an innovative prototype by Public Procurement Service.
'Bridge School' is a modular (standardized parts consisting of a building, etc.) Relocatable school brand that NRB has developed. Starting from Gochang High School in Jeonbuk province, NRB completed installing modules for temporary Relocatable schools in Yugang elementary school, Sogkok elementary school, and Yecheon Girls' High School in Pohang-si, and Moseo elementary school in Sangju-si, and Pungyang middle school in Yecheon-gun. In particular, Yugang elementary school in Pohang-si is the 'biggest Relocatable school in Korea' with 52 classrooms in 3 stories. Also, like modular schools, NRB produced and delivered Hadong vaccination center. The 'Bridge School' used as temporary classrooms during the period for extension and alteration of old school buildings was designated as an innovative prototype by the Public Procurement Service (suggested by the Ministry of Education) last June. The entire Relocatable school is completed by combining 3.4m×9.0m×3.5m unit modules for classrooms, restrooms, preparation rooms, lobbies, staircases, etc. Making up for the weak points of existing container classrooms, the Relocatable schools satisfy the performance and quality and meet the legal standards as a building. Compared to the existing school buildings, it secured safety by the seismic design and functions with excellent performance for insulation, vibration, and sound insulation. A pleasant environment of high floor height, full-sized windows, ventilation, and window and door system are also the strengths of NRB's buildings. Last April, awarded with the main award in 'Red Dot Design Award 2021,' one of the top 3 design contests in the world, NRB was recognized even for its design.
• Mobilization of the immovable estate with the economic efficiency through mobility and reusability
CEO Keon-woo Kang said, "Mobile buildings are the products that can be moved, reused, and reassembled, so they are different from container buildings. They can be understood as the mobilization of the immovable estate." Container buildings cannot sufficiently implement the performance of buildings and have low mobility because their interior is finished separately on the site. NRB's Relocatable buildings are built by piling up and connecting the modules manufactured in the factory and completed with finishing work without on-site construction. And the short installation period on site prevents the students from missing the classes. The modules are 99% reusable without the damage of interior and exterior materials. And the costs of moving and reinstallation of an entire school are only 10% of the production cost. In conclusion, they also secure the price competitiveness with more than 90% of reusability. Through the 'Green Smart Future School Project' promoted by the government, about 210 schools will be remodeled every year. And 'Bridge School' is expected to act as a catalyst for this project. Also, the demand for Relocatable schools is increasing worldwide. Starting in the U.S market, NRB plans to open up a new project by exporting buildings. CEO Kang said, "In the viewpoint of minimization and commercialization of on-site construction, Relocatable buildings are an ultimate type of technology using modules. And based on that, we will introduce a construction market with a new paradigm."
Media Contact
Company Name: NRB, Korea
Contact Person: Sung gyu, Lee
Email: Send Email
Phone: +82 10-2995-2792
Country: South Korea
Website: http://www.and-rb.com