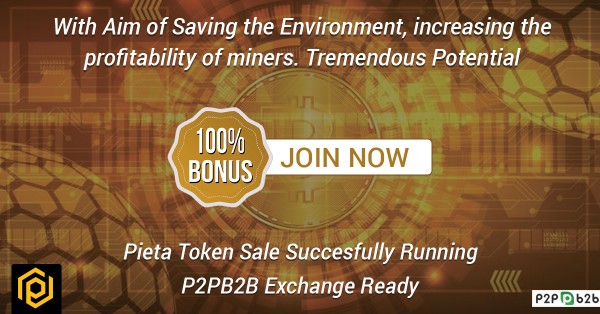 Pieta is the world's first blockchain project that aims to make cryptocurrency mining more environment-friendly and accessible while minimizing the cost. It is a revolutionary new platform that is solving the cost problem of the traditional crypto mining that uses high-cost electricity as the energy source. By using the new X20 algorithm Pieta can reduce energy consumption in blockchain mining to keep the mining equipment cooler. This will also increase the durability of the mining equipment and reduce the overall costs while increasing the profits for the miners. The low energy carbon emission will also have a positive impact on the environment.
Pieta also encourages the use of renewable solar energy in the crypto mining process to save the environment and further reduce the costs. It works with a mission to foster the use of renewable and efficient energy solutions for crypto mining to make mining profitable for everyone. To achieve this mission, the project will work towards making solar energy the primary energy source for mining, ensure fast track adoption of other green energy sources and drive awareness campaigns to educate blockchain enthusiasts about the benefits of a sustainable energy system.
Pieta claims to be one of the most promising tokens of the year. It offers multiple revenue options for the token holders along with high mining rewards and bonuses in different stages of the ICO. Pieta token can be traded on the major crypto exchanges where it can be exchanged for other coins like Bitcoin and Dollar. It will soon launch a dedicated digital wallet to allow the investors to hold and transact their coins.
Pieta toke investors will get access to a Point of Sale network of merchants/businesses accepting Cryptocurrency payments (transactions) around the globe. They will also get a share of the profits generated from the solar mining rigs. In addition, the investors can buy solar-powered platform contracts for Pieta's solar-powered mining platform at a 20% discount after the ICO expires on November 2019.
More information about the Pieta ecosystem can be found on its official website.
Media Contact
Company Name: G Media Inc
Contact Person: Press Executive
Email: Send Email
Country: United States
Website: www.facebook.com/gmediasolutions