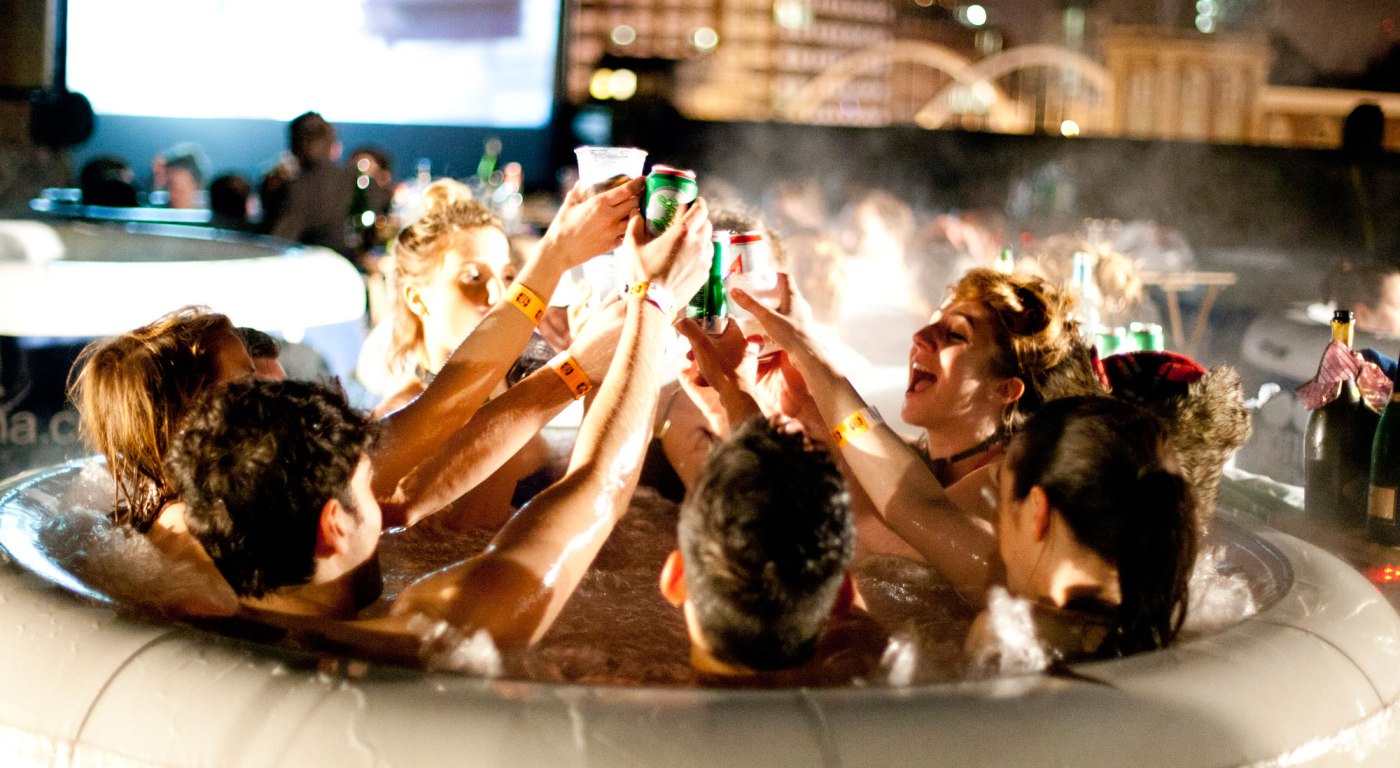 All fifty US states have begun to ease restrictions put in place earlier in the pandemic. As the fear subsides, more people are having social activities, including soaking in hot tubs with their friends and family.
While small gatherings under ten are allowed in most states, parties can be risky, especially if they involve using a hot tub that has not been properly maintained and, most importantly, chlorinated.

Can you get the coronavirus from a hot tub?
According to the CDC, you cannot get COVID-19 from hot tubs given they are properly maintained. This means ensuring that the water has the right amount of chlorine, the right pH balance, and has been "shocked" at least once a month.
Coronavirus is an enveloped virus, which is the type of virus that is easiest to kill, so even moderate amounts of chlorine in the water will eliminate it.
However, even if the hot tub has been well-maintained, this doesn't guarantee that your hot tub soirée will be perfectly safe. As with any social occasion, you can still get the virus through respiratory droplets from other people. But the data so far show that the odds of getting infected outdoors are extremely low.
Even so, make sure that everyone adheres to basic practices, such as wearing a face mask, using sanitizers, and following any other rules that might have been instituted by your local authorities.

What you should ask the hot tub owner
Peter Rossi, hot tub designer and ex-Director at Jacuzzi Group, lists a few basic questions to ask a hot tub owner before you go into the tub:
●When was the last time the chlorine testing strips were used? What was the chlorine level?
●When was the last time the hot tub was shocked? (This refers to using extra oxidizer to kill germs.)
●When was the last time pH testing strips were used? What was the pH level?
According to the CDC, the required chlorine levels are at least 3 ppm for hot tubs and spas (and at least 4 ppm if bromine is used instead of chlorine). The pH should be between 7.2 and 7.8. And the hot tub water should be shocked at least once a month.
"If the hot tub owner has trouble providing you with this information, it means he wasn't diligent about maintaining his hot tub or he did these maintenance tasks a long time ago," Rossi says. "That exposes you to the risk of soaking in contaminated water. You don't want to do that."

Basic rules to follow
Medical doctor Craig Smith explains: "There is no risk of getting the virus from the water, if it is properly maintained and chlorinated. The real risk comes from not following the standard protocols, which include avoiding contact with those who have or have had the COVID-19 infection recently, wearing respirators with at least FFP2 protection level, cleaning the surfaces, using sanitizer after contact with potentially contaminated surfaces, and washing hands with soap regularly."
The rules for any social occasions, whether they include soaking in a hot tub or not, are listed by the CDC:
●Wash your hands often, for at least 20 seconds each time. Avoid touching your eyes, nose and mouth with unwashed hands
●Avoid close contact. Stay at least six feet (about two arms' length) from other people.
●Stay out of crowded places
●Cover your mouth and nose with a cloth face cover when around others
●Cough or sneeze into the crook of your elbow or a handkerchief/tissue
●Clean AND disinfect frequently touched surfaces daily
●Monitor your health
Stay safe
Soaking in a jacuzzi can be a great stress-reliever or even a sanity-saving routine. However, proper water maintenance and following COVID-19 safety rules are crucial to minimise the risk of infection from the coronavirus.
Media Contact
Company Name: ByRossi
Contact Person: Peter Emmanuel Rossi
Email: Send Email
Phone: 6467120665
Country: United States
Website: byrossi.com