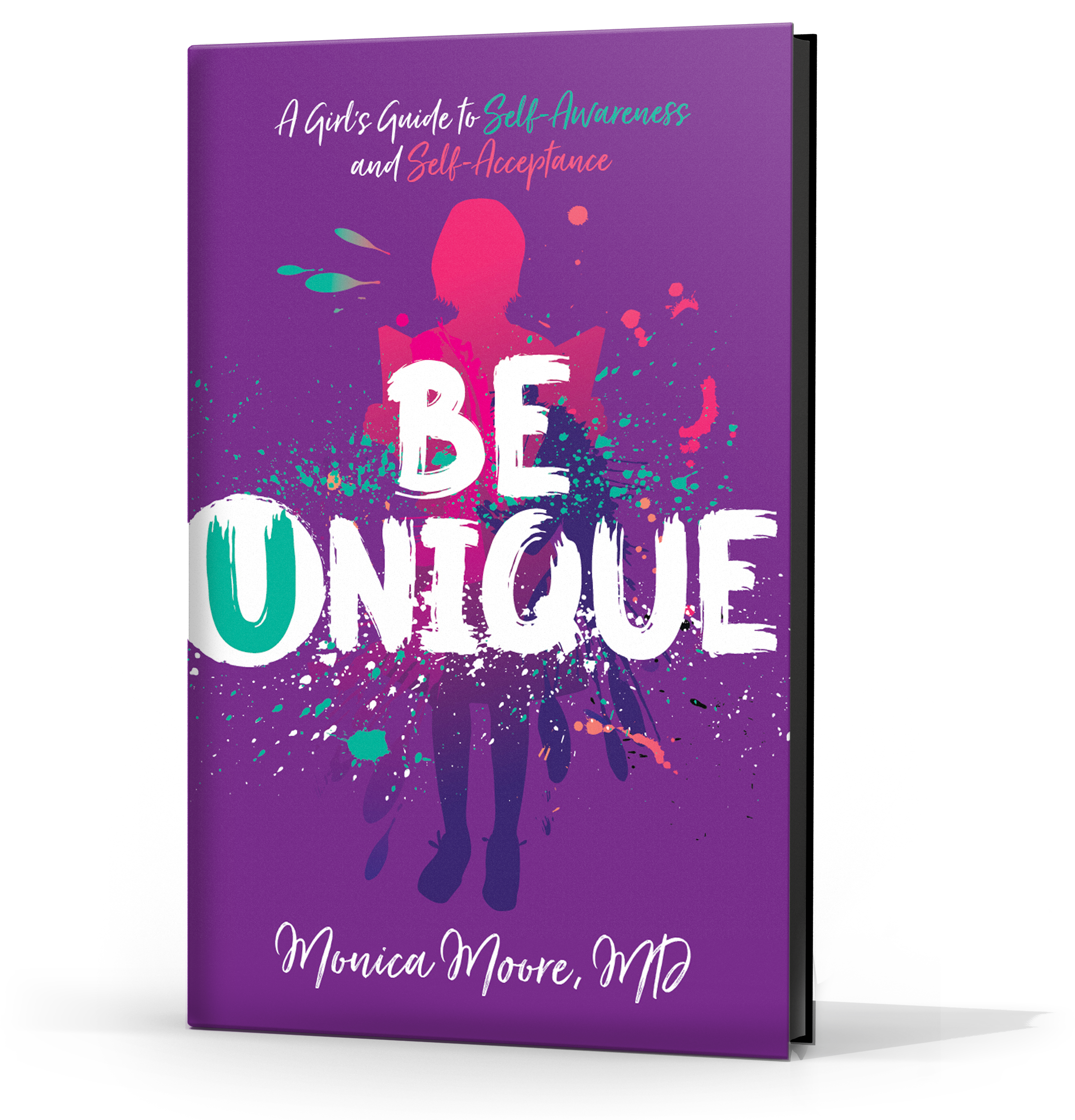 We are all different. And although our differences should be accepted, celebrated, and appreciated, that is often not the case. Feeling alone, judged, or unworthy is the disheartening reality for many middle and high school girls. To help these preteens and teenagers unleash their confidence and learn to love themselves inside and out, Monica Moore, MD, has released Be Unique: A Girl's Guide to Self-Awareness and Self-Acceptance.
SMYRNA, GA – April 6, 2020 – In Be Unique, bestselling author and pediatrician, Dr. Monica, is providing young and adolescent girls with the encouragement they need to courageously let go of their self-doubts, embrace their imperfections, and discover their true beauty and greatness. This book is a vital tool through which girls will gain the truths needed to become who they are destined to be – comfortable in their own skin, happy, creative, intelligent, and unique.
"Appreciate everything about yourself from head to toe, from the inside out. You are beautiful and do not need society to dictate what that looks like," says Dr. Monica.
The topics covered in Be Unique, from dealing with bullies and body changes to addressing confusing experiences with friends that can negatively affect self-worth, will infuse girls with the boldness to move past feelings of low self-esteem and enjoy all that is different and special about themselves. Written in engaging, age-appropriate language, Dr. Monica draws from her own experiences of facing ridicule and rejection during her childhood and offers motivational stories and tips for navigating the challenges of preteen and teen years.
Be Unique will help girls shatter their self-doubt and learn to focus on their own happiness, instead of seeking external approval. "I want to empower young girls to lead successful and productive lives and, in turn, teach other girls who are in similar situations to do the same. Together, we can build a legacy by cultivating a community of girls with high self-esteem."
Dr. Monica Moore is a board-certified pediatrician with over a decade of experience caring for children. She graduated magna cum laude from Xavier University of Louisiana, received her medical degree from Morehouse School of Medicine, and completed her pediatric residency at Orlando Regional Healthcare.
She is passionate about fostering positive self-esteem in young and adolescent girls and serves as a mentor to high school and college students.
Published by Purposely Created Publishing, Be Unique: A Girl's Guide to Self-Awareness and Self-Acceptance is now available for purchase at www.drmonicapeds.com.
Media Contact
Company Name: Purposely Created Publishing Group
Contact Person: Shani McIlwain
Email: Send Email
Phone: (888) 949-6228
Country: United States
Website: www.publishyourgift.com