Numeral, the leading bank orchestration platform, published a new guide in collaboration with UK payment expert and former Bacs, FPS and CHAPS CEO Mike Chambers enabling fintechs addressing the UK market to better navigate access models to UK payment systems and how to become a Bacs and FPS participant.
Numeral's publication of its guide to becoming a Bacs and FPS indirect participant follows the company's launch in the UK and integrations with leading banks Barclays, HSBC, and LHV earlier this year, with the goal of democratising access to UK payment systems for fintechs.
84% of UK consumers use fintech products to manage their money (Plaid, 2022), making the UK a leading market for fintech innovation. Any fintech addressing the UK market needs to support Bacs and FPS payments.
By becoming participants in UK payment systems, fintech companies unlock significant benefits, including increased control over their payments and customer onboarding, increased speed of payments, reduced payment costs, and the ability to issue their own account numbers with their own sort code.
"Working with fintech companies looking to scale their local and pan-European payment operations to serve their customers better, we realised that participation in UK payment systems wasn't well known, nor understood, and therefore a missed opportunity for these fintechs", said Édouard Mandon, co-founder and CEO at Numeral. "With this guide, we aim at equipping decision makers at payment and electronic money institutions addressing the UK market with all the information they need to decide if, when and how they should pursue a Bacs and FPS participation project", added Édouard Mandon.
Numeral's guide explains the different access models to UK payment systems Bacs and FPS, their benefits and requirements, and focuses on the indirect participation model. It also provides an overview of the payment workflows Bacs and FPS participants are required to support and the needed technical stack.
Click here to download Numeral's Guide to Becoming a Bacs and FPS indirect participant.
For more details, reach out to Matthieu Blandineau, Product Marketing, at press@numeral.io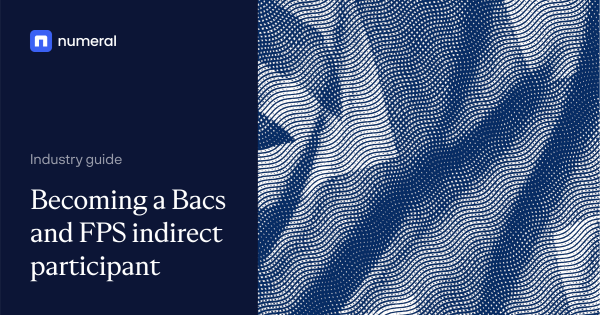 About Numeral
Numeral is the bank orchestration platform designed for fintechs, financial institutions, and large companies building advanced payment flows on top of their banking partners.
Through a single API and central dashboard, our platform empowers product and finance teams with seamless bank integrations, faster payments, real-time data visibility on accounts and payments as well as efficient workflows.
Numeral provides the payment infrastructure for European fintech trailblazers like Swile, Spendesk, Alma, and Xpollens and has a growing European client base. Numeral also partners with Europe's leading banks, including Barclays, HSBC, Groupe BPCE, BNP Paribas, and ABN AMRO. Launched in 2021, Numeral has raised €13m from world-class investors including Balderton and eFounders.
Media Contact
Company Name: Numeral
Contact Person: Matthieu Blandineau
Email: Send Email
City: London
Country: United Kingdom
Website: www.numeral.io