Mar 3, 2020 – Losing a pet is among the most tragic experiences that pet owners face today. The usual ways to initiate a search, such as posting on social media, posting flyer leave much to be desired. What if there was on place dedicated to posting and alerting to your neighborhood.
PawMaw.com is pleased to present its online platform where pet owners and others can post and view lost/found pets and become part of a community to ensure no dog is ever lost forever.
The statistics for lost and found pets is truly shocking. As per the American Humane Association, around 10 million dogs and cats are reported lost or stolen in the US every year (1 in 3 pets have been lost at some point in their lives). Tragically, less than 23% of lost pets in the US get reunited (as per Coalition of Reuniting Pets and Families).
PawMaw allows anyone to create free listings of their lost/found pets, send out free alerts instantly, and even create Lost/Found flyers that can beposted in the neighborhood. With the community alerted instantly, PawMaw.com makes it easier to reunite lost dogs with their owners.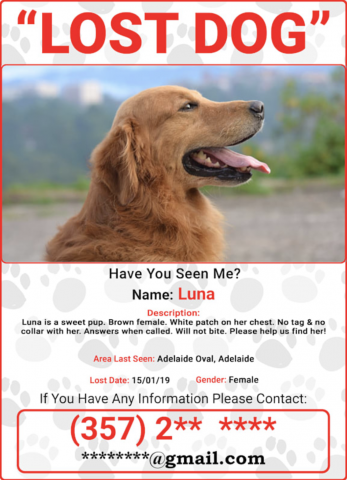 "We maintain a user-generated database of lost and found dogs, cats, bird other pets and over 500 such entries are added each day. Our network also comprises thousands of pet lovers who can be relied upon to locate a lost pet. We thus help increase the recovery chances by reaching out to the nearest people in the area," said a spokesperson for PawMaw.
The user database of lost/found pets is a place anyone can access to search for lost/found pets like cats, dogs, other pets using factors like with zip code or area, address, or just the name of the city/state. Another way is to join the PawMaw Network, so as to start receiving lost pet alerts on your area & helping others with their lost pets.
A lot of pet owners today install microchips to secure their pets. A microchip, the size of a grain of rice, is implanted by a licensed vet underneath the pet's skin. The chip has a unique serial number that can be read using scanners. The number helps identify the pet and its owner. However, contrary to what some people believe, a microchip not always helpful, if the pet owner doesn't update their pet information.
"We are known for what we do! Every day we help distressed pet owners to find their lost, scared, and often hungry pets. And it has always been an atmosphere of cheers and happiness, every time we reunited with their beloved one," says the spokesperson.
What initially started as a simple service to reunite lost and found pets and has now grown with the aid of new innovative features. The PawMaw Alert, for instance, can be activated to reach thousands of people in the area where the pet went missing.
"Anyone who has once lost a pet can attest that it is a difficult task finding your pet on your own and alone. So, PawMaw is here to stand in the gap, by creating a technological means of proffering a lasting solution," said the spokesperson.
With PawMaw, anyone whose pet goes missing can create instant and better awareness for lost and missing pets. An active neighborhood search makes it more likely that the pet will be found. Their aim is to create a happy ending for every separation. On their blog, they share tips for lost/found pets related tips to help quicker reunite.
The platform has several tips and advice to share for both pet owners and those who find a lost pet. For finders, the first thing to do is ensure the pet is in a safe place, away from highways for instance. The next step should be to build trust and let it happen gradually. Signs of any obvious illness should be looked into, and a report filed with a local animal shelter as well as local vets. Posting on social media, browsing through local media and craigslist is recommended. Flyers, such as the ones that PawMaw offers on its site, can also be hung in the locality and crowded spaces.
For more information, please visit: www.PawMaw.com
Media Contact
Company Name: PawMaw
Contact Person: Robert
Email: Send Email
Phone: +1 909 764 0024
Country: United States
Website: https://www.pawmaw.com/