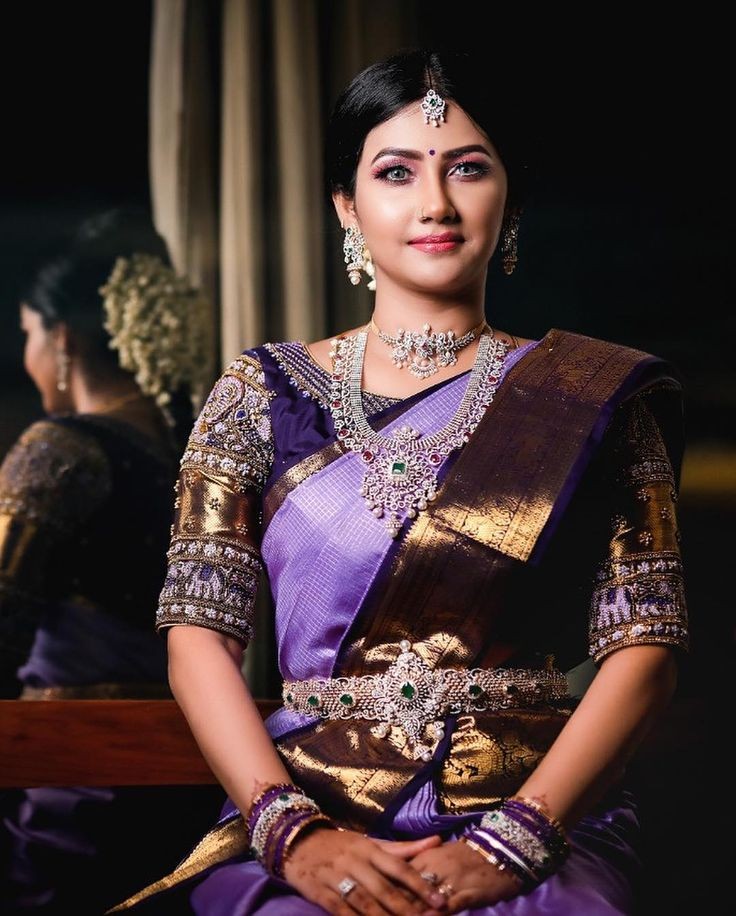 Latest and trendy collections of pastel kanchipuram sarees for wedding launched at online shopping store kanjivaram silks
The south indian sarees are famous for silk sarees such as kanchipuram sarees from kanchipuram, uppada silk sarees from uppada, mysore silk sarees from mysore and ikkat sarees. These south indian wedding sarees are famous for its smooth textures, varied trendy designs and every indian around the globe loves these sarees. Kanjivaram silks has launched pastel kanchipuram wedding sarees through their online platform. Their collections includes sarees from all price ranges. Artificial silk sarees costs very less and cheaper and can be used for daily wear and kancheepuram bridal sarees are the costliest indian wedding sarees and are made with gold and silver zari.
Kanchipuram sarees have managed to take a special place in every woman's heart and wardrobe. Finalizing a wedding saree is one of the most exciting parts of the Indian wedding and in a South Indian Wedding; Kanchipuram sarees play an important part. These wedding silk sarees are regal and smooth woven in silk and are meant to be worn on exclusive occasions.
They are like a prized possession that can be passed on to other generations. These sarees makes the woman wearing it stand out and the onlookers envy the grace it gives to the wearer. Kanchipuram silk sarees are handcrafted in pure silk and have motifs crafted from silk threads dipped in liquid gold and silver. A Kancheepuram sari has at least 57% of silver and 0.6% of gold in it. The extraordinary charm of Kanjivaram wedding silk sarees is due to the elaborate designs made with golden and silver threads.
These designs include temple towers, human figures, animal figures or even checks and stripes. These pattu sarees are woven in contrasting colors in checks, stripes, and floral traditional designs. The base material of the sarees is silk that is high in quality and craftsmanship. The cost of Kanjivaram wedding sarees varies as it depends on the intricacy of work, patterns, and materials used. These are fine count weaves in shimmer quality that needs to be stored carefully and is taken out during special occasions like big festivals and weddings. The name of Kanchipuram has been derived from a village named Kancheepuram in Tamil Nadu. These wedding silk sarees are a perfect choice when you want to look classy in traditional wear.
History of Kanchipuram sarees:
Kancheepuram saris date back to 400 years and are mentioned even in the Hindu mythology. Kancheepuram pattu weavers are the descendants of the primary weaver of Gods. The art gained immense popularity during the reign of Raja Krishna Devaraya from the Vijaynagar Empire. During this time the Devangas and Saligars weaving communities of Andhra Pradesh migrated to Kanchipuram and they made silk sarees with images of figures and sculptures found on the temples located in the village. Saree has since evolved as a must-wear for women during weddings, holy ceremonies, and festivals, especially in South India.
Kanchipuram sarees are fabricated from South India's pure silk while the zari used is sourced from the state of Gujarat. During the procedure, the silk thread is dipped in rice water and dried in order to enhance thickness and stiffness. These silk threads are then interwoven with thin silver wire and the golden thread is infused later to complete the procedure.
Features of the kanchi silk saree:
The color and designs of the body and the pallu are different, which is why they are woven separately and then joined together. Even the border is woven separately and the three parts are then joined to make a complete Kancheepuram wedding saree. The fabric of the saree is extremely strong and durable and the saree can be as heavy as two kilos.
Colors of the kancheepuram wedding saree:
Kanchi pattu sarees are available in vibrant colors and amazing designs and the design inspiration is mainly from scriptures and figurines from temples located in the village. The colors of pallu and body are different and they are in contrasting shades too.
Motifs on the Saree:
Kanchi pattu sarees mainly include temple figurines and mythological stories in their design. There are motifs of palaces, temples, paintings, etc. while the body of the saree has pyramid temple designs, stripes, checks, and floral butis. However, the saree has evolved a great deal and the traditional designs have been overtaken by modern motifs like sun, moon, animals, birds, and stories from mythology.
Types of Kanchipuram Silk sarees
In earlier times the sarees were a nine-yard weave but nowadays it has become a six-yard weave. Nowadays metal and copper zari are being used in place of gold and silver zari. Although there is a compromise in the sheen of the saree it reduces the cost to a great extent. However, we suggest that you invest in the original zari work, especially on your wedding day. Kanjivaram wedding silk sarees bear a mark of authenticity from the government since 2006 and this has enhanced the sales of traditional Kancheepuram bridal silk sarees.
Prices of the kanchivaram saree
An original Kancheepuram sari in pure silk and zari can cost in between Rs. 7000 to Rs. 2,00,000. However, if you want the budgeted versions then you can opt for pure silk and imitation zari or half silk and imitation zari. Although the sheen of the saree may be similar, the durability will be less. Artificial silk sarees cost less and range between Rs. 2000 to Rs. 5000, but they are not originals.
Identifying Kanchipuram silk sarees
The border and the body of the saree are in contrast which is the first sign of a Kanchipuram saree. Here is how you can identify an original saree:
Pick up a few loose threads from your original and fake Kancheepuram saree and burn them, the original will have ash and will smell like burnt hair or leather, while an artificial saree will leave no ash.
Pick up loose zari threads from the saree and untwist the thread. Pure zari is made with red threads dipped in gold or silver, but artificial zari has a white thread beneath.
Look for a silk mark by the government on your pure Kancheepuram saree, if it's there, it's authentic.

How to care:
Maintaining your Kanchipuram silk saree is important, so get it dry cleaned, before storing it in a muslin cloth, saree bag, or plastic bag. Do not wash the saree at home, as it will lose its luster.
If you are planning to get married this year then order your pure Kanjivaram saree online and choose from a plethora of designs and colors. We assure you that you will look like a million bucks on your wedding day. Team up your Kanjivaram saree with matching temple jewelry and jhumkas and make all the heads turn to look at the beautiful you on your D-Day.
Media Contact
Company Name: Kanchipuram Silk Sarees Store
Contact Person: Vamsee
Email: Send Email
Phone: 9677063537
Address:251-9 Gandhi Road, (next to petrol bunk)
City: Kanchipuram
State: Tamil Nadu
Country: India
Website: https://kanjivaramsilks.com