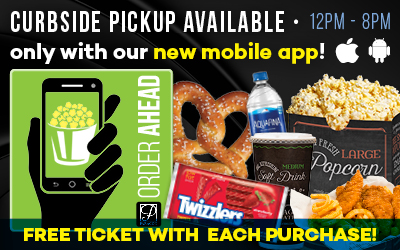 Food is now available for curbside pickup on the Paragon mobile app!
May 6, 2020 – There is no doubt that the coronavirus crisis has impacted lives across the world and has caused many adjustments to the way we stay safe. For movie lovers, unfortunately, this has meant no movie releases and access to delicious theater food classics.
While Paragon Theaters may be closed temporarily, Paragon fans still have a reason to smile! Theaters are now offering curbside pickup for popular movie theater food items to recreate the experience in your home!
As we shift our efforts, to keep the business open while retaining our employees, Paragon Theaters recently announced offering curbside pickup for movie theater food from 12 PM to 8 PM daily. Loyalty members who are signed in, while placing orders through the Paragon Theaters mobile app will receive 25% off their order, and a FREE Movie Ticket!
"We see this as an opportunity to share something people love about our experience even during the current challenging times," commented Mike Whalen, CEO of Paragon Theaters.
"Not only can our food still be enjoyed but Loyalty Members will even have free tickets ready for when we are able to open for movies again!"
Reviews for the theater and its food continue to be extremely positive, but we look forward to the day we can welcome you back inside!
Mayra, recently said in a five-star review, "Friendly staff, great prices, nice bar, the seats recline back and there is plenty of room. If you're ever in the area and want to watch a movie I recommend going there."
For more information be sure to visit https://www.paragontheaters.com.
https://www.facebook.com/ParagonTheaters
https://twitter.com/paragontheaters
Media Contact
Company Name: Paragon Entertainment Holdings, LLC
Contact Person: James E. Herd, Jr. | Chief Operating Officer
Email: Send Email
Phone: (954) 320-7112 Ext. 2555
Address:2461 W. Hillsboro Blvd.
City: Deerfield Beach
State: FL 33442
Country: United States
Website: http://www.paragontheaters.com/