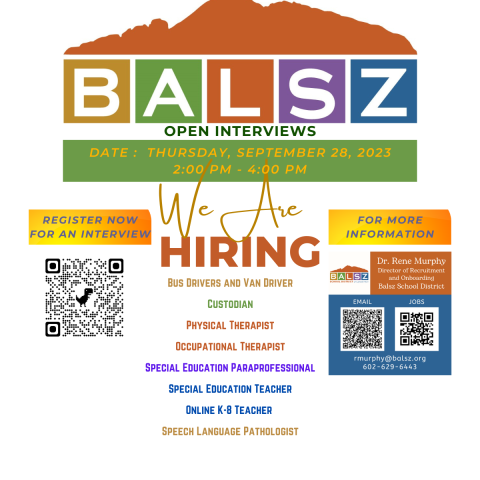 Balsz Elementary School District is excited to announce a series of open interviews, offering individuals the opportunity to explore dynamic positions within the education field. The district is committed to fostering excellence in education and invites talented professionals to join in shaping young minds and making a positive impact on the community.
Recognizing the need to adapt and innovate in the ever-evolving educational landscape, Balsz Elementary School District introduces a unique hybrid position – K-8 Online Teachers. This role seamlessly combines the expertise of a teacher with the flexibility of an online teaching environment, ensuring an all-inclusive approach to student growth.
Open interviews will take place on Thursday, September 28, 2023, from 2-4 p.m. at Balsz Elementary School District, located at 4825 E. Roosevelt Street Phoenix, AZ 85008. This event provides an excellent opportunity for interested candidates to learn more about available positions and engage with the dedicated team at Balsz Elementary School District.
Positions available for interview include:
Bus Drivers and Van Drivers
Custodian
Physical Therapist
Occupational Therapist
Special Education Paraprofessionals
Speech Language Pathologist
Special Education Teachers
K-8 Online Teachers
Prospective candidates are encouraged to seize this chance to become part of an innovative and dedicated team that is committed to shaping the future of education.
Registration for open interviews is now open. To secure your spot, please fill out the Open Interview Registration Form at the Link: https://forms.gle/4aKXcc7MyHAumrca7
For more information, please contact:
Dr. Rene Murphy, Ed.D.
Director of Recruitment and Onboarding
P: 602.629.6443 C: 480.673.1498
E: rmurphy@balsz.org Jobs: https://jobs.balsz.org/jobs
About Balsz Elementary School District:
Balsz Elementary School District is a leading educational institution dedicated to providing a nurturing and inclusive environment for students to thrive. With a focus on innovation, collaboration, and student success, the district strives to empower the next generation of learners.
Media Contact
Company Name: Rene Murphy
Contact Person: Rene Murphy
Email: Send Email
Country: United States
Website: forms.gle/4aKXcc7MyHAumrca7