DelveInsight has launched a new report on Onychomycosis Market Insights, Epidemiology and Market Forecast-2030
DelveInsight's "Onychomycosis – Market Insights, Epidemiology, and Market Forecast-2030" report delivers an in-depth understanding of the Onychomycosis , historical and forecasted epidemiology as well as the Onychomycosis market trends in the United States, EU5 (Germany, Spain, Italy, France, and United Kingdom) and Japan.
The Onychomycosis market report provides current treatment practices, emerging drugs, Onychomycosis market share of the individual therapies, current and forecasted Onychomycosis market Size from 2017 to 2030 segmented by seven major markets. The Report also covers current Onychomycosis treatment practice/algorithm, market drivers, market barriers and unmet medical needs to curate best of the opportunities and assesses the underlying potential of the market.
Onychomycosis (Tinea Unguium or nail fungus) can be described as a fungal infection that causes fingernails or toenails to thicken, discolor, disfigure, and split. It is a common condition that begins as a white or yellow spot under the tip of the fingernail or toenail. As the fungal infection goes deeper, nail fungus may cause the patient's nails to crumble at the edge. Onychomycosis occurs from the overgrowth of fungi in, under, or on the nail.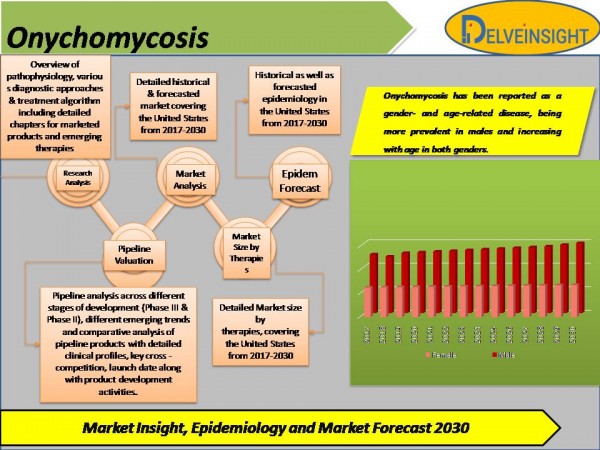 Request for :- free sample page
Epidemiology
The Onychomycosis epidemiology division provide insights about historical and current Onychomycosis patient pool and forecasted trend for every seven major countries. It helps to recognize the causes of current and forecasted trends by exploring numerous studies and views of key opinion leaders. This part of the DelveInsight report also provides the diagnosed patient pool and their trends along with assumptions undertaken.
Report key facts:-
1. According to a study conducted by P. Dyanne et al, Onychomycosis occurs in 10% of the general population but is more common in older adults; the prevalence is 20% in those older than 60 years and 50% in those older than 70 years. The increased prevalence in older adults is related to peripheral vascular disease, immunologic disorders, and diabetes mellitus
2. According to a study by R. Ted, MD, titled as "Evaluation of Gender as a Clinically Relevant Outcome Variable in the Treatment of Onychomycosis with Efinaconazole Topical Solution 10%", Onychomycosis occurs in both sexes but men are more likely to develop onychomycosis than women.
"Onychomycosis, though considered a cosmetic problem, is a debilitating disease with immense negative physical and psychological impacts. Secondly, no spontaneous clearing is known to occur. Moreover, untreated patients can act as a reservoir for family contacts and can contaminate communal bathing places"
Key companies are working on Onychomycosis that are given below:-
1. Anacor Pharmaceutical
2. Moberg Pharma Co
3. Almirall Pharma Co.
Name of drugs covered that are given below:-
1. Kerydin
2. MOB-015
3. P-3058
1. Key Insights
2. Executive Summary of Onychomycosis
3. Competitive Intelligence Analysis for Onychomycosis
4. Onychomycosis : Market Overview at a Glance
4.1. Onychomycosis Total Market Share (%) Distribution in 2017
4.2. Onychomycosis Total Market Share (%) Distribution in 2030
5. Onychomycosis : Disease Background and Overview
6. Patient Journey
7. Onychomycosis Epidemiology and Patient Population
8. Treatment Algorithm, Current Treatment, and Medical Practices
8.1. Onychomycosis Treatment and Management
8.2. Onychomycosis Treatment Algorithm
9. Unmet Needs
10. Key Endpoints of Onychomycosis Treatment
11. Marketed Products
12. Emerging Therapies
13. Onychomycosis : Seven Major Market Analysis
13.1. Key Findings
13.2. Onychomycosis Market Size in 7MM
13.3. Onychomycosis Market Size by Therapies in the 7MM
14. Attribute analysis
15. 7MM: Market Outlook
16. Access and Reimbursement Overview of Onychomycosis
17. KOL Views
18. Market Drivers
19. Market Barriers
20. Appendix
20.1. Bibliography
20.2. Report Methodology
21. DelveInsight Capabilities
22. Disclaimer
23. About DelveInsight
Why should you buy this report?
The report will help in developing business strategies by understanding trends shaping and driving the Onychomycosis market
To understand the future market competition in the Onychomycosis market and Insightful review of the key market drivers and barriers
Organize sales and marketing efforts by identifying the best opportunities for Onychomycosis in the US, Europe (Germany, Spain, Italy, France, and the United Kingdom) and Japan
Identification of strong upcoming players in the market will help in devising strategies that will help in getting ahead of competitors
Organize sales and marketing efforts by identifying the best opportunities for Onychomycosis market
To understand the future market competition in the Onychomycosis market
Related Reports:-
1. Onychomycosis – Pipeline Insights, 2020
2. Onychomycosis – Epidemiology Forecast to 2030
Media Contact
Company Name: DelveInsight Business Research LLP
Contact Person: Yash Bhardwaj
Email: Send Email
Phone: +919650213330
Address:304 S. Jones Blvd #2432
City: Albany
State: New York
Country: United States
Website: https://www.delveinsight.com/