Emdoor Digital Technology Co., Ltd. Consumer Smart Terminals ODM/IDH, was founded in 2010, as one of the subsidiaries of Emdoor Information, a national high-tech enterprise specialized in consumer mobile terminals, industry terminals and artificial intelligence terminal solutions, and an excellent solution provider of tablets and notebooks at home and around the world. Emdoor Digital focuses on the development and production of notebooks, tablets, intelligent business displays, face & voice interactive display terminals and localized products, and is committed to becoming a leading global solution company, providing one-stop pre-sales, in-sales and after-sales services to our customers. We continue to provide customers with competitive products solutions and services, which are mainly used in home, office, education, finance, business, smart home and other fields.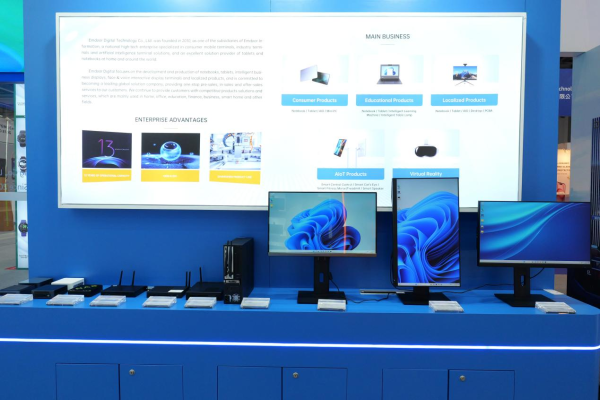 Emdoor Digital showcases its latest mobile devices, intelligent wearables, AR/VR/MR, mobile accessories and other products to all domestic and foreign guests, reflecting the innovative strength of Emdoor Digital. It actively exchanges the latest innovative achievements and cutting-edge technologies with many excellent enterprises in the industry.
During the exhibition, the various products of Emdoor Digital booth attracted many visitors, who actively inquired about the innovative points and main features of the products, demonstrating a strong willingness to cooperate.
Accelerate technological innovation in electronic products and create new consumer scenarios for electronic products. Emdoor Digital continues to expand its professional research team, conducting research and innovation on various products of the company. At this exhibition, it showcases a new series of laptops, tablets, educational laptops, as well as various one-stop, experiential, and customized home scenario solutions to global consumers.
The brand new third-generation 535 series educational laptop exhibited by Emdoor Digital at this exhibition features a portable and lightweight body, coupled with the powerful practicality of multi-port large storage, truly enabling learning anytime and anywhere. The body supports customization, and also integrates intelligent teaching and information sharing. Once exhibited, it attracted many foreign friends to visit and consult.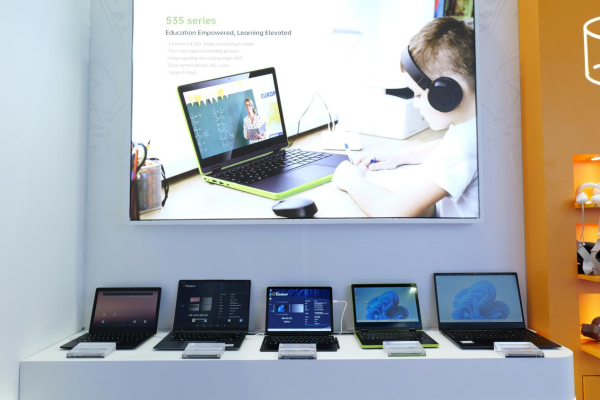 At this exhibition, the brand new 829 series of business laptops also received much attention. The innovation of this series of products is aimed at refreshing the office experience and helping enterprises develop. Due to its outstanding performance, lightweight and portable, it also has multiple eye-catching highlights such as 100W fast charging, multiple interfaces, and stable network connection to ensure data transmission. It has received the attention and consultation of many domestic and foreign business workers in the exhibition hall.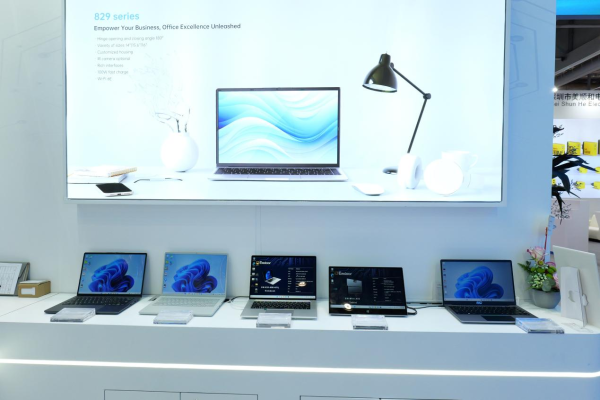 After cutting-edge technologies such as artificial intelligence and 5G, virtual reality has also become a highly anticipated research and development field in recent years. Emdoor company has continuously increased its research and development investment in pan intelligent terminals and XR products in recent years, relying on excellent industry technology and advanced market foresight thinking. In addition to showcasing traditional product types such as laptops, tablets, and Mini PCs, Emdoor Digital also launched XR+solutions such as 6DoF MR all-in-one machine, 3DoF VR all-in-one machine, and AR glasses split computing unit, actively penetrating and developing into more diverse application scenarios.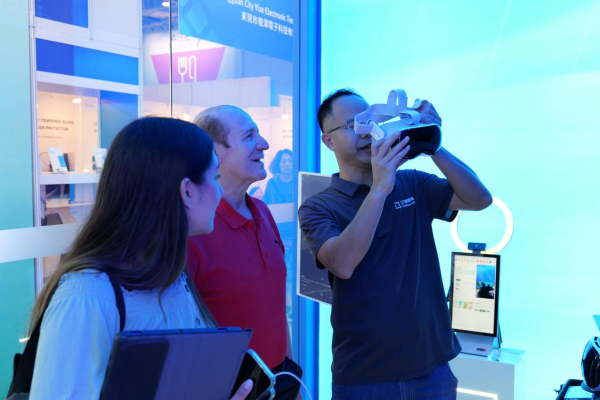 Since its establishment 13 years ago, Emdoor Digital has been continuously innovating and enhancing its core competitiveness in the industry. At the Global Resources Mobile Electronics Exhibition, Emdoor Digital enhanced the purchasing experience of global buyers through professional services and explanations, promoting more business cooperation opportunities and nurturing partnerships.
In this exhibition, Yidao Digital demonstrated strong innovation and research and development capabilities!
The exhibition will continue until 5:30 pm on October 21st. Emdoor Digital Booth-5G78, we look forward to your exchange and visit!
If you wants learn more about Emdoor Digital, please search Emdoor Digital Technology Co., Ltd. or search the web: http://www.emdoordigi.com/.
Media Contact
Company Name: ShenZhen Emdoor Digital Technology Co.,Ltd.
Contact Person: Cathy
Email: Send Email
Country: China
Website: https://www.emdoordigi.cn/