The esteemed Crypto OGs podcast and OKX, a leading digital assets exchange and innovative Web3 technology company, have partnered to showcase Crypto OGs host Andres Meneses in Trade Like a Pro, OKX's new brand campaign that includes testimonials from real-life users who use the platform's tools to enhance their trading experience.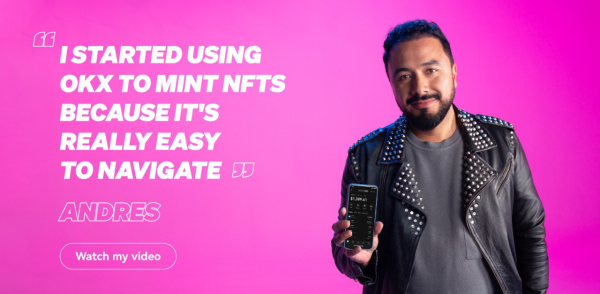 The partnership between OKX and Crypto OGs is a step forward in the development of entertainment, Web3, and global connectivity. OKX's 'Trade Like a Pro' global brand campaign highlights the diverse and inspiring stories of individual users and their favorite OKX products and features. Launched in August, the campaign features real users telling their stories in the 45- and 15-second video spots, showing how people from different walks of life use the OKX platform to achieve their goals.
The campaign also features the newest co-host of Crypto OGs, Anastasia from Trade Travel Chill, alongside Ameer, a notable trader, and Kmansu, a well-known YouTuber.
Trade Like a Pro campaign underscores OKX's unwavering commitment to its user community, providing a platform for traders to openly share their journeys, strategies, and accomplishments within the crypto market. By highlighting genuine traders such as Andres Meneses, Anastasia, Ameer, and Kmansu, OKX aims to bridge the divide between seasoned traders and novices, fostering an environment of continuous education and development.
"We're thrilled to collaborate with OKX on this exceptional campaign that not only celebrates our vibrant user community but also highlights the diversity and dynamism inherent in both Crypto OGs and OKX. This campaign pays homage to the successes of our traders and amplifies the essence of collaboration between our platforms," commented Andres, Host of the Crypto OGs podcast.
The campaign includes an array of captivating content, including compelling interviews, enlightening videos, and insightful articles. These offerings provide an intimate glimpse into the strategies, experiences, and insights of the featured traders. Through these narratives, both Crypto OGs and OKX aspire to empower their user bases with practical knowledge and expert perspectives, enabling them to navigate the ever-evolving cryptocurrency landscape with confidence.
As part of the Trade Like a Pro brand campaign, OKX has opened entries for its biggest ever trading competition, offering a prize pool of more than 2 million USDT and additional prizes, including a Tesla. Kicking off September 20, the competition is open to OKX users trading USDT perpetual contracts.
Stay tuned for updates on this collaboration by visiting the official Crypto OGs website at www.cryptoogs.com.
About Crypto OGs:
Crypto OGs is a distinguished podcast dedicated to providing insightful discussions, analyses, and interviews within the cryptocurrency and blockchain space. Hosted by Andres Meneses, the podcast serves as a platform for industry leaders, influencers, and enthusiasts to share their expertise and experiences.
About OKX:
OKX is a leading global crypto exchange and innovative Web3 company. Trusted by more than 50 million global users, OKX is known as one of the fastest and most reliable crypto trading app for traders everywhere.
As a top partner of English Premier League champions Manchester City FC, McLaren Formula 1, Olympian Scotty James, and F1 driver Daniel Ricciardo, OKX aims to supercharge the fan experience with new engagement opportunities. OKX is also the top partner of the Tribeca Festival as part of an initiative to bring more creators into web3.
The OKX Wallet is the platform's latest offering for people looking to explore the world of NFTs and the metaverse while trading GameFi and DeFi tokens. OKX is committed to transparency and security and publishes its Proof of Reserves on a monthly basis.
To learn more about OKX, download our app or visit: okx.com
Media Contact:
Paz Gonzalez
Managing Director, Crypto OGs Podcast
Thecryptoogs@gmail.com
+971501035930
Media Contact
Company Name: Cryptoogs
Contact Person: Paz Gonzalez
Email: Send Email
City: Dubai
Country: United Arab Emirates
Website: https://cryptoogs.com