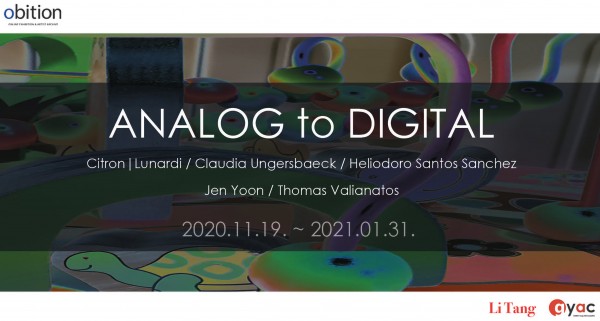 OBITION and Li Tang present: Analog to Digital, an online international group exhibition running from November 19, 2020 – January 31, 2021.
Since the life-altering invention of the camera, artists have been grappling with how to integrate "old" and "new" technologies into their studio practices. Over the last few decades, the Internet and digital image manipulation software have pervaded our daily lives, adding even more complexity to the ways contemporary art is made, interpreted, and shared globally. In presenting Analog to Digital, Li Tang and OBITION seek to enter this conversation with new works from five artists who each combine hand- and computer-based influences to create unique visual solutions. Artists included are Thomas Valianatos (Greece), Citron (Italy), Claudia Ungersbäck (Austria), Heliodoro Santos Sánchez (Mexico), and Jen Yoon (Republic of Korea).
Analog to Digital was curated by Webson Ji, Founder and Creative Director at Li Tang, and Ken Kim, Art Director at OBITION. Li Tang and OBITION would like to extend a sincere thank you to all those who submitted works to our open call for this project. They received 218 artworks from all over the world and it was incredibly difficult decision to narrow the list down to five artists.
To accompany the exhibition, Li Tang and OBITION are partnering with Global Alliance of Marketing & Management Associations and ACCESS to host an online symposium to discuss the concepts and work with the artists. The symposium will be held online via Zoom video chat on January 31st, 2020. To register, please email OBITION at obition2016@gmail.com; a link will be sent out with the time and access code for the meeting once registration email is received.
To learn more about the artists and works included in Analog to Digital, visit www.obition.org/analog-to-digital.html.
About Li Tang:
Li Tang is a New York-based community dedicated to amplifying the creative voices of the contemporary Asian diaspora. Established in 2020, Li Tang's aim is to feature the works and talents of today's most innovative Asian practitioners working in the varied fields of art and culture. Li Tang Creative is a team of professional artists, designers, and curators who work together to present the journeys of the creative they interviewed.
Learn more at litang.zone.
About OBITION:
OBITION is an online exhibition platform based in Republic of Korea that archives work from young emerging artists worldwide. OBITION is constantly working to expand the ways an online environment can house and present artwork, focusing on planning diverse group and solo exhibitions.
Learn more at obition.org.
Media Contact
Company Name: Li Tang Creative
Contact Person: Webson Ji
Email: Send Email
Country: United States
Website: litang.zone