In the past few years, the popularity of oats has increased among the consumers as a result of their health benefits. Apart from this, oats also offer unique flavour which makes them suitable for a variety of dishes. Owing these factors, the global oats market is expected to reach a volume of around 32 Million Tons.
The latest report by IMARC Group titled, "Oats Market: Global Industry Trends, Share, Size, Growth, Opportunity and Forecast 2017-2022", finds that the global oats market reached a volume of around 24 Million Tons in 2016, growing at a CAGR of 1% during 2009-2016. Currently, oats rank sixth in the world production of cereals after maize, rice, wheat, barley and sorghum. Traditionally, oats were used for feeding pet animals in the form of grain, pasture, hay, or silage. Therefore, feed represents the largest end-used industry of oats, accounting for more than half of the global shares. However, owing to their nutritional value, oats are gaining popularity among the health-conscious consumers. Some of the essential dietary nutrients present in oats include beta-gluten, proteins, unsaturated fatty acids, vitamins, minerals and antioxidants, which help in keeping various diseases at bay, along with benefitting the overall health. Studies have found that oats help in weight loss, managing the blood sugar levels and strengthening the cardiovascular system. Apart from this, oats are also believed to assist in the treatment of rheumatism, depression, chronic nerve pain and loss of bladder control.
Request a free Sample of the report: http://www.imarcgroup.com/request?type=report&id=588&flag=B
Highlights of global oats market:
The feed sector represents the largest end-use industry.
The market is driven by the health benefits and expanding applications of oats.
The market is expected to reach a volume of almost 32 Million Tons by 2022.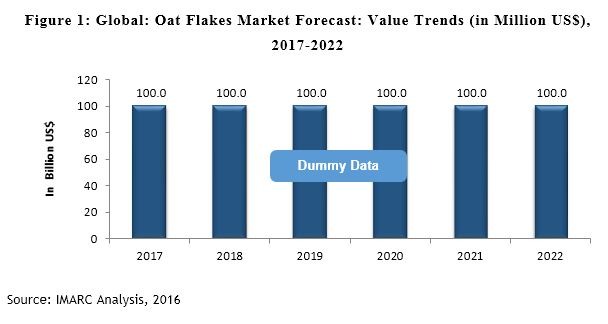 Nowadays, oats are used in a variety of products as a result of their unique flavour, ability to retain moisture and nutritional value, which has helped in accentuating the growth in consumption. Porridge or oatmeal, hot cereals, bread, biscuits, infant food, muesli or granola bars, smoothies and crunchies are a few examples of food products made from oats. Considering this, the market is further expected to reach a volume of around 32 Million Tons by 2022, growing at a CAGR of nearly 3.5% during 2017-2022.
The report has evaluated the market on a regional basis. Some of the largest consumers of oats include Russia, the United States, Canada, Poland and the United Kingdom. An analysis of the competitive landscape is also provided. Furthermore, the report offers a techno-commercial roadmap for setting up an oats processing plant. The study, which has been done by one of the world's leading research and advisory firms, covers all the requisite aspects of the oats market. This ranges from macro overview of the market to micro details of the industry performance, processing and manufacturing requirements, project cost, project funding, project economics, expected returns on investment, profit margins, etc. This report is a must-read for entrepreneurs, investors, researchers, consultants, business strategists, and all those who are planning to foray into the oats industry in any manner.
Browse full report on the global oats market with table of contents: http://www.imarcgroup.com/oats-processing-plant
The report by IMARC Group has examined the global oats market on the basis of:
Market by Application:
Market by Region:
Russia
United States
Canada
Poland
United Kingdom
Browse related research reports:
Instant Noodles Market: http://www.imarcgroup.com/prefeasibility-report-on-an-instant-noodle-processing-plant
Extruded Snack Food Market: http://www.imarcgroup.com/extruded-snack-food-manufacturing-plant
About Us
IMARC Group is a leading market research company that offers management strategy and market research worldwide. We partner with clients in all sectors and regions to identify their highest-value opportunities, address their most critical challenges, and transform their businesses.
IMARC's information products include major market, scientific, economic and technological developments for business leaders in pharmaceutical, industrial, and high technology organizations. Market forecasts and industry analysis for biotechnology, advanced materials, pharmaceuticals, food and beverage, travel and tourism, nanotechnology and novel processing methods are at the top of the company's expertise.
Media Contact
Company Name: IMARC Group
Contact Person: Jim Clarke
Email: sales@imarcgroup.com
Phone: +1-631-791-1145
Country: United States
Website: http://www.imarcgroup.com/