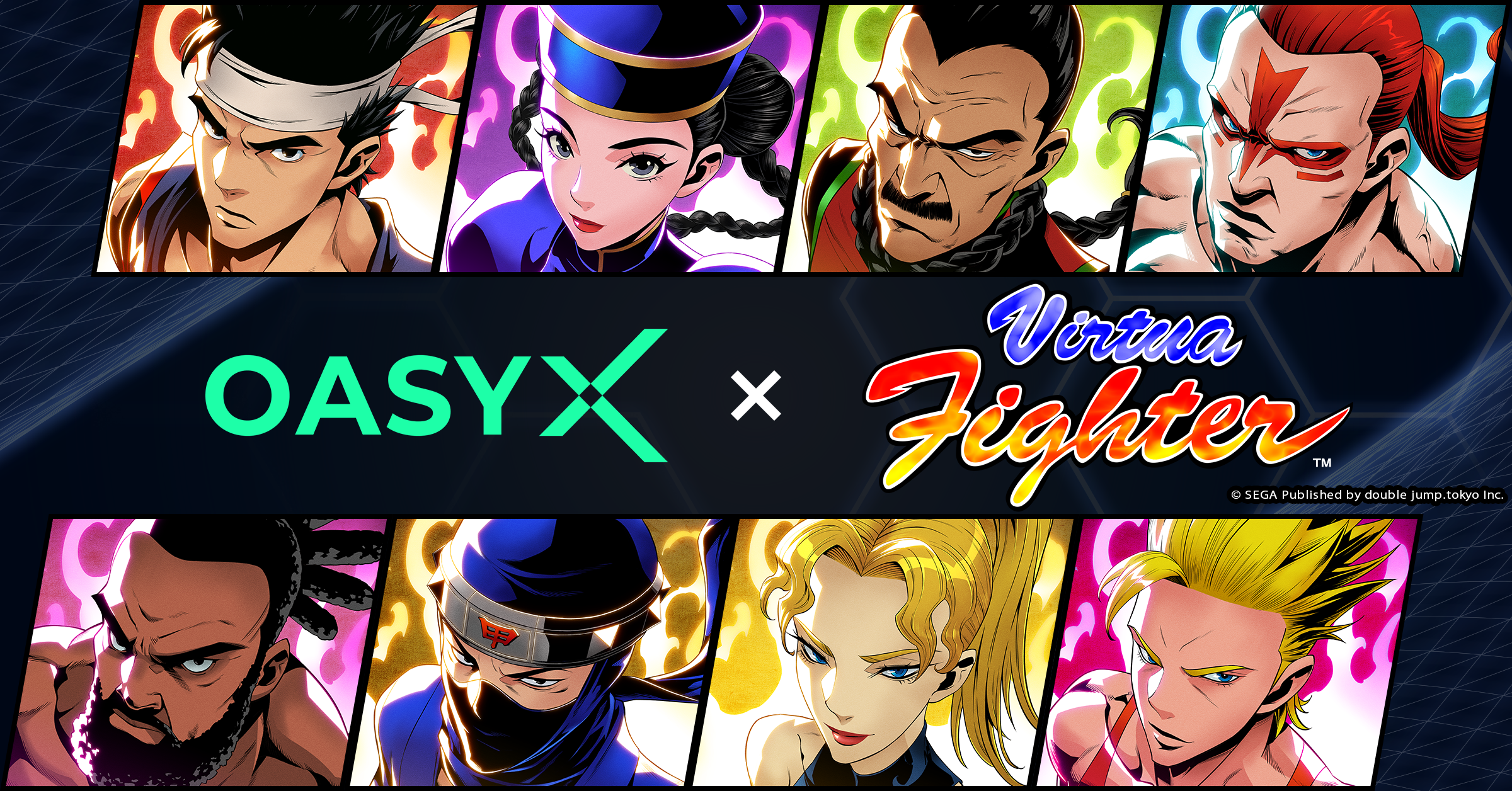 Under the supervision of game creator Yu Suzuki the first series of characters will feature a collaboration with the three titles from the Virtua Fighter series.
Revolutionary NFT Project 'OASYX' Teams Up with double jump.tokyo's Web3 Tech Creative Studio 2xj
double jump.tokyo Inc. has announced that it is collaborating with SEGA's popular 3D fighting titles, Virtua Fighter, Virtua Fighter 2, and Virtua Fighter 3, for its first NFT project, "OASYX." The characters in the project were designed by GODTAIL and created with a "Cyber x Japanese" taste by double jump.tokyo's web3 tech creative studio "2xj." OASYX is an NFT project for gamers that will be deployed on the Oasys chain, and it will be used as a metaverse avatar in the future.
Under the supervision of game creator Yu Suzuki the first series of characters will feature a collaboration with the three titles from the Virtua Fighter series. A total of 10,000 OASYX first editions have been issued, and 1,000 of them will be the "Virtua Fighter collab NFTs". The collaboration NFTs will be distributed in March, and the characters will be revealed in April.
There are 11 characters from the three Virtua Fighter titles that will appear in collaboration with the world view of OASYX.
Yu Suzuki, who supervised the creative worldview of OASYX, expressed his excitement for combining NFTs and blockchain technologies with the Virtua Fighter series. During my time as a director at SEGA, I initially developed Virtua Fighter using innovative 3D computer graphics technology, which was cutting-edge and industry-leading at the time. Since then, the Virtua Fighter series has grown to be loved by many players and continues to be supported by numerous fans today.
Mr. Suzuki continues, "Through my work supervising the development of OASYX's unique worldview, I am delighted to combine innovative technology in the form of blockchain-based NFTs, with three titles from the Virtua Fighter series to create new entertainment for a wide range of gaming fans."
Oasys is a blockchain project that specializes in games, and its unique architecture provides a user-friendly gameplay experience for blockchain game users by eliminating transaction fees and speeding up transactions. The initial validators (node operators) consist of a total of 21 companies, including major game companies such as Bandai Namco Research Institute and other web 3 companies. The blockchain adopts the PoS (Proof of Stake) consensus mechanism, which is considered environmentally friendly.
For more information on OASYX, please visit their official website or official Twitter account:
Website: https://www.oasys.games/
Twitter: https://twitter.com/oasys_games
Discord: http://discord.gg/oasysgames
About 2xj
2xj is double jump.tokyo's in-house Web3 technology creative studio that develops innovative projects in collaboration with world-class anime IP, content creators, and popular brands. The studio will focus on developing yet-to-be-seen, exciting projects using new Web3 technologies.
About double jump.tokyo Inc.
Founded in 2018, double jump.tokyo is the leading startup in Japan that specializes in NFT solutions and developing blockchain games, such as "My Crypto Heroes" and "Brave Frontier Heroes." double jump.tokyo has partnered with some of the largest gaming companies including Square Enix, Bandai Namco, and SEGA CORPORATION, as well as LINE and bitFlyer Holdings.
Media Contact
Company Name: Double jump.tokyo, Inc.
Contact Person: Caleb Harper
Email: Send Email
Phone: 720-936-4480
Address:100 E Pine St Suite 110
City: Orlando
State: FL
Country: United States
Website: www.OtterPR.com