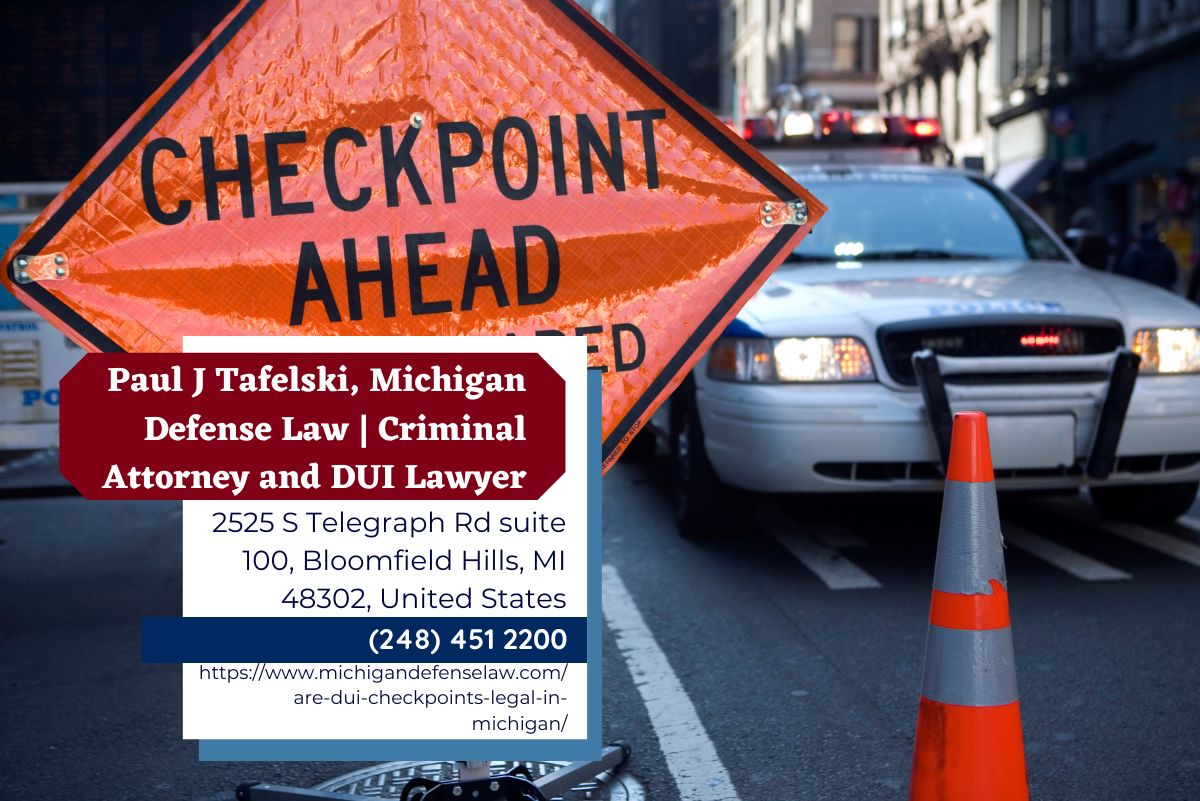 Oakland County DUI lawyer Paul J. Tafelski (https://www.michigandefenselaw.com/blog/are-dui-checkpoints-legal-in-michigan/) of Michigan Defense Law recently published an insightful article examining the legality and implications of DUI checkpoints in Michigan. The article provides a comprehensive overview of the topic, offering useful guidance for anyone who might find themselves involved in a law enforcement checkpoint or traffic stop.
In the article, Tafelski, an Oakland County DUI lawyer with a deep understanding of Michigan law, discusses DUI checkpoints – temporary roadblocks established by law enforcement to identify and deter individuals driving under the influence. Despite their widespread presence in other states, checkpoints are a contentious issue in Michigan.
"DUI checkpoints, commonly referred to as sobriety checkpoints or roadblocks, have long been a subject of legal debate in the state of Michigan," the Oakland County DUI lawyer writes. "Michigan, is one of the ten states in the United States that have ruled against sobriety checkpoints and banned their use because they violate the state constitution."
However, the absence of DUI checkpoints doesn't mean police lack authority in Michigan. As Tafelski explains, law enforcement officers can still conduct vehicle stops, investigations, and arrests if they have "reasonable suspicion" or "probable cause" to believe a driver is under the influence.
Tafelski's piece goes on to provide useful advice on how individuals should conduct themselves during a traffic stop and the rights they have under Michigan and federal law. This includes the right to remain silent, the right to legal representation, and protection against unreasonable searches and seizures.
"Being aware of rights during a traffic stop is essential to protect interests and ensure that individuals are treated fairly and within the boundaries of Michigan DUI laws," Tafelski advises in his article.
Addressing the need for legal representation, Tafelski asserts: "The Sixth Amendment of the United States Constitution guarantees the right to legal representation. This means individuals have the right to consult with an attorney if they believe they need one, especially if they're facing potential DUI charges."
Tafelski urges individuals who find themselves accused of a DUI offense to seek professional legal assistance. Understanding the rights and obligations can make a significant difference in the outcome of a case.
To better understand the complexities surrounding DUI checkpoints and Michigan DUI laws, or if facing DUI charges, reach out to the dedicated team at Michigan Defense Law.
About Michigan Defense Law:
Michigan Defense Law is a team of experienced and dedicated lawyers committed to protecting the rights of Michigan residents. Led by seasoned attorney Paul J. Tafelski, the firm offers detailed, personalized legal guidance in DUI cases, backed by a comprehensive understanding of Michigan's DUI laws. They are dedicated to ensuring each client receives the best legal representation possible, safeguarding their rights and advocating for their best interests throughout the legal process.
Embeds:
Youtube Video: https://www.youtube.com/watch?v=WMqpMG8dfxU
GMB: https://www.google.com/maps?cid=7441820969606749572
Email and website
Email: paul@michigandefenselaw.com
Website: https://www.michigandefenselaw.com/
Media Contact
Company Name: Michigan Defense Law
Contact Person: Paul J. Tafelski
Email: Send Email
Phone: (248) 451-2200
Address:2525 S Telegraph Rd suite 100
City: Bloomfield Hills
State: Michigan 48302
Country: United States
Website: https://www.michigandefenselaw.com/