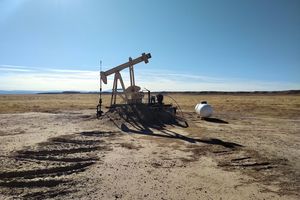 We are pleased to inform that we have had an excellent start into the year 2020. For example, at the end of last year we had been able to finalize and sign a Joint Venture agreement concerning the development of a newly discovered Helium gas field.
What makes this agreement interesting are several points:
Firstly, Helium is only available in limited quantities and cannot be produced artificially. Secondly, global demand has been rising steadily for years now, with short supply. We have been seeing rising prices in line with this during the last years. After the market prices for helium have roughly doubled in the last two years, experts see a next jump in prices coming and possibly even a further doubling for the next 12 – 18 months. Researchers are already warning of a worldwide Helium crisis.
The proposed Helium gas field is located in the vicinity of the so-called "Harley Dome Field" in Utah, which was named "Federal Helium Reserve No. 2" by US President Roosevelt in early 1934, but is much larger and could thus become one of the largest Helium gas fields in the entire USA.
Next good news has arrived from Kentucky: As described in our latest corporate news release, Mystic Energy Services LLC, our operator and local partner, has secured additional interesting drilling sites in Ohio County, Kentucky. The adjacent area is the second largest "oil producer" for the entire state of Kentucky. In the meantime, we have decided to drill the first well here in 2020. Based on weather conditions, this could possibly take place beginning of February 2020.
Investor Relations / January 13, 2020
Disclaimer/Forward Looking Statements:
This press release contains projections and other forward-looking statements regarding future events or our future financial performance. All statements other than present and historical facts and conditions contained in this release, including any statements regarding our future results of operations and financial positions, business strategy, plans and our objectives for future operations, are forward-looking statements (within the meaning of the Private Securities Litigation Reform Act of 1995, Section 27A of the Securities Act of 1933, as amended, and Section 21E of the Securities Exchange Act of 1934, as amended). These statements are only predictions and reflect our current beliefs and expectations with respect to future events and are based on assumptions and subject to risk and uncertainties and subject to change at any time.
Any statements that express or involve discussions with respect to predictions, expectations, beliefs, plans, projections, objectives, goals, assumptions or future events or performance are not statements of historical facts and may be "forward looking statements".
Forward looking statements may be identified through the use of words such as "expects", "will", "anticipates", "estimates", "believes", or by statements indicating certain actions "may", "could", "should" or "might" occur. Although we believe that our plans, intentions and expectations reflected in these forward-looking statements are reasonable, these plans, intentions and expectations may not be achieved.
Actual results, performance or achievements could differ materially from those contemplated, expressed or implied by the forward-looking statements contained in this release and our filings with the SEC.
Except as required by law, we undertake no obligation to update any forward-looking statement, whether as a result of new information, future events or otherwise.
Forward-looking statements in this release are made pursuant to the safe harbor provisions contained in the Private Securities Litigation Reform Act of 1995.
This information does not constitute an offer to sell or a solicitation of an offer to purchase any securities of the company. Readers of this information are requested to inform themselves about, and to observe, any possible restrictions.
Media Contact
Company Name: NW Oil
Contact Person: Media Relations
Email: Send Email
Phone: +1 775 501-6255
Address:4650 Wedekind Road, Suite #2
City: Sparks
State: NV 89431
Country: United States
Website: www.nwoil.net