StockPick delivers in-depth investment analyses from experienced investors, all through short-form video – not previously available on any other platform.
Toronto, ON – StockPick has launched its mobile app to help retail investors grow their investing knowledge through short, accessible videos. The app is already home to hundreds of videos from creators with impressive and diverse investing experience, who share insights on stocks, cryptocurrency, ETFs, and market conditions in the U.S. and Canada.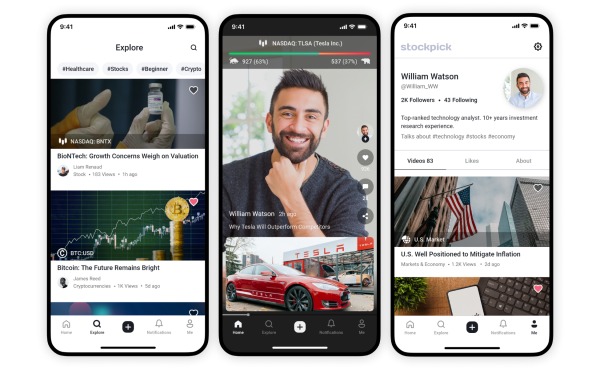 The StockPick app features high-quality investing videos from experienced investors.
"Most in-depth investment analyses are behind expensive paywalls or in the form of long articles," says Charles Qi, StockPick's Founder and CEO. "The cost is prohibitive, and the delivery format isn't accessible to many investors, especially those in younger generations."
StockPick has been developed by a team of Canadian finance and technology professionals (formerly CIBC Capital Markets, Amazon, and Canada Pension Plan). The team hopes to help modern investors break through the noise and find the stock market insights they need to make more informed investing decisions, regardless of whether they are new to investing or are seasoned and experienced professionals. All videos on StockPick are tagged by knowledge level and asset class (e.g. Stock, Crypto, Investor Education), so new investors and experienced traders alike will find the content they need to support their investing journey.
"StockPick's mission is to bring users trustworthy content from transparent sources," says Qi. "For this reason, StockPick has a number of features dedicated to information transparency: all creators have public profiles, where users can view their background, investing experience, and credentials."
"Mobile trading platforms have reduced the barriers to entry for retail investors, but access to high-quality investing insights hasn't kept pace," says Nikolaos Sismanis, a StockPick creator and the Executive Director of Sismanis Research & Capital. "StockPick is modernizing how traders and investors of all experience levels learn and share investing information."
Andrew Hecht, a long-time trader, investor, and analyst, has also joined StockPick as a creator. "As an investor that's held senior positions at some of Wall Street's premier companies and a long-time contributor to Seeking Alpha, I'm excited to be a StockPick creator. The launch of a video-sharing app that streamlines the process of finding actionable investing insights is a much-needed innovation for retail investors."
StockPick is now available to download for free on the App Store and Google Play for residents of both the U.S. and Canada.
About StockPick
StockPick is North America's first investor-centric video-sharing app. Whether you're new to investing or an experienced trader, you'll find the videos you need to support your investing journey. Discover high-quality investment insights on stocks, crypto, and the economy, and filter them all by interest and knowledge level. Unlike other social media apps, StockPick's curated community and transparent creator profiles make it easy to assess content quality. With the StockPick app, feel confident in the investing insights you learn.
Media Contact
Company Name: StockPick
Contact Person: Kristi Hedrick
Email: Send Email
Country: United States
Website: https://stockpick.app