In October 2023, Noahswap announced that it had received $3 million in funding from Coinstore Labs to accelerate its global market expansion. Coinstore Labs is Coinstore's blockchain innovation lab focused on investing in promising blockchain projects.
Noahswap is the world's first non-performing crypto asset synthesis platform, which officially launched in August 2023. In the past few months, Noahswap has been actively launching global marketing campaigns, attending several key offline WEB3 conferences, including Asia's top cryptocurrency event TOKEN 2049 and CS Connect, among others, and establishing several strategic partnerships.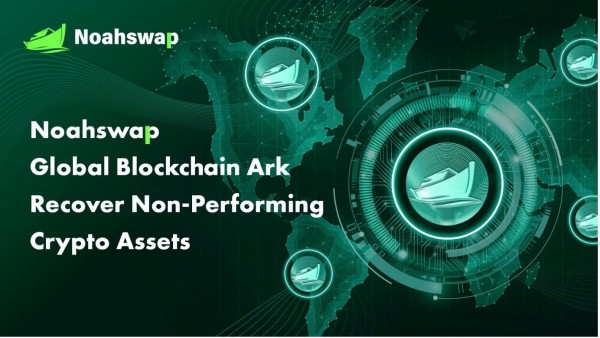 Noahswap Offers Cryptocurrency Investors a Chance to Avoid Losses & Divestiture Mechanism
With the rapid evolution of the cryptocurrency market, investors are constantly faced with risks and uncertainties. One of these risks is non-performing assets, which can lead to losses and market volatility. Noahswap's mission is to address this challenge through an innovative approach, becoming the world's first platform focused on the synthesis of non-performing cryptocurrency assets. The goal is to help investors hedge their risks, add value through the pledging of non-performing assets, and rekindle their confidence in their investments.
Noahswap's core mechanism is the "synthetic asset minting" mechanism, which provides investors with the opportunity to "hedge their losses" by pledging their non-performing assets. Through this innovative mechanism, Noahswap allows investors to use their non-performing assets as minting materials to mint synthetic assets, NUSD, and investors can use NUSD to exchange for NOAH tokens in real-time and get 2-25 times the return of the original non-performing tokens by minting synthetic assets. In this way, investors can reconfigure non-performing assets into more valuable digital assets, thereby protecting and adding value to their portfolios.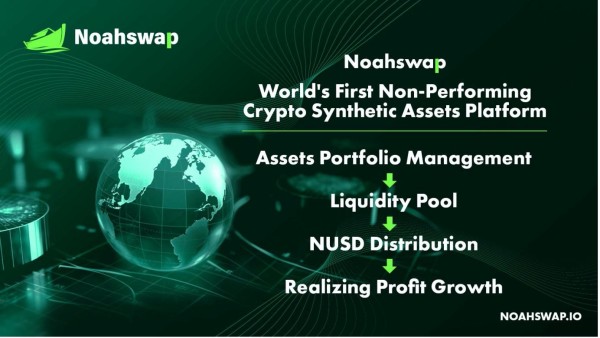 A Glimpse into Noahswap's Journey
2020 – Witnessing blind speculation during the cryptocurrency bull market and the subsequent bear market crash, the Noahswap founding team developed the idea of utilizing blockchain technology to help resolve non-performing assets. The team begins to work with traditional financial NPA disposal platforms, providing them with blockchain technology support and consulting services to help them improve the efficiency and transparency of NPA disposal.
By the end of 2020 – the Noahswap founding team has been involved in over $10 billion scale of non-performing asset disposal cases, and in the process has accumulated rich experience in non-performing asset disposal and industry resources. They begin exploring the application of non-performing asset solutions in the cryptocurrency market that have been proven to work in the traditional financial sector.
2021 – The LUNA nightmare led the Noahswap team to focus on Crypto distressed assets. The team sets out to design a "NPA Farming Model" and plans to launch a platform to support non-performing asset processing. The team has agreed to work with a number of well-known blockchain project owners to provide them with non-performing asset disposal solutions and technology implementation.
Early 2022 – Noahswap completes product prototype design, secures pre-seed round of financing, and officially launches team expansion.
Mid 2022 – Noahswap launches an internal beta version of the product as CoinSecure reduces leverage and the bear market re-emerges, attracting the first batch of community users to participate in internal testing and iterative optimization.
Late 2022 – FTX bankruptcy increases demand for NPA platform services, Noahswap seizes the opportunity and plans to formally commercialize. The focus is on the platform's deflationary economic model design and NOAH token issuance program.
H1 2023 – Noahswap Non-Performing Asset Platform formally completes testing and identifies 8 partnerships in the first 26 super-fall coin project communities, set to go live in September to create an NPA (non-performing asset) platform that is accessible to users across the network.
September 2023 – Noahswap is officially unveiled at Token 2049. At the same time, dApp noahswap.io was officially launched. 1.0 version of non-performing asset minting supports ETH, Polygon, BSC, and Arbitrum, covering 97% of the token market.
Coinstore Labs on Noahswap: A Vision for Tomorrow
Commenting on the investment, the head of Coinstore Labs said, "Non-performing assets are a brand new segment of the crypto market, with huge potential for market demand and a promising future. NoahSwap is the first platform in the field to offer a comprehensive solution, and its significance is far-reaching. It not only successfully solves a major problem that has long plagued cryptocurrency users, but also brings trust and reliability to the industry, encourages innovation and improves the security of the entire ecosystem, providing an indispensable service to users around the world. We are confident that NoahSwap will shape a new trading experience in the crypto market."
"As Noahswap continues to expand its business, the crypto non-performing asset space is poised to receive more attention and interest. This sector is full of opportunities as the growing digital currency market makes risk aversion and asset preservation particularly important, and Noahswap's innovative solutions will provide investors with more choice and confidence, hopefully contributing to the stability and health of the market as a whole."
Media Contact
Company Name: NOAHSWAP
Email: Send Email
Country: Malaysia
Website: https://www.noahswap.io