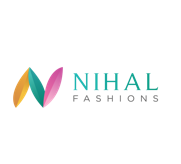 Nihal Fashions, the leading name in the world of Indian fashion, proudly introduces its stunning and exotic Indian ethnic wear collection that effortlessly blends tradition with flamboyance. Renowned for its unwavering commitment to crafting the finest designer traditional outfits, Nihal Fashions invites fashion enthusiasts from around the globe to embrace their inner trendsetters.
In an era where fashion knows no bounds, Nihal Fashions stands as a beacon of timeless elegance and cultural richness. With an eye for detail and extensive knowledge of fashion trends, their opulent collection offers designs that pay homage to India's ancient craftsmanship while embracing modern styles for men, women, and children. From exquisite Designer Sarees, Salwar Kameez, Tunic Tops, Lehenga Cholis, and Embroidered Purses for women to Sherwani, Kurta Pajama, and accessories including Dupatta (Stole), Safa (Turban), and Traditional Mojdi (Footwear) for men, as well as adorable Kid's Sherwani and Boy's Kurta Pajama – every ensemble is a masterpiece. These outfits are meticulously crafted from quality fabrics, adorned with intricate embroideries, exquisite sequin and zari work, and a captivating use of colors, bringing India's rich aesthetic history to life.
Each ensemble in the Nihal Fashions collection is a masterpiece, meticulously crafted from quality fabrics and adorned with intricate embroideries, exquisite sequin and zari work, and a captivating use of colors. The result is a glorious representation of India's rich aesthetic history, brought to life in every outfit.
With over two decades in the business, Nihal Fashions has established itself as an experienced leader in the fashion industry with its steadfast dedication to providing customers with top-notch services and merchandise beyond comparison. From reliable delivery options to well-priced products and outstanding customer care, they ensure an exceptional shopping experience every time!
"Every costume is an artistic endeavor for us," says Vikas Chaudhary, the Media Contact for Nihal Fashions. "Our collection embodies the essence of India's rich heritage while embracing the modern spirit of fashion. Whether it's a special occasion, a gathering, or a cultural event, Nihal Fashions has the perfect attire for you."
About Nihal Fashions
Nihal Fashions is India's leading retailer of traditional ethnic wear, boasting an impressive collection for adults and children. Passionately crafted, each piece exudes the true essence of Indian fashion while honoring cultural heritage. Shop their unique range today at www.nihalfashions.com to experience high-quality apparel with a timeless touch!
Media Contact
Company Name: Nihal Fashions
Contact Person: Vikas Chaudhary
Email: Send Email
Phone: +91-9650968060
Country: India
Website: https://www.nihalfashions.com/